Easy Spaghetti and Meatballs
We may earn money or products from the companies mentioned in this post.
Easy Spaghetti and Meatballs
Who doesn't like Spaghetti and Meatballs? And Easy Spaghetti and Meatballs, even better. This recipe is really super easy to make. You probably have most of the ingredients in your pantry right now. So go on, go to your pantry and get out the ingredients. Line them up an the counter and start making this recipe for spaghetti and meatballs. You and your family are gonna love it.
Found on the back of
My sister Joan gave this recipe some 35 years ago. I've been making it ever since, so trust me it's good. Believe it or not, I've never changed the recipe. It's exactly as I wrote it down all those years ago. I still use that same recipe whenever I make this recipe. Joan found the recipe on the back of a jar of Prego Spaghetti Sauce .  Like I've always said, you can find some of the best recipes on the back of cans, jars, boxes and wrappers.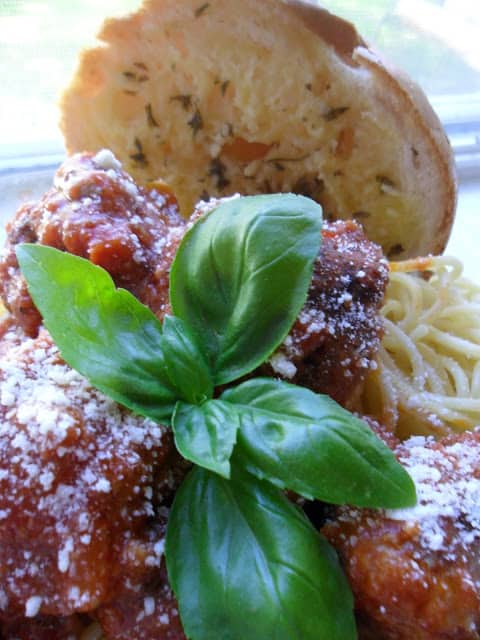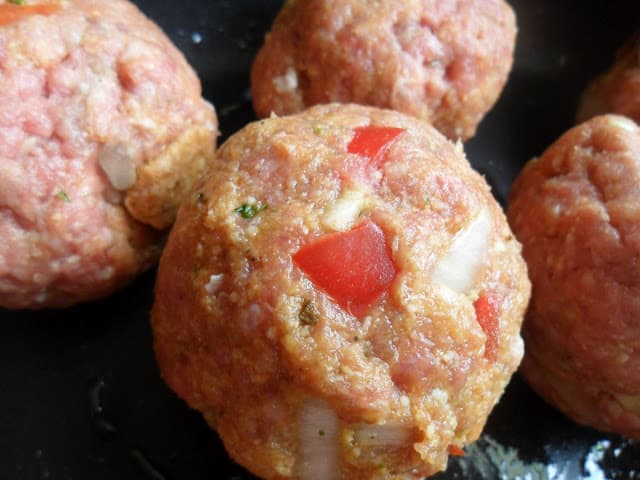 Recipe Tip:
Want to make a darn good meatball sub sandwich? You can make a second meal out of any left-over meatballs and sauce. Place warmed meatballs and some sauce on lightly buttered and toasted hoagie rolls, top with slices of mozzarella cheese, place back under the broiler and broil until cheese is melted. Serve meatball sub with warm spaghetti sauce.
UP NEXT: Earl Grey Scones with Lavender Earl Grey Glaze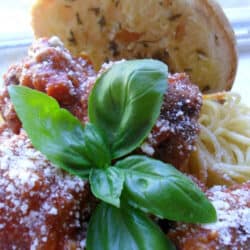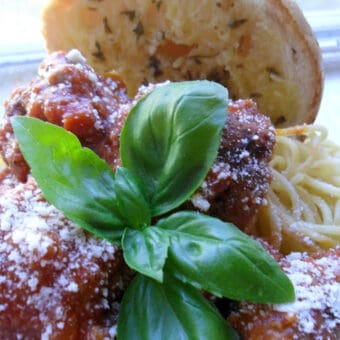 Spaghetti and Meatballs
Spaghetti and Meatballs is a super recipe, that I've been making for years.
Ingredients
1

32 oz jar

traditional spaghetti sauce (Prego)

1/2

pound each;

ground beef, ground pork, ground Italian sausage

1/3

cup

Italian style bread crumbs

1

egg, slightly beaten

1/4

cup

onion, finely chopped

1/4

cup

grated parmesan cheese

1/4

cup

red or green pepper, chopped

1

clove

garlic, minced

1/8

teaspoon 

pepper

2

tablespoons 

olive oil

1

8 oz package

spaghetti noodles, cooked and drained

Parmesan cheese
Instructions
In large bowl mix together 1/4 cup spaghetti sauce, ground beef, ground pork, ground Italian sausage, bread crumbs, egg, onion, Parmesan cheese, red or green pepper, garlic and pepper. Shape mixture into 1 inch balls, (about 24 balls)

In a large skillet over medium heat, heat oil; brown meatballs until well browned. Spoon off fat. Add remaining spaghetti sauce, reduce heat to low, cover. Simmer 20 minutes or until meatballs are done.

Prepare spaghetti according to package directions, drain. Arrange hot cooked spaghetti on platter. Pour meatballs and sauce over spaghetti. Sprinkle with Parmesan cheese.

Serve with garlic bread.
What goes with Spaghetti and Meatballs?? Cheese Garlic Rolls and Garlic Bread , of course!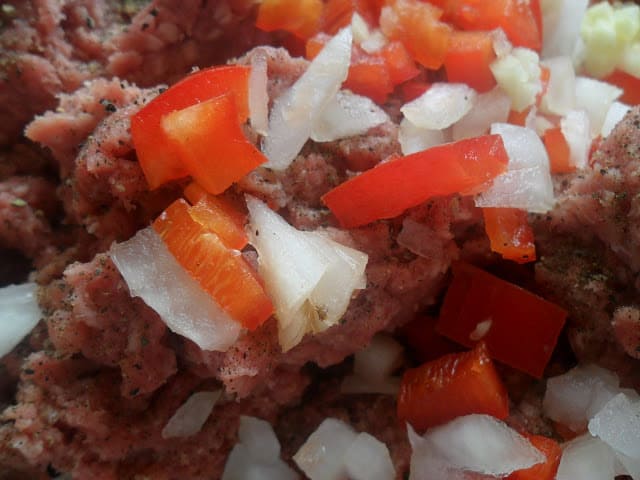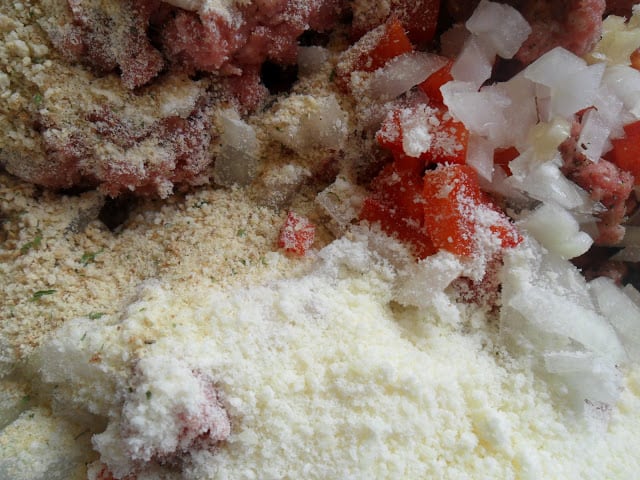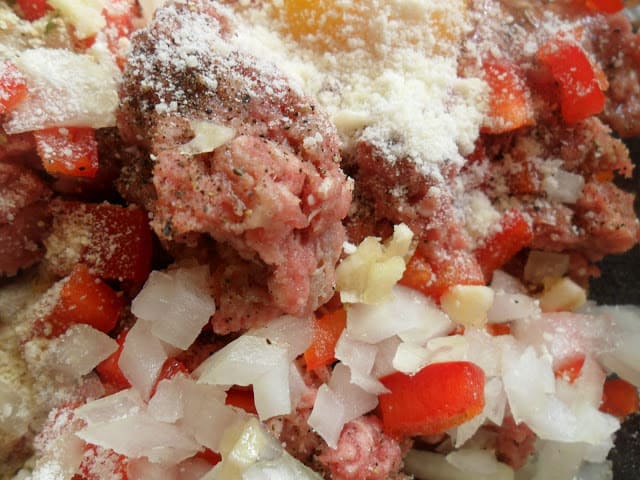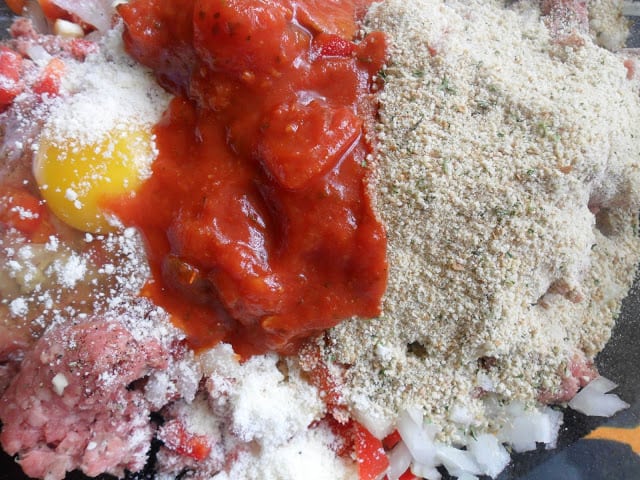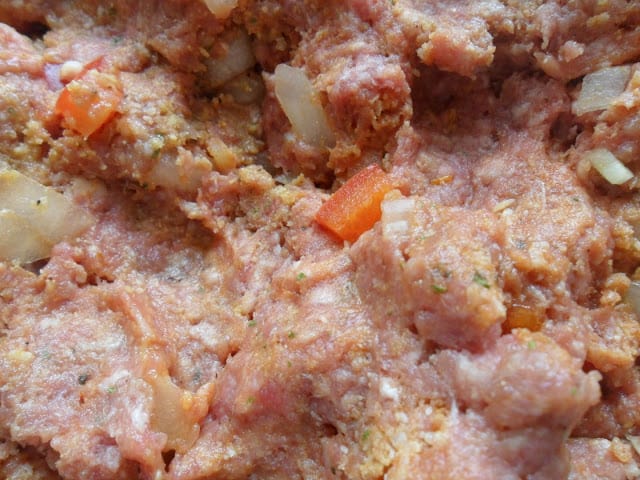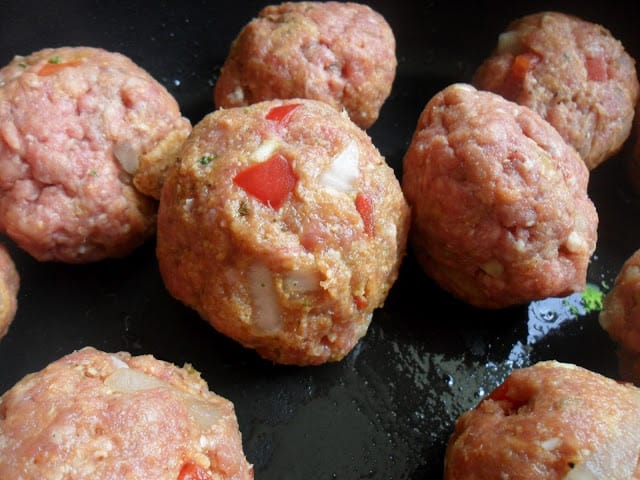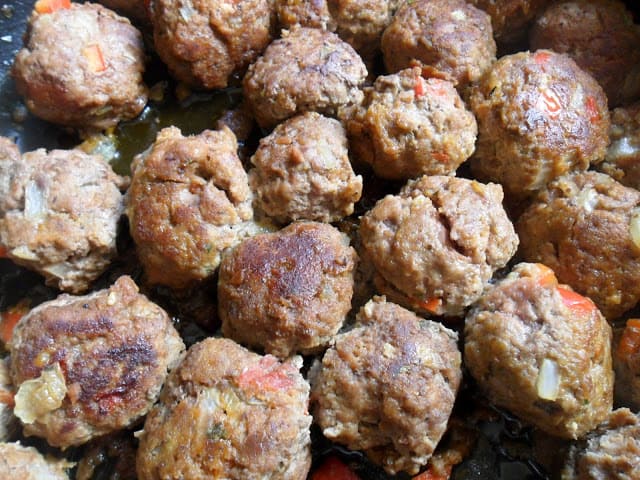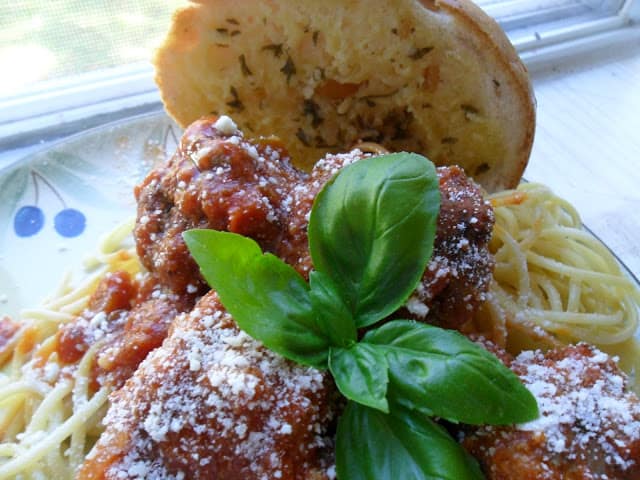 Hungry for more Italian-style recipes? Check these out. Stuffed Rigatoni Lasagna, Baked Mostaccioli, and String Pie. Featured Recipe: Lemon Poppy Seed Sourdough Waffles.