Easy Slow Cooker Stuffed Round Steak
We may earn money or products from the companies mentioned in this post.
Easy Slow Cooker Stuffed Round Steak
Easy Slow Cooker Stuffed Round Steak is just all that EASY! I've been making this easy recipe since I was in my very early 20's, newly married and a first time mom. This recipe originally came from my now ex-brother-in-law, who first made this when I was in high school. The ingredient list to this recipe is short and sweet; Beef Round Steak and a box of your favorite Stove Top Stuffing. There are only 2 steps to making this recipe: make the stove top stuffing, place the stuffing in the middle of your round steak and fold up as best you can. Use toothpicks or bakers twine to enclose the stuffing, again as best you can, place in your slow cooker, turn to low and 4-6 hours later, supper is ready.
The Key to Success
The key when making this slow cooker recipe is a simple one,  really. First, when making your box of stuffing mix use less water or broth then the package directions call for, roughly 1/3 cup less. Example: If the package calls for using 2 1/3 cups water or broth, use 2 cups only, and so on and so forth. Secondly, use a large, good quality round steak. At least 3 1/2 to 4 pounds. The larger the round steak, the easier it will be to stuff it. Add a very small amount of water or broth to the slow cooker after you add the stuffed round steak, only if necessary!
Make Your Own
If you prefer you can certainly make your own homemade stuffing for this recipe. A delicious sausage mushroom stuffing would be a wonderful substitute. Another alternative would be to "doctor up" the Stove Top stuffing you'll be using by adding some sautéed onions, celery, carrots or mushrooms. You could even stuffed the round steak with a cooked wild rice blend and toss in some dried cranberries. I also use canned broth or stock when making stove top or any stuffing recipe. Broth or stock adds so much more flavor than plain water.
UP NEXT: Authentic German Rouladen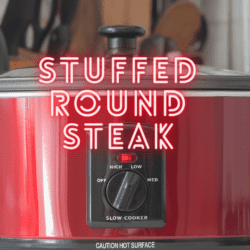 Easy Slow Cooker Stuffed Round Steak
Super easy Dinner Option!!
Ingredients
2 - 4

lb.

round steak

2

boxes Stove Top stuffing mix

,

any flavor

butter

,

per box directions

broth

,

stock or water, per box directions

2

tablespoons

oil

3

stalks celery

,

diced, optional

1/2

small onion

,

diced, optional

1/4

cup

beef broth
Instructions
Place the round steak between two sheets of plastic wrap. Using a meat mallet, pound round steak until thin. Prepare stove top stuffing according to package directions. Remove cover and set aside to cool. Meanwhile, heat oil in small sauté pan. Add celery, and onion if using, sauté until onion and celery are tender. About 10 minutes. Cool. Remove top sheet of plastic wrap. Spread stuffing on top of round steak, top with onion mixture. Carefully roll up round steak, tucking in sides if necessary. Secure with toothpicks or butchers twine. Carefully place in slow cooker. Pour beef broth over the top, season with salt and pepper. Cook on low for 6 hours.
Nutrition
Serving:
1
g
,
Calories:
1016
kcal
,
Carbohydrates:
1
g
,
Protein:
155
g
,
Fat:
40
g
,
Saturated Fat:
12
g
,
Polyunsaturated Fat:
3
g
,
Monounsaturated Fat:
18
g
,
Trans Fat:
1
g
,
Cholesterol:
429
mg
,
Sodium:
446
mg
,
Potassium:
2411
mg
,
Fiber:
1
g
,
Sugar:
1
g
,
Vitamin A:
13
IU
,
Vitamin C:
1
mg
,
Calcium:
138
mg
,
Iron:
14
mg
*Nutritional Information is Only An Estimate*
Stuffing vs Dressing, What's the difference?
Believe it or not, I get asked this question all the time! What is the difference between stuffing and dressing? Well that's an easy, peasy one. Stuffing and dressing are usually made the same way and with pretty much the same ingredients. The difference between the two? Stuffing is "stuffed" into something such as a turkey, chicken, duck, pork roast or round steak. This list also includes vegetables. Think stuffed mushroom caps, zucchini, squash and so on. Dressing on the other hand is made in a casserole dish and served alongside the turkey, chicken and etc. Stuffing is stuffed, Dressing is served with the meal.