Easy Pineapple Orange Ham Sandwiches
We may earn money or products from the companies mentioned in this post.
Easy Pineapple Orange Ham Sandwiches
Easy Pineapple Orange Ham Sandwiches are so sweet and spicy. This recipe which includes orange marmalade, pineapple slices and crushed red pepper flakes will take these ham sandwiches to a whole new taste sensation. Why are these sandwiches called "easy"? Easy Pineapple Orange Ham Sandwiches are made in your slow cooker and this recipe has only five ingredients. Can't get much easier than that.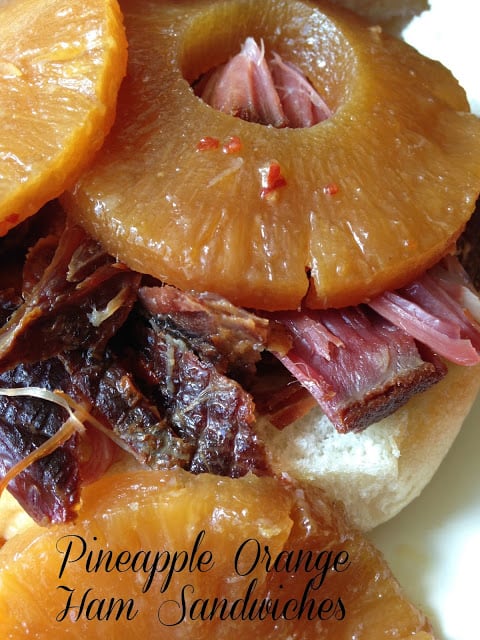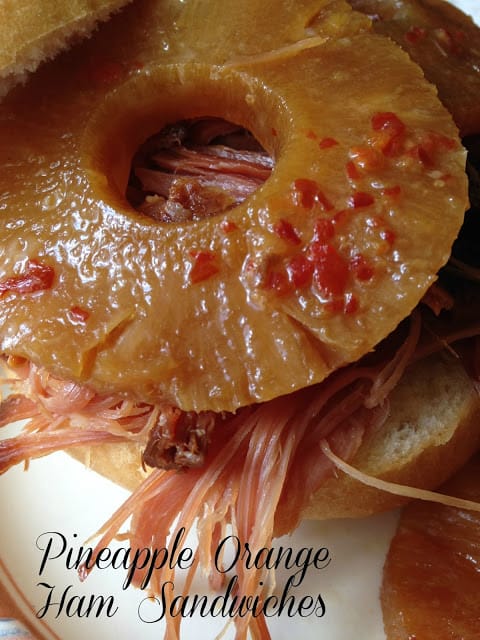 Great for Parties
With the football season and the holidays right around the corner, you'll want to keep this recipe in mind. Fast, easy and beyond delicious. Sweet comes from the pineapple slices, brown sugar and orange marmalade with the heat coming from the red pepper flakes. These sandwiches are served with the pineapple slices on a good, buttered roll. If mustard is a must on ham (I can relate) a Dijon mustard or Dusseldorf mustard would work nicely.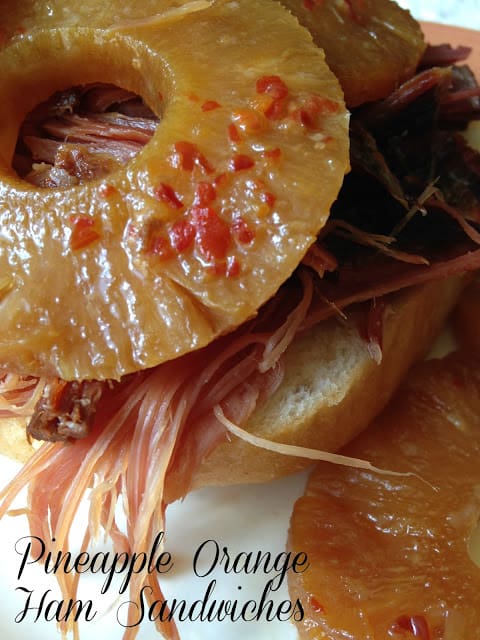 The Humble Sandwich
The Sandwich. When you say the word sandwich, you immediately thinking about the humble sandwich. If you were to take a survey, most people could rattle off at least 5 without even thinking about it. Tuna Salad Sandwich Bologna and Potato Chip Sandwich, Peanut butter and Egg Salad Sandwich. Then we have the "All Night Diner" sandwiches; Grilled cheese, Tuna Melt, Patty Melt, BLT and Club sandwiches. We certainly can't leave out regional sandwiches either; sandwiches like the Philly Cheese Steak, Hot Brown, Muffuletta, Fluffernutter and Po' Boy.
Where then does the ham sandwich fit in? The ham sandwich has been around as long as people have been raising pigs and certainly as long as people throughout history have been curing and smoking hams and bacon. Smoked, cured ham has been a kitchen staples for centuries. By the 17th century, most colonial farmers raised pigs. The long shelf life of salt pork, ham and bacon both staples in early American kitchens. Keep early settlers alive.
Country Hams became very popular in rural America in the late 1800's and throughout the early 1900's. Country ham refers to a method of dry-curing and smoking developed in rural regions of Virginia, Kentucky and other nearby states. The term country ham, now refers to this style of ham preservation rather than a specific location. With the exception of Smithfield Country Ham, perhaps the best-known brand of American country ham, can only come from the area around Smithfield, Virginia.
The simple ham sandwich is a staple in many countries other than the US also. France, Spain, Germany, Sweden and Ireland, to name a few, all have their variations on this humble but sustainable sandwich. Bread, ham and butter are pretty much the basics. For some, mustard is a must and the kind of mustard varies greatly also! The next time you make yourself a humble ham sandwich, take a moment to think about just how humble the ham sandwich truly is.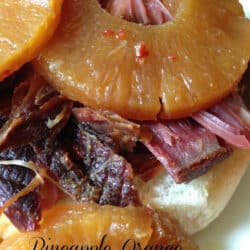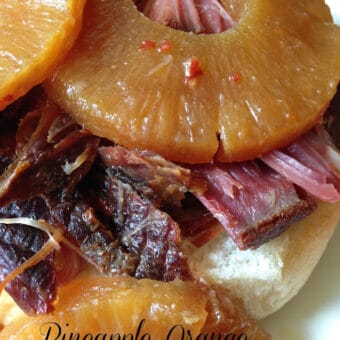 Easy Pineapple Orange Ham Sandwiches
Ingredients
2

20 oz cans

sliced pineapple

1

6 pound

fully cooked, boneless ham

1

15 oz jar

orange marmalade

1/2

cup

packed brown sugar

1

tablespoon

crushed red pepper flakes
Instructions
Drain pineapple; reserving juice; set juice aside.

Place half of the pineapple slices in an ungreased 5-quart slow slower.

Top with ham.

Mix together reserved pineapple juice, orange marmalade, brown sugar and red pepper flakes.

Spoon marmalade mixture over ham. Top ham with remaining pineapple slices.

Cover and cook on low for 5 to 6 hours or until heated through.

Cut ham if needed, for cover to fit on crock pot.

Remove ham to platter, with two forks, shred ham.

Return to slow cooker and cook an additional hour on high.

Spoon ham on buns or rolls and serve with pineapple slices.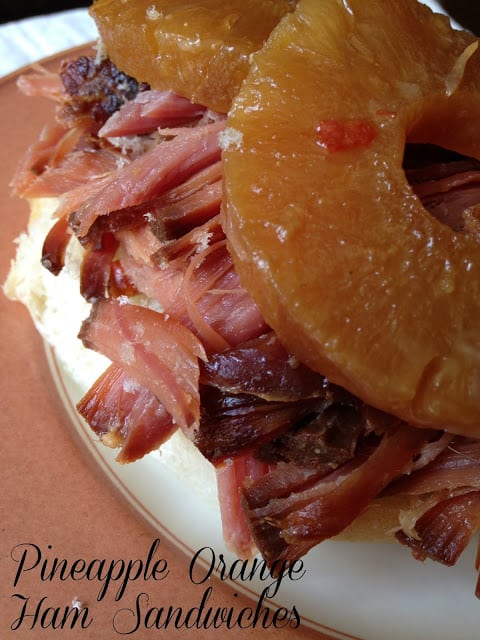 Recipe Credit: Taste of Home