Easy Peasy Monkey Bread
We may earn money or products from the companies mentioned in this post.
Easy Peasy Monkey Bread
Five ingredients is all that is needed to make easy peasy monkey bread. Sugar, cinnamon, brown sugar, melted butter and the 'easy' part, 2 cans (16 oz each) Pillsbury Grands! Homestyle refrigerated buttermilk biscuits. I'm not even sure where or when I acquired this recipe but I've been making it for as long as I can remember. This recipe is super fast and easy, that's the 'peasy' part.
Bubble Bread
Bubble Bread first began to appear in magazines in the 1950's. Around the 1980's bubble bread began appearing under the name 'monkey bread.' I've always known monkey bread as bubble bread but it seems that the name 'monkey bread' has stuck. I don't ever hear it called bubble bread anymore, even though they are both basically made the same way. Whether you call it bubble bread or monkey bread one thing remains the same, it's delicious.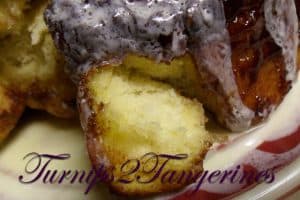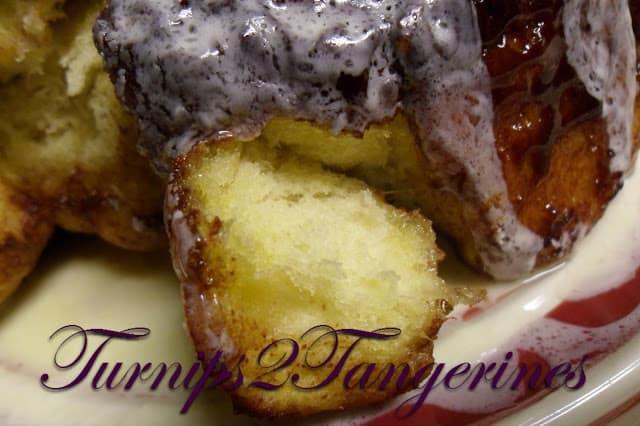 Monkey Bread, Bubble Bread
Monkey bread or bubble bread can be made sweet or savory, with the emphasis on sweet. The original recipes were always sweet versions vs savory. Both are tremendously delicious and relatively easy to make. For the sweet version, pieces of a yeast-sweet dough are rolled into balls. The balls are dipped in melted butter and rolled into a cinnamon/sugar mixture. The balls are then 'staggered' in a greased bundt and baked.
Savory Version
Savory versions of bubble bread or monkey bread have become more and more popular over the years. The savory versions are often stuffed with cubes of cheese or pepperoni-style meats. Pieces of yeast dough are rolled into balls and then dipped into a mixture of melted garlic butter. The balls are then rolled into a herb/savory spice blend of some kind. The balls are 'staggered' in a greased bundt or tube pan and then baked.
Sweet or Savory
Whether sweet or savory, whether you call it bubble bread or monkey bread and whether you make it in a tube pan, bundt pan or a 13 x 9 baking dish, eating the bread is done in the same way. After baking, the pan is inverted onto a plate. This allows for all the gooey goodness to slowly drip down the sides and over the bread. Thus making the bread even more irresistible. Sections of the bread are then 'pulled' off and enjoyed!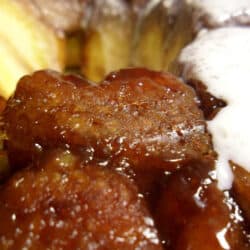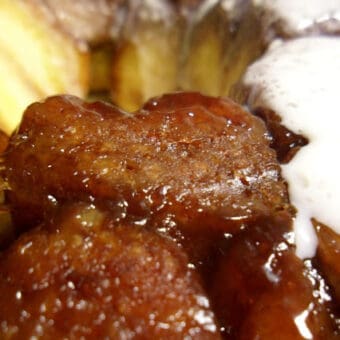 Easy Peasy Monkey Bread
Monkey Bread or Bubble Bread is super delicious!
Ingredients
1/2

cup

sugar

1

teaspoon

cinnamon

2

16 oz cans each

Grands! Homestyle Refrigerated Buttermilk Biscuits

1

cup

firmly packed brown sugar

3/4

cup

butter, melted

1

cup

confectioners' sugar

1/2

teaspoon

vanilla extract

2 to 4

tablespoons

milk
Instructions
Heat oven to 350º Grease a 12-cup Bundt pan.

In a large plastic storage bag, mix sugar and cinnamon.

Separate dough into 16 biscuits, cut each into quarters. Shake biscuit pieces, a few at a time, in bag with the sugar and cinnamon mixture. Toss to coat. Stagger pieces in pan.

In small bowl, mix brown sugar and butter. Pour mixture over biscuit pieces in pan.

Bake 28 to 32 minutes or until golden brown. Cool in pan 10 minutes.

Turn upside on serving plate.

Make vanilla glaze:

Mix together confectioner's sugar, extract and milk until desired consistency.

Drizzle over easy peasy monkey bread while still warm.