Easter Egg Bread An Easter Classic
We may earn money or products from the companies mentioned in this post.
Easter Egg Bread An Easter Classic
I have always wanted to make Easter Egg Bread. Not only will this bread look great on your Easter table, it's delicious and relatively easy to make. Easter Egg Bread is made with a sweet dough similar to a Brioche or Challah. The raw colored eggs cooked beautifully in the oven, something I was a little skeptical about and the dough is really very easy to work with. Easter Egg Bread not only looks good, it is good!
A Must Make
Easter Egg Bread is easy to make and is super delicious. The perfect way to enjoy to your Easter morning. While the kiddies are hunting for their Easter baskets you can sit back and enjoy a warm slice of Easter bread with your morning cup of coffee. I will definitely be adding this bread to my Easter morning routine.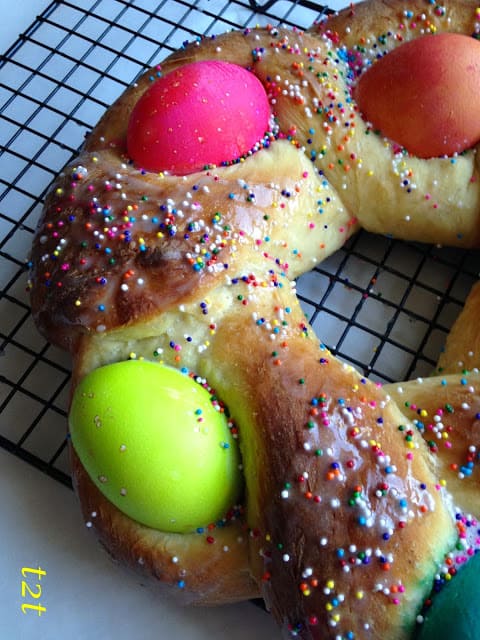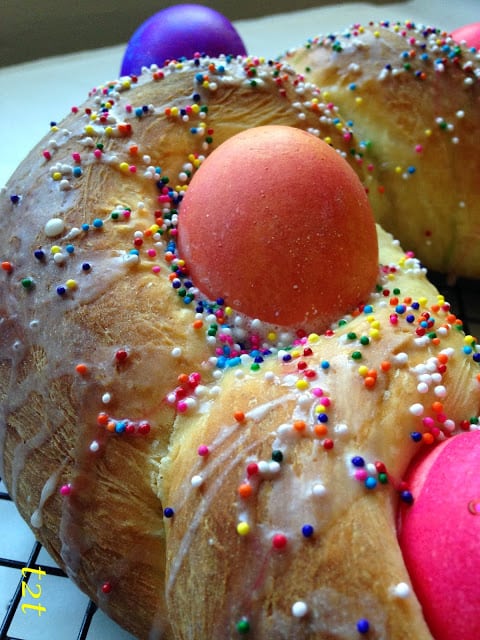 Recipe Note:
My Easter Egg Bread turned out a little wonky looking but surprisingly the eggs stayed put. Another thing, my ends didn't pinch together well. Both things can easily be fixed with a bit more practice. I would also like to try my hand at making individual size Easter bread braids. Overall, I give this bread an A+. There are many steps to this recipe but don't run away screaming and waving your hands above your head. It's totally worth it!
Challah Bread
Served on the Sabbath, holidays, other ceremonial occasions and for everyday consumption occasions and for everyday consumption. Challah is a traditional Jewish yeast bread, that's rich with eggs and has a light, airy texture. Though it can be formed into many shapes, braided challah is the most classic form.
Brioche; Brioche Molds
This French creation is a light yeast bread rich with butter and eggs. The classic shape, called brioche à tête, has a fluted base and a jaunty topknot. It also comes in the form of small buns or a large round loaf. Special fluted brioche molds, available in metal, glass or ceramic, are necessary for the brioche à tête. Brioche dough is also used to enclose foods such as sausage and cheese.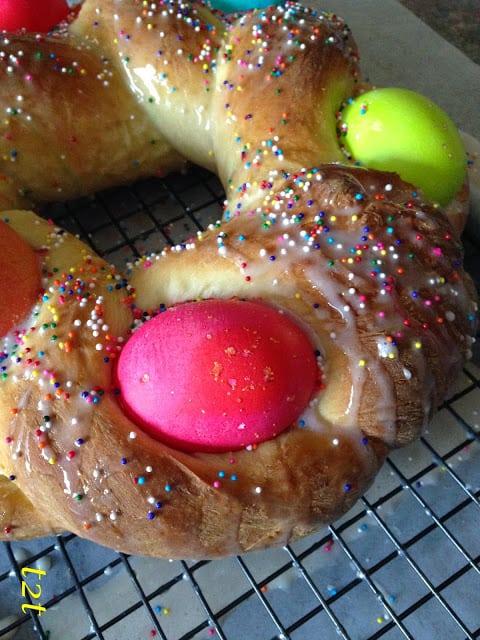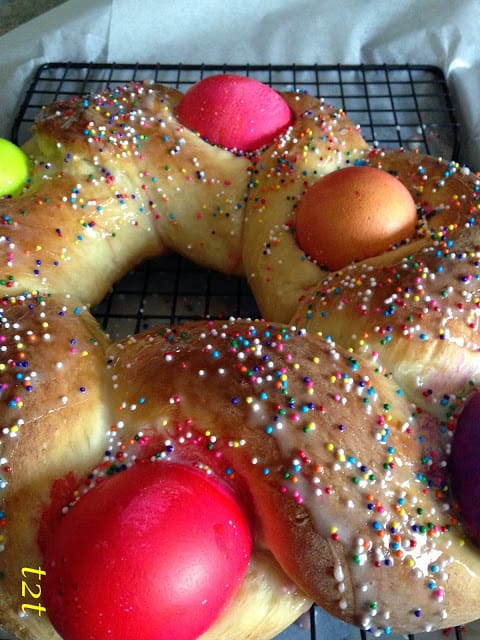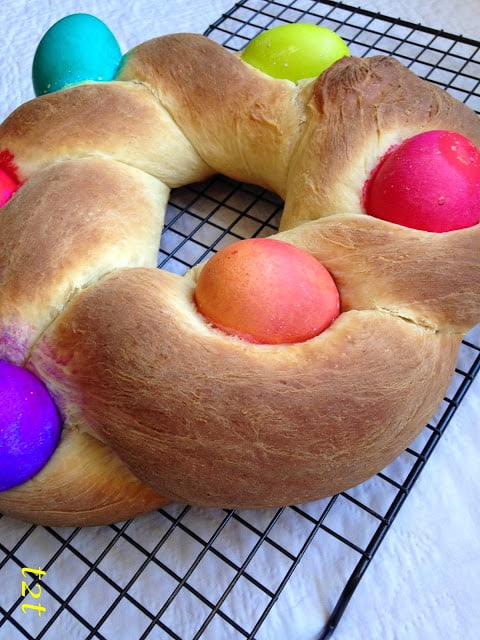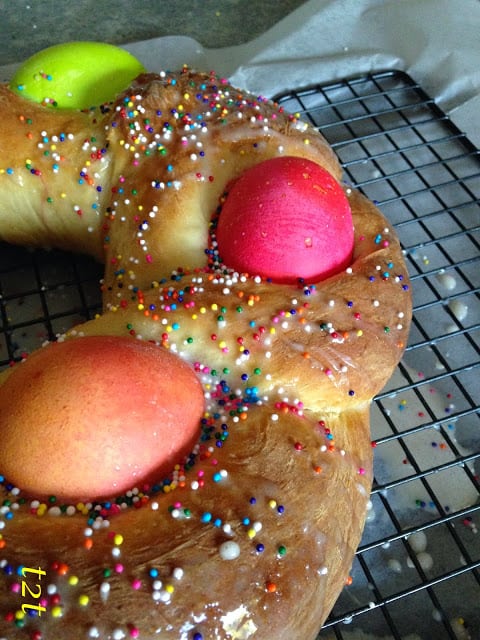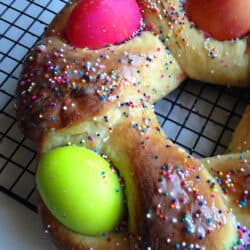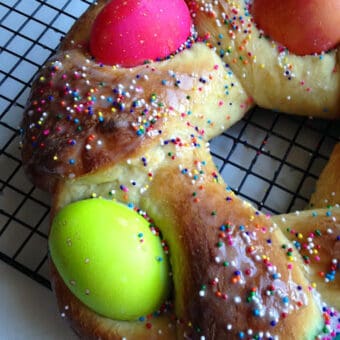 Easter Egg Bread
Ingredients
Color Eggs

5 to 7

eggs (Do not hard-boil)

1

cup

more or less distilled vinegar

hot water

food coloring of your choice

Easter Egg Bread

3

cups

flour

1

teaspoon

salt

2

tablespoons

rapid rise yeast

2/3

cup

milk

1

tablespoon

anise seed

1

tablespoon

lemon zest

2

tablespoons

butter, room temperature

2

eggs, beaten

Lemon Glaze

2

tablespoons

lemon juice

4

tablespoons

unsalted butter, melted

2

cups

confectioners' sugar

1/4

teaspoon

vanilla extract

1

tablespoon

milk

Assorted sprinkles
Instructions
Color Eggs:

Step 1:

Decide how many colors of dye you want to mix for your eggs.

Set out as many glass cups or bowls as needed.

Make sure they are large enough to hold the eggs and the liquid needed.

Step 2:

Add 2 tablespoons distilled white vinegar to each cup.

Step 3:

Add 2/3 cup hot water to each cup.

Step 4:

Add 7 to 15 drops food coloring to each cup or until you achieve desired color.

Step 5:

Carefully add eggs to water/vinegar. Allow raw eggs to soak until desired color is reached.

Wipe dry. Store colored eggs in the refrigerator until needed.

Make Easter Bread:

Mix together 2 1/2 cups flour, sugar, salt and yeast in a medium bowl. Add anise seed and lemon zest. Stir well.

Place milk and butter in a small glass microwavable safe bowl. Microwave until milk is warm and butter has just begun to melt. Watch carefully. Make a well in the center of the flour mixture. Pour in the milk mixture and eggs. Swirl your hand in a circular motion to combine the flour mixture with the milk/eggs. Mix well until a soft dough forms. Place dough on a floured surface. Knead in remaining 1/2 cup flour. Knead dough until soft but elastic, about 5 to 8 minutes. Add a small amount, about 1 teaspoon oil to your hands to prevent dough from sticking to them if necessary. Place dough in a lightly greased bowl. Turning dough to coat. Cover bowl with plastic wrap and a damp towel. Place in a warm place to rise 1 1/2 hours. Punch down. Divide dough in half.

On a floured work surface, roll each half into a ball. Shape the balls into 2 long ropes about 1-1/2 inches thick and 18 to 20 inches long. Lay ropes side by side on a greased baking sheet. Twist one end. Add a colored egg. Twist ropes together. Add another colored egg. Twist ropes together. Add another colored egg. Twist ropes together. Add another egg. Add 3 to 4 eggs more. Form into a circle. Pinch ends together.

Cover with saran wrap and damp towel. Let rise 1 to 2 hours.

Meanwhile make glaze:

Whisk together lemon juice, melted butter, vanilla extract, and confectioners sugar until smooth.

Add milk gradually until glaze reaches desired consistency.

Bake Easter Egg Bread:

Preheat oven to 350° Bake for 25 to 30 minutes or until golden brown.

Remove bread from oven.

Place on a wire rack set over a baking sheet lined with parchment paper. Cool slightly.

Drizzle with vanilla lemon glaze, sprinkle with sprinkles.
Recipe On Tap
Looking for another sweet treat to celebrate the springtime? Try Lemon Chip Sugar Cookies
Product Used:
Heinz  white distilled vinegar.