Earl Grey Tea Madeleine with Lavender Frosting
We may earn money or products from the companies mentioned in this post.
Earl Grey Tea Madeleine with Lavender Frosting
Today's recipe is for madeleine cakes (or cookies), using a madeleine pan. Madeleine pans are available on Amazon  It's really impossible to make these simple sponge-like small cakes without the use of a madeleine pan. The pan isn't expensive, and so worth the $12.00. Once you purchase your pan, you'll be on your way to making Earl Grey Tea Madeleine with Lavender Frosting. Madeleine cakes would be the perfect Mother's Day sweet. Mom can savored her special sweet treat with a cuppa tea, preferably Earl Grey😉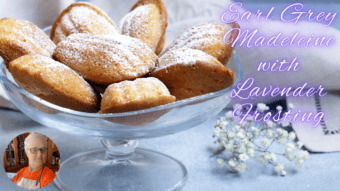 What Are Madeleine Cakes
The definition of a Madeleine cakes is: Madeleine or petite madeleine is a traditional small cake from the Lorraine region in northeastern France. The same region that gives us Quiche Lorraine. Madeleines are very small, sponge cakes with a distinctive shell-like shape. This shape is acquired from being baked in pans with shell-shaped depressions. Madeleine cakes are light and crispy on the outside, with a spongy, cake-like inside. Traditionally glazed or frosted with a sweet concoction made with confectioners sugar, flavoring and a liquid such as heavy cream, milk, or 1/2 & 1/2.
Lavender Frosting
The frosting used for this recipe is a thick frosting rather than a glaze. We wanted to incorporate lavender into this recipe without overpowering the subtle taste of the Earl Grey tea. Adding dried lavender to the frosting instead of the madeleine batter gives the best of both worlds. The flavors compliment each other perfectly. We purchased the dried lavender from Fragrant Isle Lavender Farm, located in beautiful Door County WI. If it's not possible for you to visit Door County or take the ferry to Washington Island, you can purchase culinary lavender and all lavender products online. Fragrant Isle Lavender Farm
Culinary Lavender 
Lavender has traditionally been used for a soothing massage and as an antidote for sleepless nights. But it has quickly become a culinary star. On Washington Island, a 30-minute ferry ride from Door County, diners are discovering how lavender enhances food. At Fragrant Isle Lavender Farm, Shop & Le Petit Bistros Café, sweet and savory dishes incorporate this popular herb. "Lavender is supposed to be an undertone when you cook with it and not the main flavor," said Martine Anderson who co-owns and operates the farm with her husband Edgar. "I want people to say this is delicious. What's in it?" 
For most visitors, their first stop at Fragrant Isle's Washington Island location is the Main Store. It features Fragrant Isle's complete line of  lavender products and culinary specialties. From food products to body lotions, all Fragrant Isle products are made with lavender grown at the farm. Store items include: lavender-cherry jam, lavender syrup and lavender scone mixes. The café menu offers lavender-glazed sugar cookies, lavender macaroons, lavender muffins and lavender desserts. An assortment of lavender truffles are prepared with Fragrant Isles culinary lavender oil. Beverages range from coffees, teas and a rosé wine slushy that is flavored with lavender syrup.
UP NEXT: Venison Grape Jelly Meatballs in Slow Cooker
More Lavender Recipes and Videos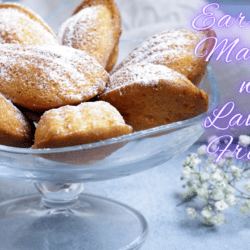 Earl Grey and Lavender Madeleines with Lavender Frosting
Two of our favorite flavors, Earl Grey Tea and Lavender are combined to make super delicious cookies,
Ingredients
For the Madeleines

⅔

cup

+ 2 tablespoon granulated sugar

2

eggs + 1 yolk room temperature

1

teaspoon

vanilla

¾

teaspoon

baking powder

1

cup

+ 2 tablespoon all purpose flour

3

Earl Grey tea bags or 3 tablespoons loose tea

,

ground

¼

teaspoon

salt

½

cup

+ 1 tablespoon unsalted butter

2

tablespoon

heavy cream

Frosting

2

cups

sifted powdered sugar

3-4

tablespoons

heavy cream or half and half

2

teaspoons

dried lavender

,

ground
Instructions
For the Madeleines

Melt ½ cup + 1 tablespoon of unsalted butter.

Add ⅔ cup + 2 tablespoon of granulated sugar, 2 room temperature eggs and 1 egg yolk to a large bowl. Beat the eggs and sugar on high with an electric mixer for 5-8 minutes, or until the mixture is pale yellow and shiny. This step helps to ensure the tops of the madeleines dome properly.

Next add in 1 teaspoon of vanilla and mix just until combined.

Cut open 3 Earl Grey tea bags or loose tea and add the tea leaves to a food processor. Grind the tea to ensure no large leaves are left.

In a small bowl sift together 1 cup + 2 tablespoon of all purpose flour, ¾ teaspoon of baking powder, ¼ teaspoon of salt and the tea leaves.

Slowly add the dry ingredients to the egg/sugar mixture and fold in until everything is combined.

Next pour in the cooled but still liquid butter and 2 tablespoon heavy cream and fold in just until combined. Don't over mix the batter.

Cover the bowl with plastic wrap and chill in the fridge for 1 hour.

Preheat the oven to 350 degrees. Transfer the batter to a piping bag. Brush melted butter into each madeleine mold. Pipe about 1- 1 ½ tablespoon of batter into each mold.

Bake the madeleines for 12-14 minutes until they have domed.

Remove them from the oven and let them cool in their pan for a few minutes, then transfer them to a cooling rack to completely cool.

Frosting Directions:

While they cool make the icing by combining 2 cups of sifted powdered sugar and 3-4 tablespoons of heavy cream or half and half. The icing should be thick. Grind the lavender in a grinder or a small food processor. Fold in as much lavender per taste. Frost cooled cookies.