Earl Grey Scones with Lavender Earl Grey Glaze
We may earn money or products from the companies mentioned in this post.
Earl Grey Scones with Lavender Earl Grey Glaze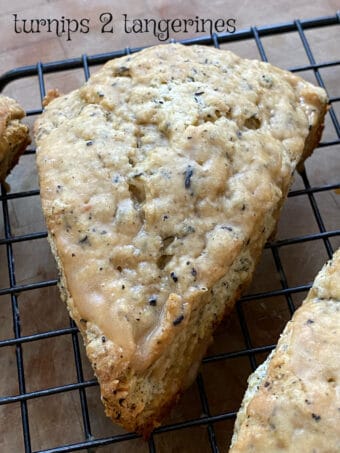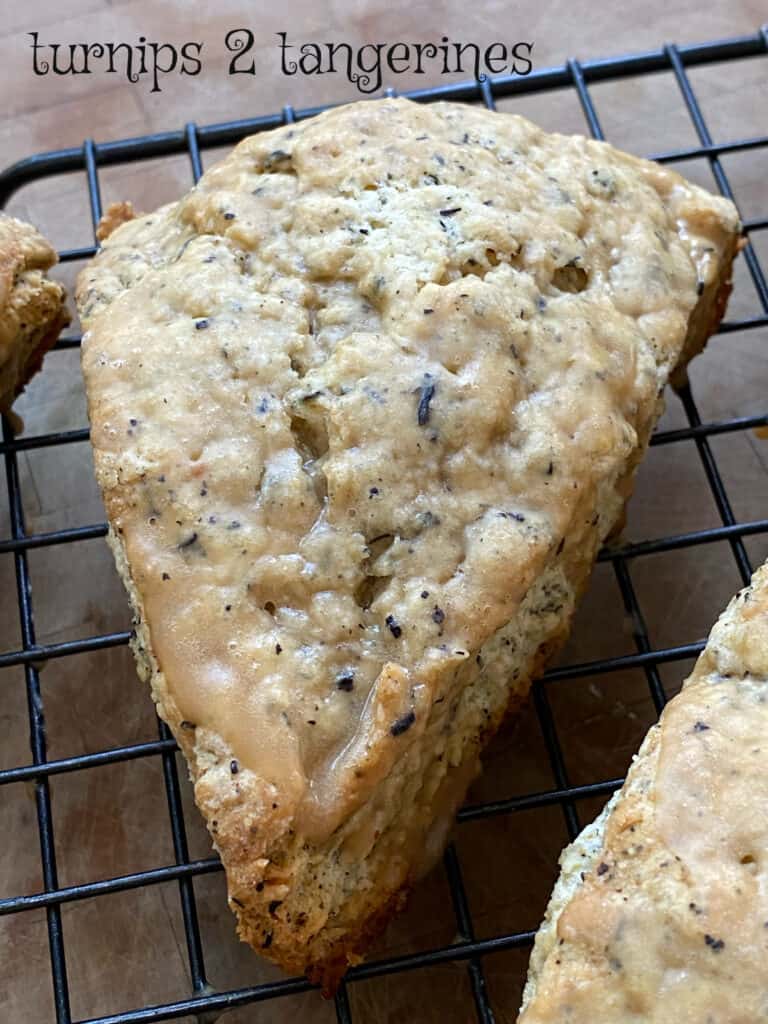 Earl Grey tea is used as a flavoring for many types of cakes and confectionery, as well as savory  sauces. For sauces, the flavor is normally created by adding tea bags to the basic stock, boiling for a few minutes and then discarding the bags. For sweet recipes, loose tea is often added to melted butter or hot cream and strained after the flavor is infused. A perfect recipe for breakfast or afternoon tea, these buttery Earl Grey Scones are topped with a Lavender Earl Grey infused glaze.
Earl Grey Tea
Bergamot orange is a small citrus tree which blossoms during the winter. It's mostly grown commercially in Calabria, Italy. Earl Grey tea is a tea blend which has been flavored with the addition of oil of bergamot. The rind's fragrant oil is added to black tea to give Earl Grey its unique taste. Traditionally, Earl Grey was made from black teas such as China keemun.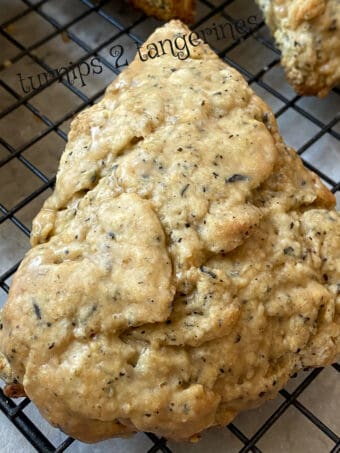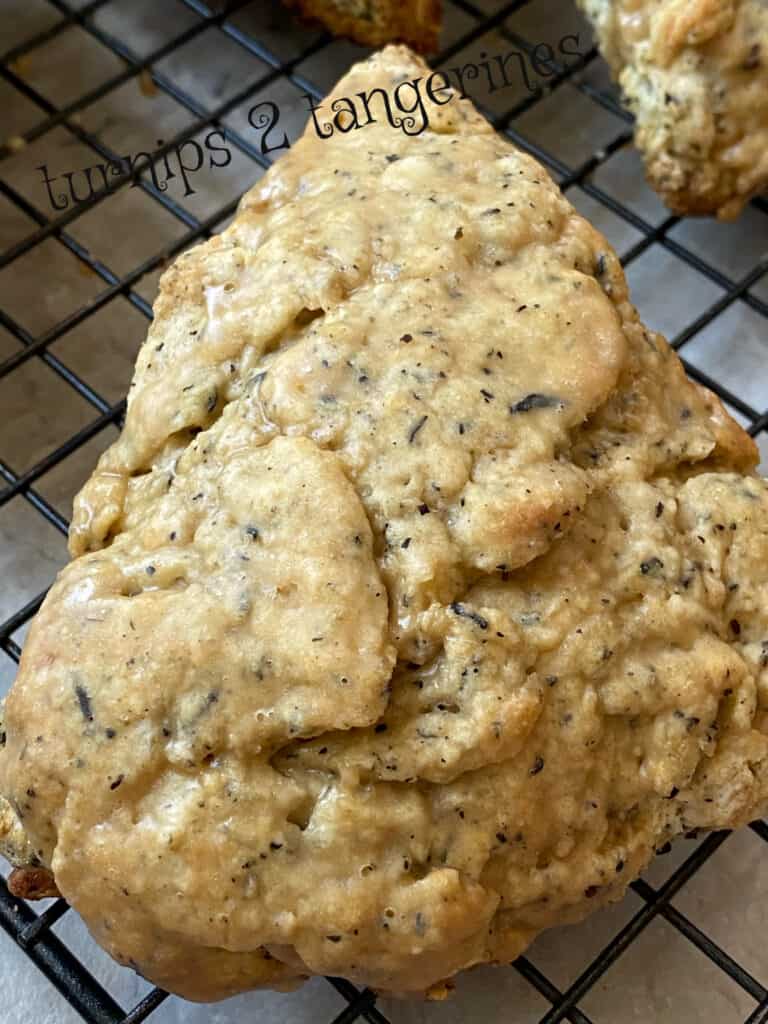 Therefore intended to be drunk without milk. However, tea companies have since begun to offer Earl Grey based upon stronger teas. Such as Ceylon teas which are better suited to the addition of milk or cream. There are many stories of how Earl Grey tea got its name.

British Classic 
A British tea classic, Earl Grey is the most widely enjoyed black tea blend in the world. Earl Grey dates back to the nineteenth century tea trade when Charles Grey, the 2nd Earl Grey, was presented with a gift of Taitaich, a tea scented with citrus blossoms. Grey's namesake tea became wildly popular when the tea salons of Europe infused black teas with the essence of the bergamot citrus fruit that grows in Reggio Di' Calabria.
In the Name of…
Lady Grey served Earl Grey Tea to entertain in London as a political hostess, and it proved so popular that she was asked if it could be sold to others. This is how Twinings came to market it as a brand. Jacksons of Piccadilly claim they originated Earl Grey's Tea.
Lord Grey having given the recipe to Robert Jackson & Co. partner, George Charlton in 1830. According to Jackson, the original recipe has been in constant production and has never left their hands. Theirs has been based on Chinese black tea from the beginning.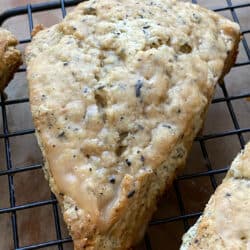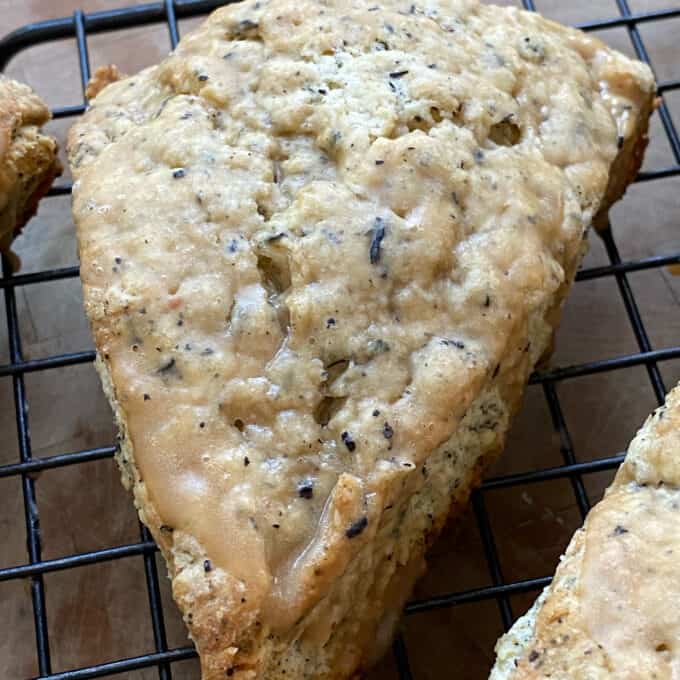 Earl Grey Scones with Lavender Earl Grey Glaze
A delicious scone made with Earl Grey tea, and dried Lavender.
Ingredients
2

cups

all-purpose flour

1/4

cup

granulated sugar

1

tablespoon

baking powder

1/2

teaspoon

salt

6

teaspoons

loose leaf Earl Grey tea

1/2

cup

unsalted butter, frozen

1/2

cup

heavy whipping cream

1

large

egg

2

teaspoons

vanilla extract

Earl Grey & Lavender Glaze

3

teaspoons

culinary lavender

1

cup

milk

4

teaspoons

loose leaf Earl Grey tea

2 1/2

cups

powdered sugar
Instructions
Preheat oven to 400 degrees and place a silicone baking mat or a piece of parchment paper on a large baking sheet.

In a large bowl, whisk together the flour, sugar, baking powder, salt and tea, whisk to combine.

Grate the frozen butter using a box grater and cut it into the flour mixture using a pastry blender until mixture has the texture of fine crumbs.

In a small bowl, whisk together the cream, egg, and vanilla extract. Make a well in the middle of the dry ingredients, pour in the wet ingredients, then mix together.

Once completely combined, turn the dough out onto a lightly floured surface and knead until it comes together. Shape the dough into a disc about 8 inches in diameter. Slice into 8 wedges.

Place the wedges about 2 inches apart on the prepared baking sheet and bake at 400 degrees for 18-22 minutes or until scones are golden brown. Transfer to a wire rack to cool completely.

Earl Grey & Lavender Glaze

In a small saucepan, bring the milk, lavender and tea to a simmer. Remove from heat, then steep for about 7 minutes.

Using a small sieve, strain the mixture and discard the solids. Measure out 1/2 cup of the steeped milk. Pour into a small bowl and whisk together with the powdered sugar. For a thicker glaze, add more powdered sugar until desired consistency and sweetness are reached.

Once scones are cool, drizzle with glaze.
Notes
*Cold, grated butter will give you the fluffiest and flakiest scones! But if you prefer, you can cube the cold butter (rather than grate it) before cutting it into the dough. If you don't have a pastry cutter, use a fork, or even your hands (but work quickly, so as not to let the butter get too war
Culinary Lavender from Fragrant Isle
We have many scone recipes. Here a just a sample.