Double Chocolates Grandma's Recipe
We may earn money or products from the companies mentioned in this post.
Double Chocolates Grandma's Recipe
Here in Wisconsin we are known for: Beer, Brats, Cheese and Our Love of  Sports. But what people might not know is that here in Wisconsin we have a Sweet Tooth. We love our Chocolate. Good, Quality Chocolate. Ambrosia Chocolate. Double Chocolates Grandma's Recipe is the same recipe that my grandma made every year during Christmas. I found out many years later that even though she called them double chocolates, they also go by the name "Truffles."
Ambrosia Chocolate
It you are from Wisconsin and you carry on your family's tradition of making homemade chocolate Christmas candy, you know all about Ambrosia Chocolate. Your grandma, mom, great aunts, in-laws, everyone you know, makes Christmas candy using Ambrosia chocolate. It is  "The Only" chocolate you would use to make your Christmas candy with.During the months of November and December, you can find Ambrosia Chocolate at any grocery store in Wisconsin. You can buy it by the pound or in 10-20 lb slabs.
Wisconsin Tradition 
Ambrosia Chocolate has been in Milwaukee since 1894 and it has been a family tradition in Wisconsin ever since. As soon as my Christmas tree is up and decorated, it's time to go to the grocery store and buy some Ambrosia Chocolate. It just would not be Christmas in my house without Ambrosia Chocolate. The holidays are here when that familiar slab of Ambrosia chocolate can be seen sitting  on the counter top waiting to be melted and made into my families favorite candies. Oh how I love the smell of melting chocolate. Peanut Cluster Anyone?? Double Chocolates?
Double Chocolates or Truffles
Ingredients
2

pounds

dipping chocolate (Ambrosia)

1/2

pint

heavy whipping cream

2

tablespoons

sugar

pinch

of salt

1

pound

dipping chocolate, Ambrosia

1 1/2

cups

finely chopped peanuts
Instructions
Melt dipping chocolate in a double-boiler until smooth and creamy. Let chocolate cool until lukewarm.

Whip whipping cream with 2 tablespoons sugar and a pinch of salt, until stiff peaks form. Fold whipped cream into cooled chocolate. Place mixture in the refrigerator until you can roll mixture into 1 inch balls. Roll chocolate/cream mixture into balls. Place balls on 2 large baking sheets lined with foil. Place balls in refrigerator overnight.

Melt 1 lb dipping chocolate in double boiler until smooth. Cool. Place crushed peanuts in a shallow baking dish. Dip balls into melted chocolate and then roll in crushed peanuts. Place balls on wax paper lined baking sheets. Put back in the refrigerator until chocolate is set. Place balls between sheets of wax paper in a covered container. Store in refrigerator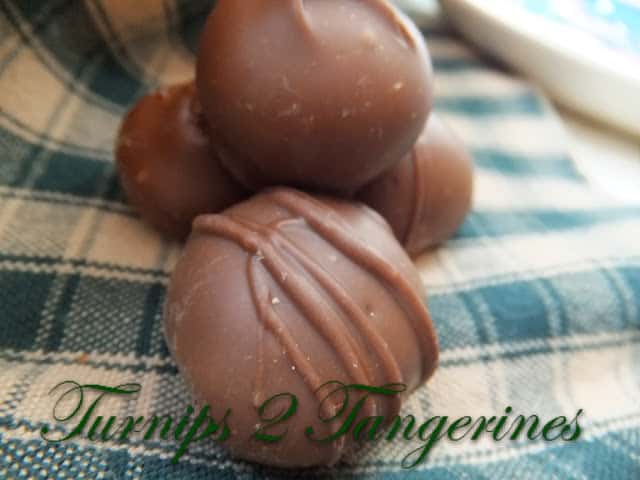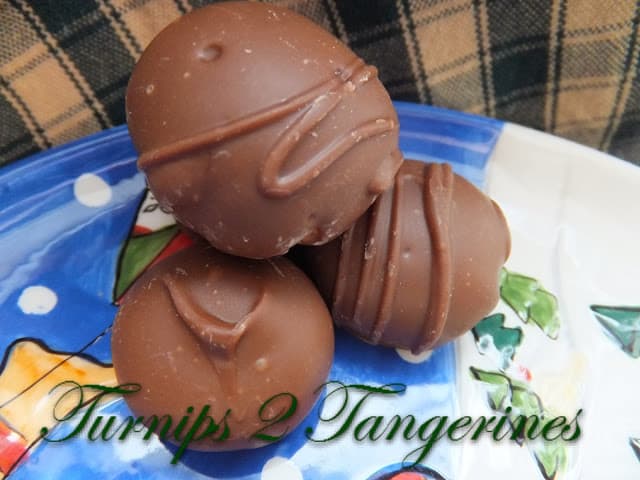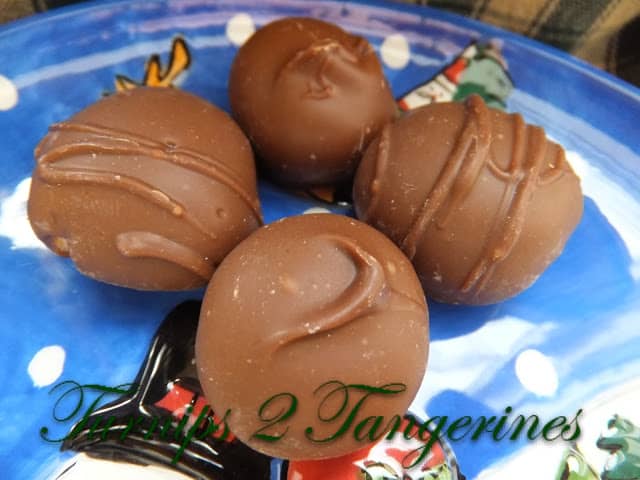 For more interesting facts about Chocolate in Wisconsin check out: On Milwaukee
Note: The views here at my own.
I was not asked nor am I being compensated from the Ambrosia Chocolate Co.