Double Banana Nut Crunch Bread
We may earn money or products from the companies mentioned in this post.
Double Banana Nut Crunch Bread
One slice of this delicious Double Banana Nut Crunch Bread and you'll want another and another. This irresistible bread is made with mashed bananas, chopped walnuts and banana-nut crunch cereal. I've made a lot of quick breads in my lifetime and if I had to pick a favorite, double banana nut crunch bread would win for all thyme favorite.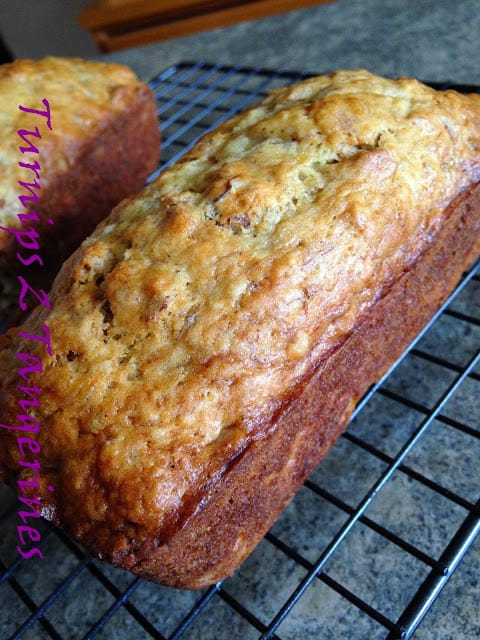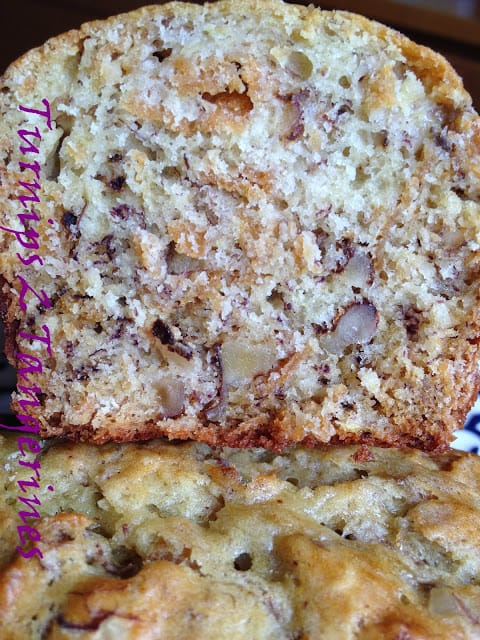 On the Back
Isn't it amazing the delicious recipes you can find on the back of boxes, packages, cartons and the like. You know what else I like about discovering recipes on the back of __(fill in the blank). All of the recipes have been tried, tested and tasted. So you know they have to be good! Double banana nut crunch bread is one such recipe. Most of the recipes are usually easy to make, with a short ingredient list.
Reading the Cereal Box
I discovered this recipe one morning while I was sitting at the table eating breakfast. Isn't it funny how every morning you get up, get ready, sit or stand and eat the same bowl of cereal? That's what I do anyway. And every morning I sit at the table and read and re-read the same cereal box. I always liked the trivia questions that were once popular on cereal boxes, way back when Trivia Pursuit was in vogue. You can actually learn some interesting stuff on the back of cereal boxes.
"Back" to the Recipe
Anyhow, let's get back to the subject, shall we. I found the recipe for Double Banana Nut Crunch Bread on the back of banana nut crunch cereal that I purchased at Aldi for my hubby. (I personally don't like banana flavored anything. Banana flavoring to me anyway, just doesn't taste like bananas.) But I was desperate and hungry so I poured myself a bowl and started reading the box. Surprisingly I liked it! It wasn't bad. I turned the cereal box around and there to my wondering eyes should appear, this fantastic recipe. Let's get cooking!
Four Mini Loaves
We decided to make double banana nut crunch bread in a mini loaf pan but you can certainly make this bread in a 9 x 5-loaf pan. I received a mini loaf pan (makes 4 mini loaves) for Christmas and I've turned into a mini loaf making machine ever since. Mini loaves make great gifts too. Next time you need an open house gift, teachers gift, hostess gift or thank-you gifts consider making mini bread loaves. The recipient will be greatly appreciated.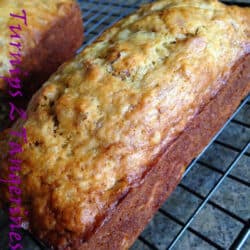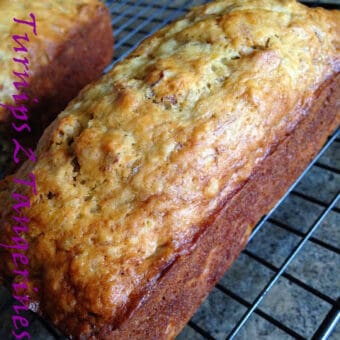 Double Banana Nut Crunch Bread  
The best banana bread you'll ever taste!
Ingredients
1 1/2

cups

all-purpose flour

1/2

cup

sugar

2

teaspoons

baking powder

1/2

teaspoon

baking soda

1/2

teaspoon

ground cinnamon

1/4

teaspoon

salt

1 1/2

cups

(about 4 mediumashed bananas

2

egg whites

1/4

cup

vegetable oil

1/4

cup

water

1 1/2

cups

banana nut crunch cereal

1/2

cup

chopped walnuts
Instructions
Grease bottom and 1/2 inch up sides of a mini loaf pans (4). Set aside.

In a medium bowl, combine flour, sugar, baking powder, baking soda, cinnamon and salt.

Make a well in center of dry ingredients.

In another bowl, combine mashed bananas, eggs, oil and water.

Add banana mixture all at once to dry ingredients; stir just until moistened.

Fold in cereal and walnuts. Spoon into prepared pans.

Bake at 350 for 50 to 60 minutes or until a toothpick inserted in center comes out clean.

Cool in pans on wire rack for 5 minutes.

Remove from pans; cool completely on wire rack
Nutrition
Serving:
1
g
,
Calories:
392
kcal
,
Carbohydrates:
58
g
,
Protein:
8
g
,
Fat:
16
g
,
Saturated Fat:
7
g
,
Sodium:
164
mg
,
Potassium:
418
mg
,
Fiber:
4
g
,
Sugar:
23
g
,
Vitamin A:
30
IU
,
Vitamin C:
3.9
mg
,
Calcium:
76
mg
,
Iron:
2.5
mg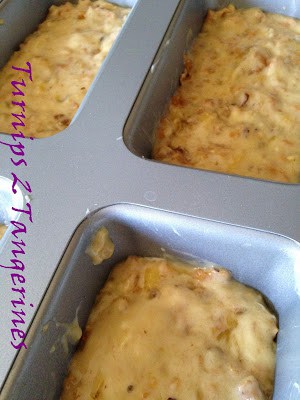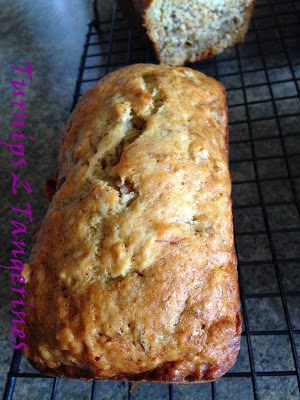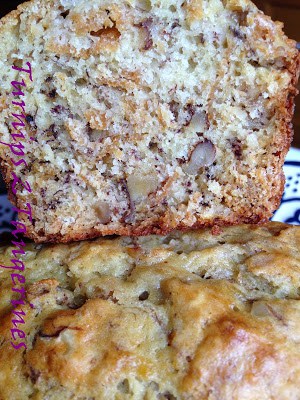 Health Note: Fruits such as peaches provide vitamin C along with a great taste. Foods rich in Vitamin C help keep gums and blood vessels healthy.