Door County Old Fashioned Cherry Crunch
We may earn money or products from the companies mentioned in this post.
Door County Old Fashioned Cherry Crunch
Hi Everyone! Welcome back to Turnips 2 Tangerines. If you're looking for a super easy recipe to make this summer, I have the perfect recipe for you. Door County Old Fashioned Cherry Crunch is the recipe for you. Made with only three ingredients, four if you're counting the vanilla ice cream. You will one package cherry crunch topping mix, one quart jar cherry pie filling and melted butter. The directions on the back of the package of crunch topping mix said to use 2 cups cherry pie filling and bake in an 8 x 8 or 9 x 9-inch square pan. I bought a large jar, 1-quart size cherry pie filling, therefore I made it in a 2 quart baking dish. It was so delicious, my hubby and I ate the whole thing in a 24 hour period!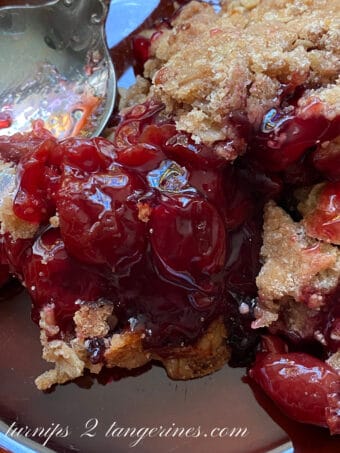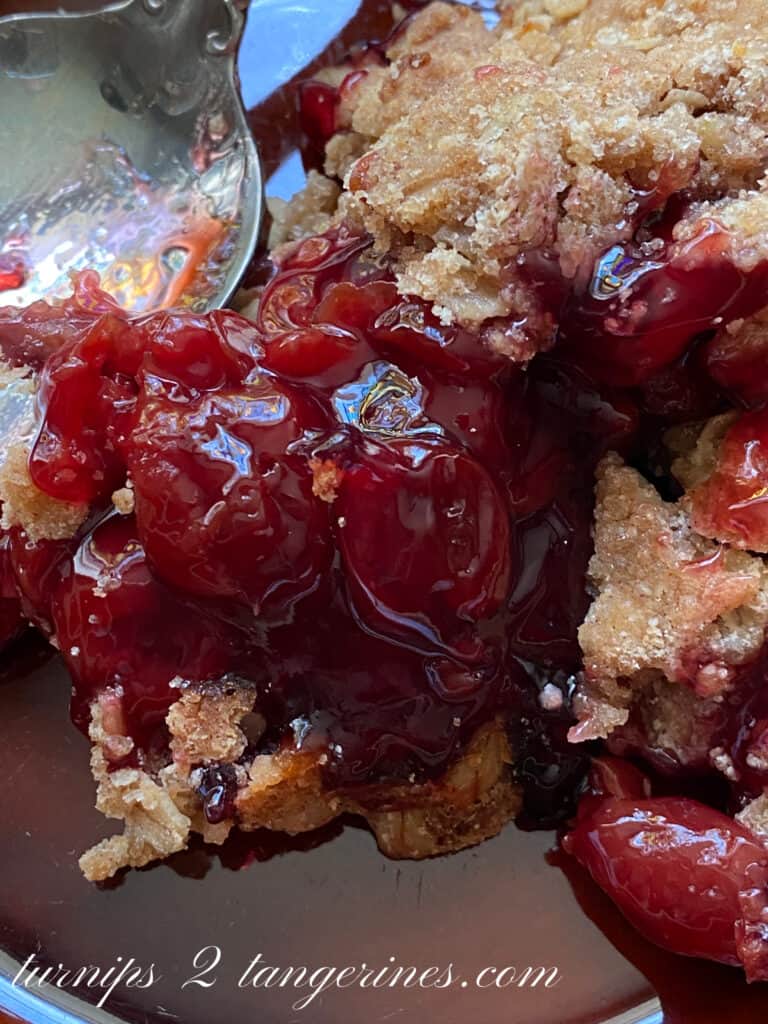 Seaquist Orchards
Last month, my daughter, grandkids and I took the short drive to Door County WI. The weather was gorgeous, the drive shorter than I had remembered and except of some minor road construction, the traffic was light. This is not always the case during the summer months nor during the fall when festivals are in full swing. Our destination was Sister Bay WI, more specifically, Seaquist Orchards. We wanted to  peek see the cherry blossoms, which luckily for us were in full bloom. We stopped in the Seaquist Orchard Farm Market to pick up a few of our favorite cherry products. In mid-July, through August, cherry picking will begin and we'll be back for that!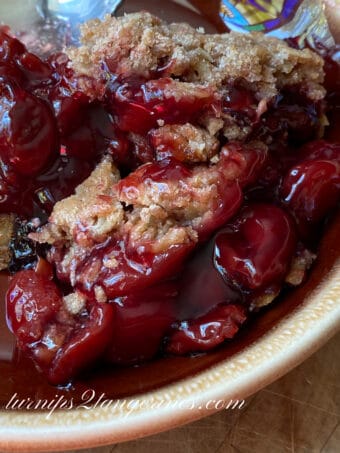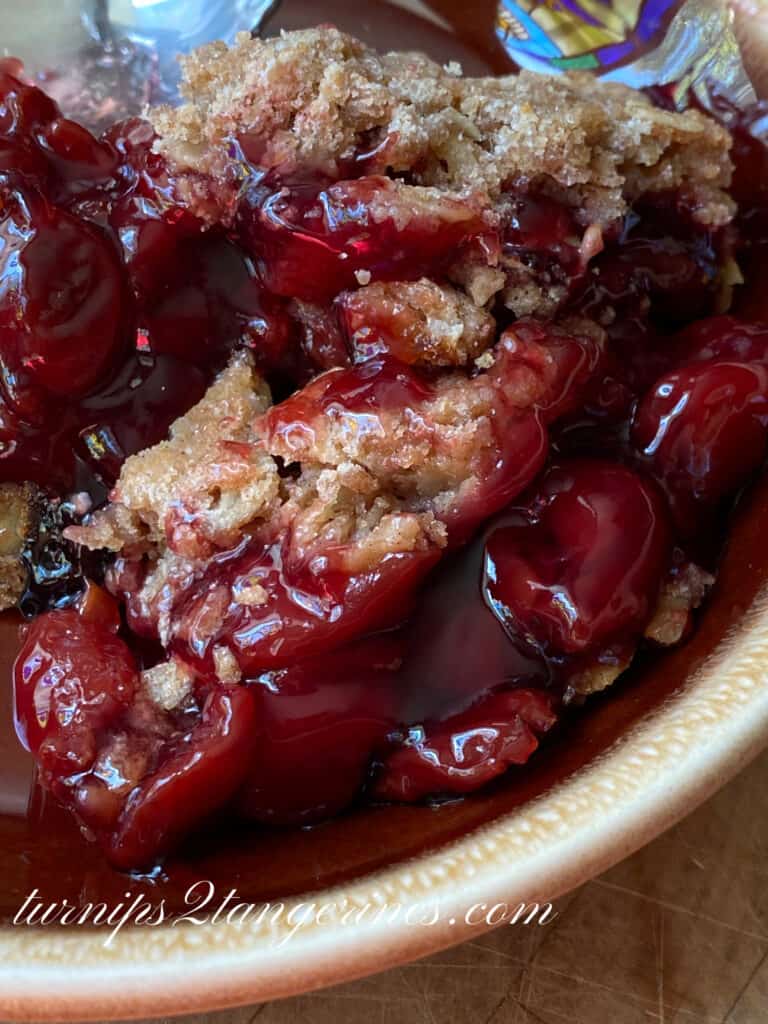 You can find many delicious cherry products online here Seaquist Orchards or if you're lucky enough to visit Door County, stop in at Seaquist Farm Market in Sister Bay. "Back in the early 1900's Anders Seaquist planted his first cherry trees and discovered that Door County has a unique way to nurture and grow these particular trees. In the 1960's, they expanded acreage to 100 acres of cherries and apples. In 1983 Dale and Jim formed a partnership and doubled the acreage to 200 acres. At that time, the focus became more on the tart cherries, and less on other fruit.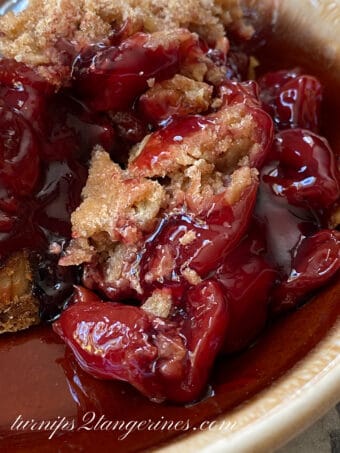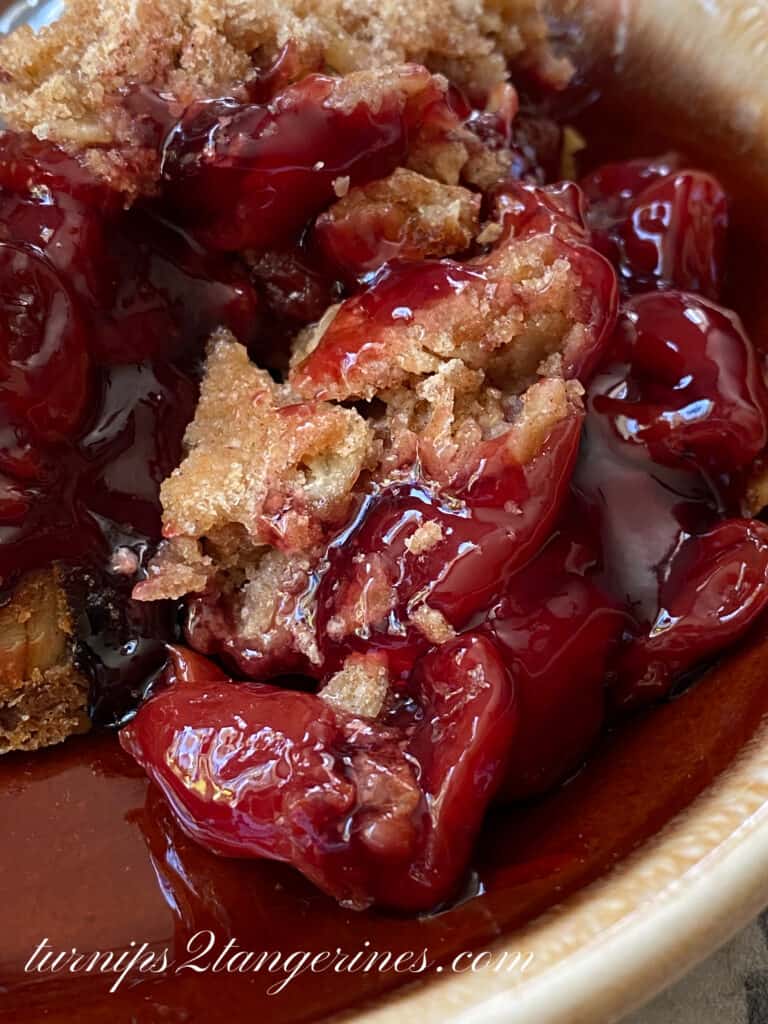 The 1990's to present day has brought the largest changes with planting new orchards every year since. Today the farm consists of approximately 1,000 acres of tart cherries and over 50 acres of apples and sweet cherries. In an average year the farm can produce about 6 million pounds of cherries. Seaquist has a small acreage of sweet cherries, but they grow mostly Montmorency Tart Cherries. These cherries pack great health benefits. Improving sleep, easing soreness from arthritis and gout. Montmorency cherries are used for cherry pie filling, dried cherries and in juices.
UP NEXT: Baked Lemon Coconut Haddock
Like Cherries 🍒?? So do we! Here are more cherry 🍒 recipes you'll certainly want to try.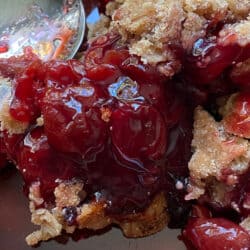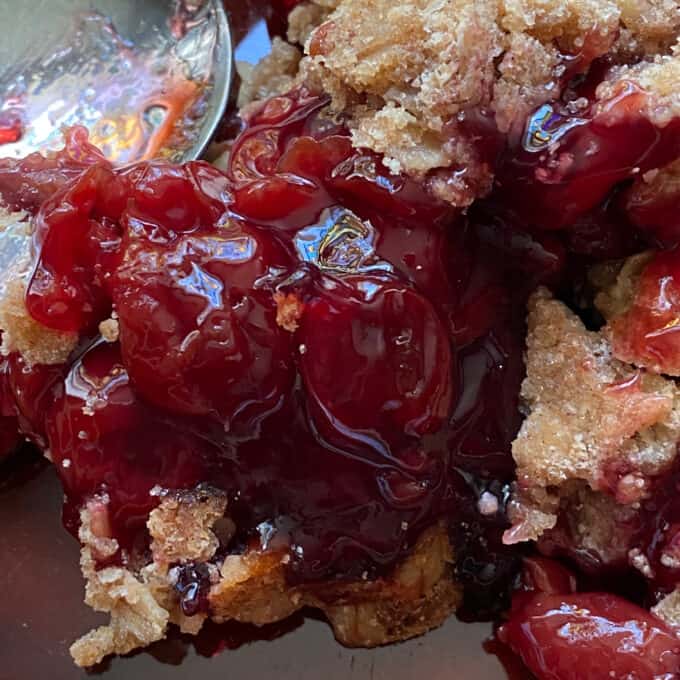 Door County Old Fashioned Cherry Crunch
A delicious cherry dessert made with Door County Cherries
Ingredients
1

quart jar

cherry pie filling

1

package

cherry crunch topping mix

1

stick

butter, melted

vanilla ice cream, optional
Instructions
Preheat oven to 350° Lightly spray 2 quart baking dish with non-stick spray.

Spoon cherry pie filling into prepared baking dish, In small bowl, combine topping mix and melted butter called for on topping mix package. Sprinkle topping over cherry pie filling in baking dish.

Bake at 350° for 45 to 55 minutes and mixture is hot and bubbly and topping is golden brown. Remove from oven, cool 15 minutes and serve with vanilla ice cream.