Deviled Egg Pasta Salad
We may earn money or products from the companies mentioned in this post.
Deviled Egg Pasta Salad
This Father's Day instead of making dad his favorite deviled eggs, make dad Deviled Egg Pasta Salad! Are deviled eggs a favorite dish served at your summer parties? Save some time and make this pasta salad version. Why waste time fumbling with hard boiled eggs, scooping out the yolks and then re-filling egg whites? And of course we can't forget about the dreaded deviled egg tray! This Father's Day don't hassle making dad deviled eggs, make deviled egg pasta salad instead! Dad will hug you for it:)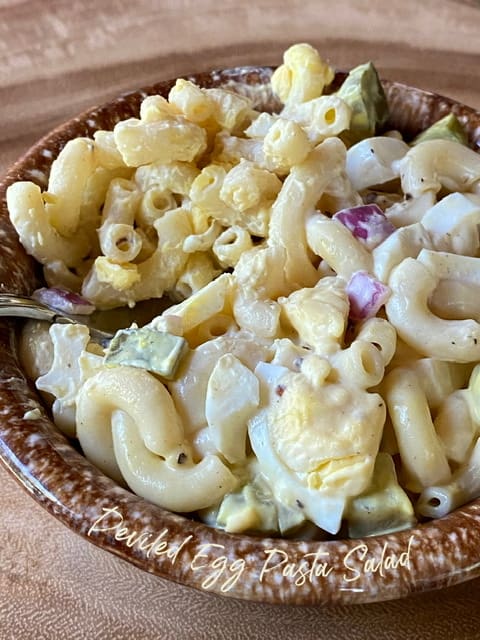 Deviled Eggs
I have been making deviled eggs for what seems like for-ever. There was a time, when no matter where I went, I was always asked to bring deviled eggs. After awhile, I just automatically brought them. Some people are always asked to bring their Auntie May's ambrosia salad, while some are asked to bring their famous Carrot Cake. For me, what started out as an inexpensive dish to pass, turned into my signature dish:) I still make deviled from time to time but not as often as I once did. If you'd like to make some deviled eggs to bring to your next get-together, here is the recipe that I've made so many times. Signature Favorite Deviled Eggs.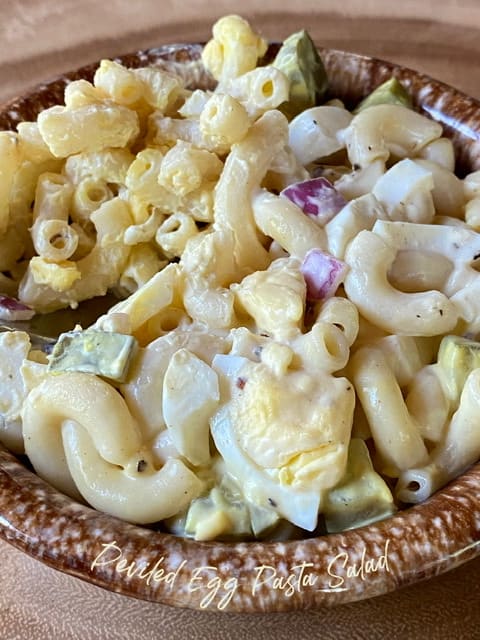 Pinterest Recipe
Deviled Egg Pasta Salad is a Pinterest recipe. I often look on Pinterest for recipes that I'd like to try or if I need a little inspiration. After eight years of blogging, It seems as if I've made every recipe out there. But one thing about recipes, there is always one more to try. Pinterest is a great source for recipes and so many other things. Even though I love Pinterest, I still enjoy paging through one of my numerous cookbooks. I "read" a cookbook from cover to cover and for some reason I just can't seem to toss them out, give them away or drop them off at the Goodwill. Pinterest on the other hand is so easy, convenient and held in the palm of your hand. Most importantly, the recipes are delicious.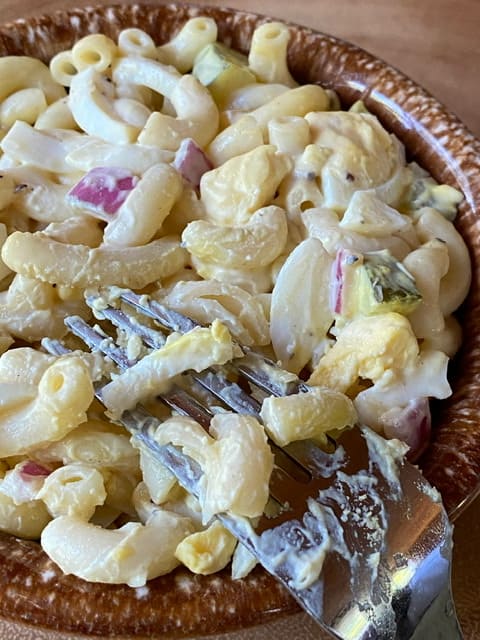 For this recipe
For this recipe, it's best to use real mayonnaise such as Hellman's. The taste is so much better in this recipe vs salad dressing. I've found also that using "real" mayonnaise in pasta or potato salads, prolongs the life of the salad so to speak. For instance, salad dressing tends to break down a pasta salad quicker, making it watery, more so than if you use real mayo. (At least in my humble culinary opinion.)Try them both and see what you think. For this recipe we used, Vlasic Pickles.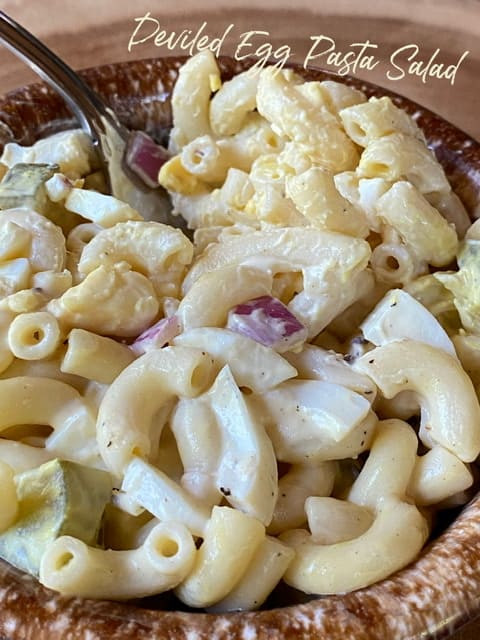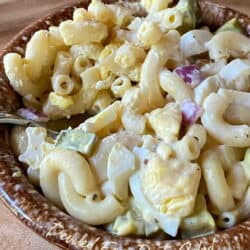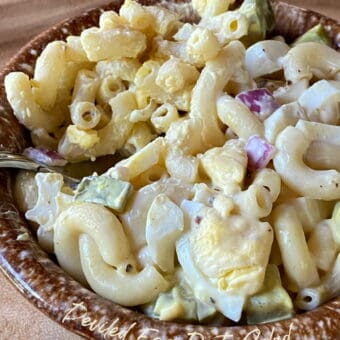 Deviled Egg Pasta Salad
Ingredients
16

oz box

elbow macaroni

1 1/4

cups

mayonnaise

1/3

cup

Dijon mustard

8

hard-boiled

eggs, chopped

1/3

cup

chopped red onions

4

large

dill pickles, chopped

Salt and pepper to taste
Instructions
Cook elbow pasta according to package directions, drain, rinse and add to large mixing bowl. In a small bowl, mix together mayo and mustard.

Add eggs, pickles, onions, mayonnaise/mustard mixture. Stir. Chill and serve.

Seasoning with salt and pepper to taste.

Chill until ready to serve.