Deli Rotisserie Chicken
We may earn money or products from the companies mentioned in this post.
Deli Rotisserie Chicken
Deli Rotisserie Chicken is juicy, delicious and packed full of flavor. A mixture of eight different spices are rubbed over the entire chicken and then allowed to marinade overnight. The longer the chicken is allowed to marinade the better. This will give the spices enough time to penetrate the meat, adding lots of flavor. One 4 to 6 pound roasting chicken, a few on hand spices, olive oil, a rotisserie or an oven roasting rack and Poof, you have a made-at-home, deli-style rotisserie chicken your family will love.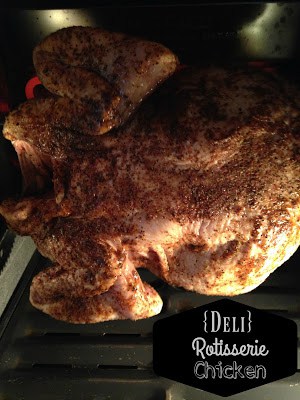 Delicious For Dinner
If you like grocery-store rotisserie chicken but don't like to pay grocery-store prices, then it's time to make your own rotisserie chicken. Deli rotisserie chicken is super served with mashed potatoes and a garden salad. The left-overs are out of this world and make fantastic chicken salad sandwiches for lunch or dinner the next day.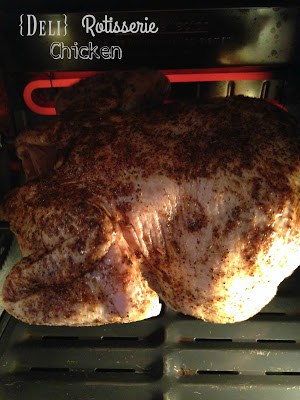 What's A Rotisserie
There are several 'definitions' for the word rotisserie. 1.) A unit that cooks food while it slowly rotates. A rotisserie contains a spit fitted with a pair of prongs that slide along its length. Food (usually meat) is put on the spit and the prongs, which are inserted on each side of the food, are screwed tightly into place to hold the food securely. Modern rotisseries have a motor that automatically turns the shaft, while their predecessors relied on human-power.
Many ovens and outdoor barbecue units have built-in electric rotisseries. This type of cooking allows heat to circulate evenly around the food while it self-bastes with its own juice. 2.) A restaurant or meat shop that specializes in roasted meats. 3.) A special area where roasting is done. Usually a large restaurant kitchen, often by specially trained chefs called rotisseurs.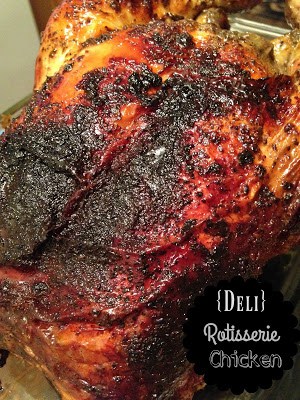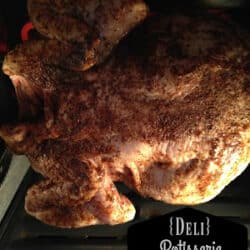 Deli Rotisserie Chicken
A delicious Chicken recipe, just as good if not not better than Store-bought Rotisserie Chicken.
Ingredients
4 to 6

pound

whole roasting chicken

1

teaspoon

salt

1

teaspoon

black pepper

1

teaspoon

chili powder

1

teaspoon

garlic powder

1

teaspoon

onion powder

1

teaspoon

dried thyme

1

teaspoon

sugar

2

teaspoons

paprika
Instructions
Remove the giblets from chicken, discard.

Wash chicken inside and out, drying with paper towels.

Rub chicken with a little olive oil.

Tie wings and legs with cooking twine.

Mix all spices together well.

Rub spices all over chicken.

Place in a 2 quart baking dish and wrap with saran wrap.

Put in the refrigerator for 4 to 24 hours, the longer the better.

Put chicken onto rotisserie bar(s).

Set timer for 1 1/2 hours.

Chicken is done at 160º and no longer pink
Notes
*Best if allowed to marinate overnight in the refrigerator.
*For crispier skin, don't cover the chicken while in the refrigerator.
Recipes On Tap
Home Style Chicken or Turkey Pot Pies and Waldorf Chicken Salad.
Spices
Purchase spices used for the spice rub at your local supermarket, bulk-food store or order online at: The Spice House.