Danish Jam Ribbon Cookies
We may earn money or products from the companies mentioned in this post.
Danish Jam Ribbon Cookies
Danish Jam Ribbon Cookies or Danish Raspberry Ribbons or Hindbaerkager are ribbons of buttery cookies with a jam center. The cookie ribbon centers can be filled with any type of seedless jam from raspberry to boysenberry. We opted for two different kinds of jam, Lingonberry and Bilberry. We purchased both at the new IKEA store located in Milwaukee WI. This year we are inspired to make cookies that are "Old World Favorites."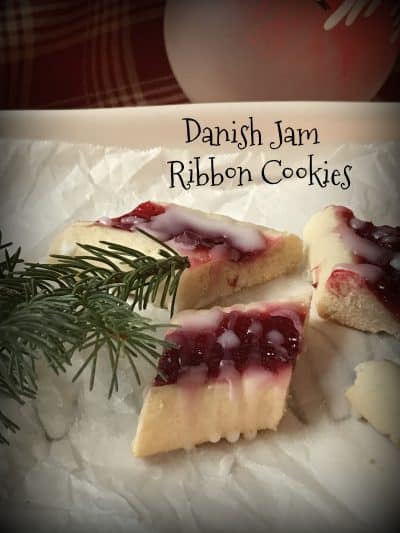 Christmas Cookies
Throughout the world, whenever Christmas is celebrated, getting together with family and friends to make cookies is an old tradition. Cookie baking is the perfect holiday activity. People of all generations come together to make cookies, exchange recipes and share memories. I can't think of a more heartfelt gift than a tin of homemade cookies. The word cookie comes to us from koekje, the Dutch word for little cakes.
Old World Traditions
Some believe the earliest cookies date back to 7th-century Persia. The Persians, one of the first groups to cultivate sugar, may have stumbled across these sweet treats while experimenting with their newly cultivated crops. The cookie has evolved since then, mainly due to the cookie's ability to adapt to its surroundings. Making it easy to create Christmas cookies from the spices, nuts, fruits and berries grown and harvested in their regions.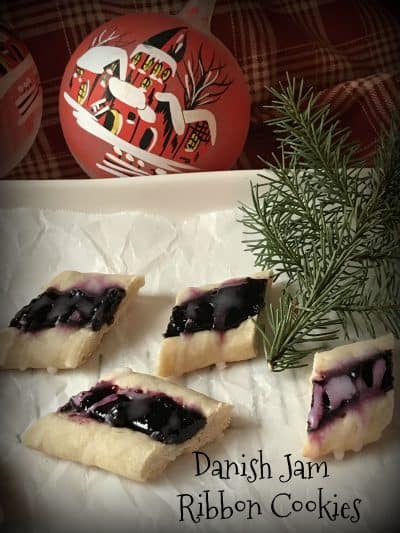 Great Britain
One of Great Britain's most popular Christmas "biscuits" or cookies, is Shortbread. Shortbread is a rich, sandy-textured, crisp cookie made with lots of butter. Its baked in a round mold that dates back to the time of the ancient Druids. After baking, the patterned mold, turns out a single cookie that is cut into wedges prior to serving. Today, many types and shapes of shortbread molds are sold in specialty gourmet stores.
[easy-image-collage id=19495]
Germany
Germany is famous for its "keks," or cookies and Lebkuchen, the sacred cake which is one of the country's favorites. Bakers throughout Germany prepare the dough several weeks prior to Christmas to allow the dough to rest and the spices to blend. Once baked, the cookies are left to age and the end result is a soft cookie with a pleasantly mellow flavor. While they are common in homes throughout the United States at Christmas, Germany was the first to produce the now familiar Gingerbread Houses and People.
In Scandinavia
In Scandinavia, baking added a bit of sunshine and warmth to the dark and dreary days of winter. With such a demand for sunshine, it's a no wonder Scandinavian bakers are world famous for their cookie baking skills. One of their most famous is the Christmas Spritz Cookie. The cookies, which are "squirted" from a cookie press, get their name from the word 'spritz' which means to 'squirt.'
Polish/Republic of Georgia
Prior to the 1600's, honey was the only sweetener available in Europe, one reason why so many old world recipes call for honey instead of sugar. As its availability grew, sugar replaced honey in many recipes but not in all recipes. To this day, many cookies from that region, including Polish Honey Bars and Baklava are still made with honey. Brown sugar and molasses are also used in many European old world cookie recipes instead of sugar.
[easy-image-collage id=19498]
Spanish/Mexican
When the Spaniards arrived in the New World, they brought with them sugar cane. Soon sugar was readily available making the production of the old Spanish favorite, Churros, inevitable. Another Spanish-speaking country famous for its cookies is Mexico. Their favorites include "pastelitos de boda" better known as Mexican Wedding Cookies and Mexican Sugar Cookies. They both fall under the category of "polvorones" which means "sprinkled with powder" or "dusties" due to their coating of powdered sugar.
[easy-image-collage id=19500]
General Guidelines for Making Cookies
Despite their different names, cookies or "little cakes" are popular throughout the world, are treasured for their varied flavors and forms. Cookies are enjoyed by all as tasty Christmas traditions. To ensure successful cookie baking follow these few techniques and guidelines, in addition to your recipe directions.
Read the entire recipe before you begin.
Remove butter or margarine from the refrigerator to soften and eggs from the refrigerator to bring to room temperature, if necessary.
Toast and chop nuts, peel and slice fruit, and melt chocolate before preparing dough.
Measure all the ingredients accurately. Assemble them as directed in the recipe.
When making bar cookies or brownies, use the pan size specified in the recipe. Prepare the pans according to the recipe directions. Adjust oven racks if necessary and preheat the oven. Check oven temperature for accuracy with an oven thermometer if needed.
Follow recipe directions and baking times. Check doneness with the test given in the recipe.
The following are some General Guidelines that describe doneness tests for many types of cookies.
Fudge-like bar cookies: The surface appears dull and a slight imprint remains after touching the surface with a fingertip.
Cake-like bar cookies: A wooden toothpick inserted into the center comes out clean and dry.
Drop Cookies: The surface is lightly browned and slight imprint remains after touching the surface with a fingertip.
Refrigerator Cookies: The edges are firm and bottoms are lightly browned.
Rolled Cookies: The edges are firm and bottoms are lightly browned.
Shaped Cookies: The edges are lightly browned.
Cooling Cookies
Many cookies should be removed from the cookie sheets immediately after baking and placed in a single layer on wire racks to cool. Fragile cookies may need to cool slightly on the cookie sheet before removing to wire racks to cool completely. Refer to directions in each recipe, but bar cookies and brownies may be cooled and stored in the baking pan.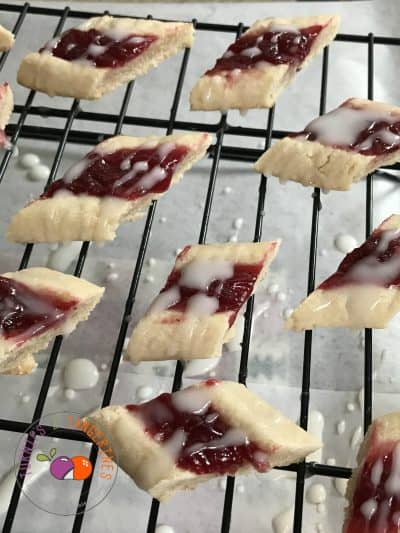 Recipe Note:
Danish Jam Cookies are super delicious! They look difficult to make but they are really easy. Use any flavor or a multitude of flavors to make your jam cookies. The light glaze adds just the right amount of sweetness. So Good!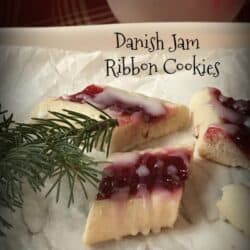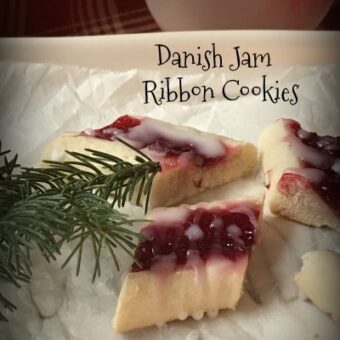 Danish Jam Ribbon Cookies, Hindbaerkager
A light and buttery cookie with a ribbon of jam.
Ingredients
1

cup

butter, softened

1/2

cup

sugar

1

large

egg

2

tablespoons

milk

2

tablespoons

vanilla extract

1/4

teaspoon

almond extract

2 2/3

cup

flour

6

tablespoons

seedless jam of choice

Glaze

1/2

cup

powdered sugar

1

tablespoon

milk

1

teaspoon

almond extract
Instructions
Beat butter and sugar in large bowl with electric mixer at medium speed until light and fluffy, scraping down side of bowl once. Beat in egg, milk, vanilla and almond extracts until well blended, scraping down side of bowl once.

Gradually add 1 1/2 cups flour. Beat at low speed until well blended, scraping down side of bowl occasionally. Stir in enough remaining flour with spoon to form stiff dough. Form dough into a disc; wrap in plastic wrap and refrigerate until firm, at least 30 minutes or overnight.

Preheat oven to 375 degrees. Cut dough into six equal pieces. Rewrap 3 dough pieces and return to refrigerator. With floured hands, shape each piece of dough into 12 inch long, 3/4-inch thick rope.

Place ropes 2 inches apart on ungreased cookie sheets or on parchment paper lined baking sheet. Make a length-wise 1/4 inch deep groove down center of each rope with handle of wooden spoon or finger. Note: Ropes will flatten to 1/2 inch thick strips.

Bake 12 minutes. Take strips out of oven; spoon 1 tablespoon jam along each groove. Return to oven, bake 5 to 7 minutes longer or until strips are light golden brown. Cool strips 15 minutes on cookie sheets.

Prepare Glaze: Place 1/2 cup powdered sugar, 1 tablespoon milk and 1 teaspoon almond extract in a small bowl; stir with spoon until smooth. Drizzle strips with glaze. Let stand 5 minutes to dry. Transfer strips to cutting board. Cut cookie strips at 45 degree angle into 1-inch slices. Remove cookies with spatula to wire racks; cool completely. Repeat with remaining dough.

Store tightly covered between sheets of waxed paper at room temperature.
Here are more recipes for Cookies from Around the World. Swedish Sandwich Cookies, Welsh Tea Cakes, Gingerbread Biscotti and Mexican Sugar Cookies.