Crock Pot Baked Beans
We may earn money or products from the companies mentioned in this post.
Crock Pot Baked Beans
It's that time of year again, time to get out your baked bean recipes. A summer barbecue just isn't the same without baked beans. It's like having a summer cook out without potato salad, it's not happening. In fact there should be a law against it! This recipe is made in your crock pot, so you don't have to heat up your kitchen. Crock Pot Baked Beans are super delicious.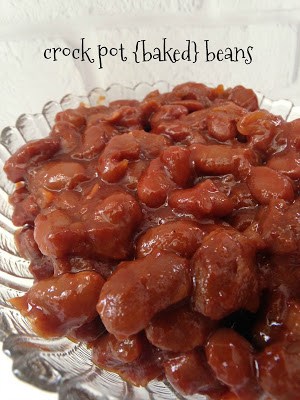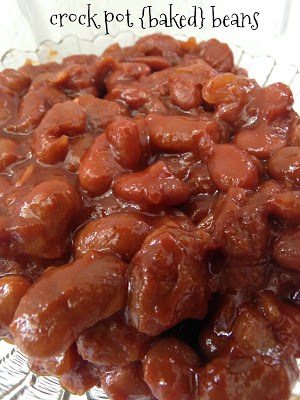 Summertime Must Have
At my house, every summertime cook-out has to have baked beans, some type of potato salad and pasta salad. Not necessarily in that order, but all three are always present and accounted for. What are three cook-out must haves at your house? Another plus, you can serve these yummy beans straight from the crock pot!
The "Real Deal"
Growing up, I was never a huge baked bean lover. Probably because Aggie never made beans, and I'm positive she never ever made "the real deal" baked beans. Her idea of baked beans came out of a can, with pork. The only time she ever used pork n' beans was when she made bean hash. I was well into my twenties before I ever had "the real deal" baked beans. One bite and I was hooked! I was so happy.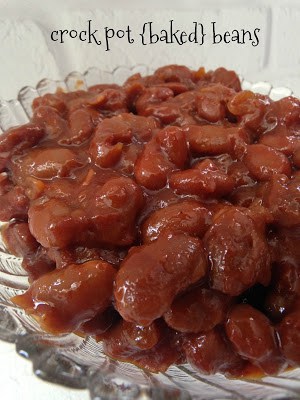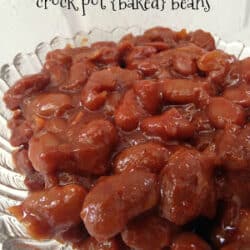 Crock Pot Baked Beans
Baked beans made in your crock pot! Yum:)
Ingredients
1 1/2

pounds

great northern beans

9

cups

water

1

cup

chopped onion

1

cup

ketchup

1

cup

brown sugar

1

cup

bean water

1

cup

of your favorite barbecue sauce

2

teaspoons

yellow mustard

2

tablespoons

molasses

1

teaspoon

salt

1

teaspoon

garlic powder

1

can

condensed tomato soup

2

teaspoons

Worcestershire sauce

2

teaspoons

chili powder

1/3

cup

apple cider vinegar

1

tablespoon

liquid smoke

1/4

pound

salt pork
Instructions
Place beans in a dutch oven. Cover with water, sprinkle baking soda over top.

Let beans soak overnight.

In the morning, bring water, beans and baking soda to a boil. Turn off heat, let beans soak in water for 30 minutes.

Mix together remaining ingredients in a 5 to 6 quart slow cooker. Drain beans reserving 1 cup bean water. Stir beans and bean water into ingredients in slow cooker. Cover, cook on high for 3 hours, then on low for 6 to 8 hours or until beans are tender.
Recipes On Tap