Crispy Coated Fried Haddock
We may earn money or products from the companies mentioned in this post.
Crispy Coated Fried Haddock
Crispy Coated Fried Haddock is made with a delicious cornmeal/flour, lightly spiced coating that is great on any type of fish. About once a month, I'll break out my big old and very deep cast-iron skillet and deep fry fish. Our fish of choice to fry is haddock fillets and we prefer to fry fish in peanut oil. I like to buy a huge jug of peanut oil and I use it only for frying. Our favorite brand is Lou Ana Peanut Oil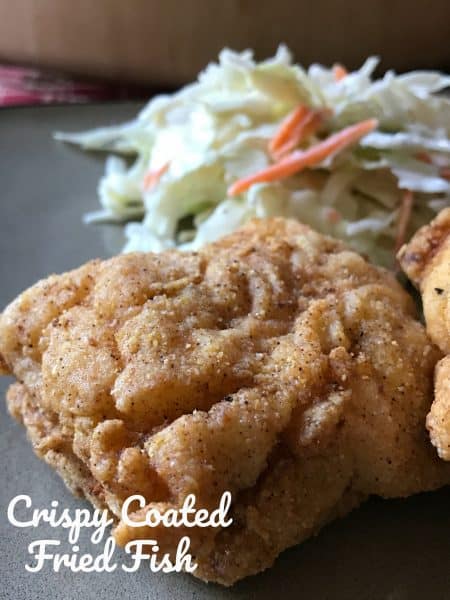 Serve With
I like to serve fried fish with coleslaw, tarter sauce and occasionally french fries. Sometimes I make "homemade"slaw, shredding the cabbage and carrots but usually I just buy a package of slaw. Same goes with the tarter sauce. I have and often do make my own tarter sauce, but there are times when the bottle variety works just fine. I guess it all comes down to a matter of time. How much time and effort do I want to put into dinner.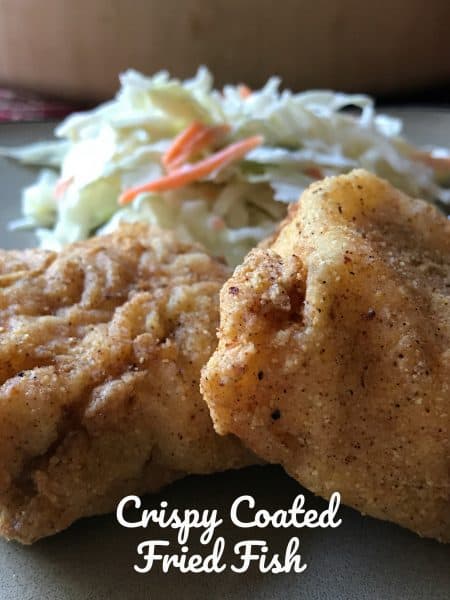 Fast and Easy
Whether you make your own coleslaw and tarter sauce or you purchase packaged coleslaw and your favorite bottle of tarter sauce, making fried fish at home is really easy. There is nothing better than sitting down to a homemade fish dinner. Here in Wisconsin, where Friday Night Fish Fry's are well known and loved, with most people having a "favorite" fish spot, making fish at home had better to be good.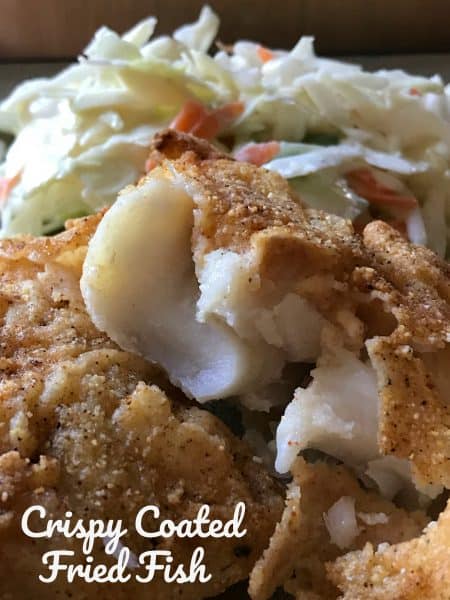 Looking For More?
Looking for more Haddock Recipes? Here are two of our favorites. Deep Fried Haddock and Beer Battered Deep Fried Haddock
Crispy Fried Haddock
Author:
Prep time:
Cook time:
Total time:
A spicy, cornmeal coating turns any type of fish into a crispy coated fish that's hard to resist.
Ingredients
1 cup buttermilk
4 6 oz haddock fillets or fillets of your choice
2 cups oil for frying
1 cup cornmeal
1 cup flour
1 teaspoons paprika
1/2 teaspoon ground black pepper
1 teaspoon salt
1 teaspoon garlic powder
1 teaspoon onion powder
1/4 teaspoon cayenne pepper
1 teaspoon Creole seasoning
Instructions
In medium bowl pour buttermilk. Add haddock fillets, and marinate 15 minutes.
Heat oil in large heavy skillet over medium heat until hot.
In shallow bowl, mix together cornmeal, flour, paprika, black pepper, salt, garlic powder, onion powder, cayenne pepper and Creole seasoning.
Remove fillets from buttermilk, shaking off any excess and dredge in cornmeal mixture.
Fry haddock fillets in hot oil until golden brown.