Creamy Corn Casserole
We may earn money or products from the companies mentioned in this post.
Creamy Corn Casserole
Creamy Corn Casserole is a delicious, spicy, corn casserole made with a sriracha style cornbread and muffin mix. Its so easy to make it's almost to scary. To make:) This casserole is so easy and so delicious, you might not ever eat corn any other way again. If your not keen on hot and spicy food you can substitute regular cornbread & muffin mix for the sriracha-style cornbread & muffin mix found at Aldi and omit the sriracha sauce. Another great choice is Honey Cornbread and Muffin Mix by Krusteaz.
Top With a Poblano
To add a festive touch to this creamy corn casserole, top it with a poblano pepper that has been cut in half, the seeds and membranes removed. You can leave on the stem or cut it off. Cut out three small triangles, two triangles for the eyes and one triangle for the nose. Make a jagged teeth, place on top and bake.
Serve With
Creamy Corn Casserole is great served with Vampire Dip, Meatloaf Skull, Mashed Potato Ghosts, and Tombstone Krispie Treats. Perfect to serve your family and friends at your festive Halloween Dinner. Not only is this a delicious and satisfying meal, it's relatively inexpensive to make and can be put together quickly. Another plus, all of the recipes are quite easy to make.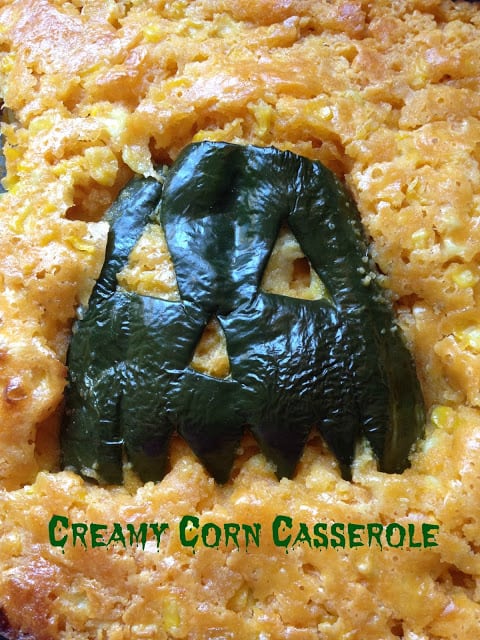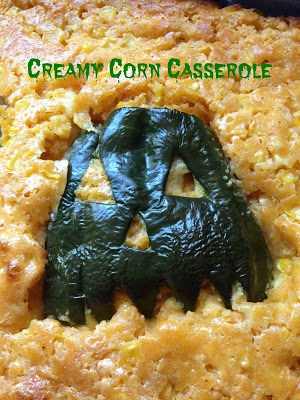 Start this delicious Halloween Meal off with Chocolate Dipped Dates and Vampire Dip, then serve this spooky Meatloaf Skull and Creamy Corn Casserole. For Dessert, serve Marshmallow Crispy Treat "Tombstones"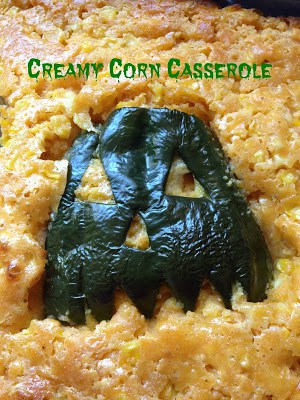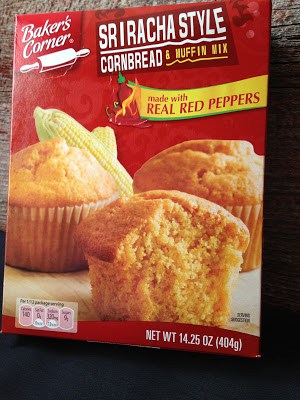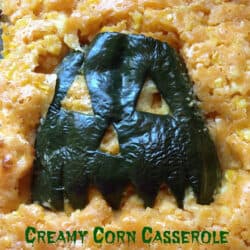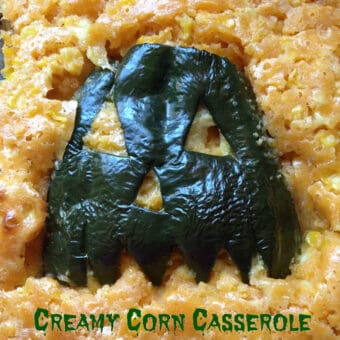 Creamy Corn Casserole
Ingredients
1/2

cup

butter, melted

2

eggs, beaten

1

14.25 oz package

sriracha style dry cornbread and muffin mix

4

cups

fresh whole kernel corn, thawed if frozen

1

cup

sour cream

1/3

cup

milk

1

tablespoon

sriracha sauce

1

poblano pepper, for garnish
Instructions
Preheat oven to 350 degrees and lightly grease a 2-quart baking dish.

In a medium bowl, combine butter, eggs, dry corn bread mix, whole kernel corn, sour cream, milk and sriracha sauce.

Spoon mixture into prepared dish.

Slice off the stem end and the bottom end of the poblano pepper.

Slice the poblano pepper in half lengthwise.

Remove the membranes and seeds, discard.

With a sharp knife, cut 2 small triangles for eyes and 1 triangle for the nose. Make a jagged mouth.

Place the poblano pepper in the middle of the casserole.

Bake for 45 minutes to 1 hour in preheated oven, or until the top is golden brown.