Cranberry Salad and How to Seed a Pomegranate
We may earn money or products from the companies mentioned in this post.
Cranberry Salad and How to Seed a Pomegranate
Cranberry Salad is a yummy salad that I found on Pinterest. You can find some really delicious recipes on Pinterest and this one is no exception. Full of fresh cranberries, crushed pineapple, mini marshmallows and topped with fresh pomegranate seeds…Oh and did I mention the whipped cream? For that classic orange flavor you expect with cranberries, I added fresh grated orange zest and for added crunch, some chopped pecans.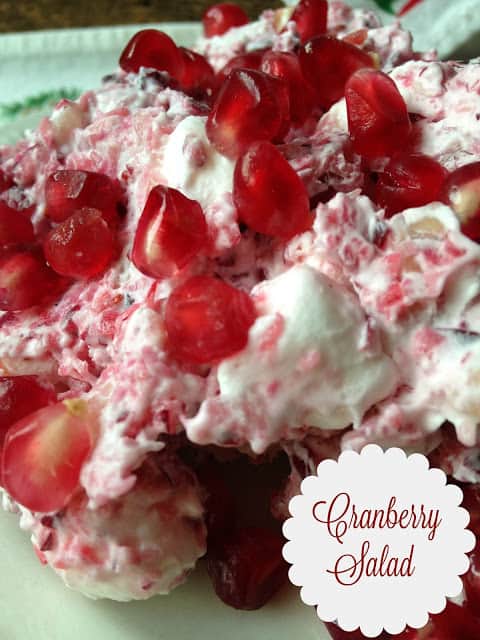 Pomegranate Facts
Nature's most labor-intensive fruit is about the size of a large orange. Pomegranates have a thin, leathery skin that can range in color from red to pink-blushed yellow. Inside hundreds of seeds packed in compartments that are separated by bitter, cream-colored membranes. Each tiny, edible seed is surrounded by a translucent, brilliant-red pulp that has a sparkling sweet-tart flavor.
Pomegranate are grown throughout Asia, the Mediterranean countries, Africa, India, and in California. In the United States they're available from August through December. Choose those that are heavy for their size, and have a bright, fresh color and blemish-free skin. Refrigerate pomegranates for up to 2 months or store in a cool, dark place for up to a month. Add pomegranates to fruit salads, vegetable salads and anything else you'd like.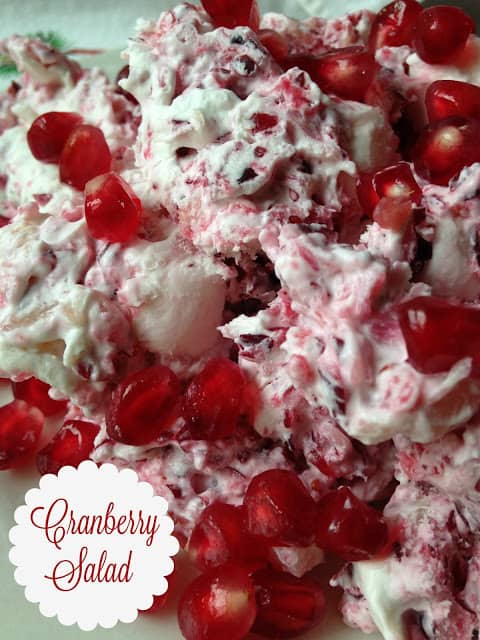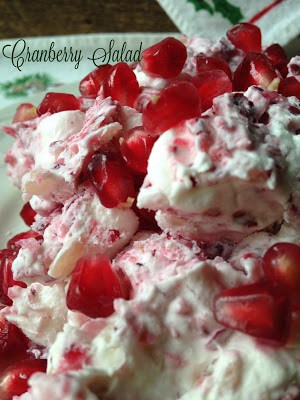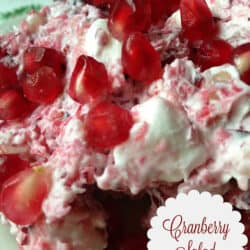 Cranberry Pomegranate Salad
A delicious and fruity salad.
Ingredients
1

10 oz package

fresh whole cranberries (3 cups)

3/4

cup

sugar

2

cups

mini marshmallows

1

20 oz can

crushed pineapple, drained

1/2

cup

chopped pecans

2

tablespoons

orange zest

1

cup

heavy whipping cream

1/2

cup

powdered sugar

1

teaspoon

vanilla extract

1

cup

fresh pomegranate seeds
Instructions
Pulse the cranberries in a food processor until fine and no large pieces remain.

Transfer to a large mixing bowl and stir in the sugar.

Cover and refrigerate for at least 2 hours or up to overnight.

Drain any accumulated juices from the cranberries and reserve for another use.

Stir in the marshmallows, drained pineapple, pecans and orange zest, set aside.

Whip the heavy cream in a large chilled mixing bowl until the cream begins to thicken, about 1 minute.

Beat in powdered sugar and vanilla until soft peaks form, 3 to 5 minutes.

Fold the whipped cream into the cranberry mixture, one-third at a time, until fully incorporated.

Transfer to an 8 x 8 inch baking dish.

Refrigerate or freeze for about 2 hours.

Right before serving, garnish with the pomegranate seeds
Kitchen Tip: How to Seed a Pomegranate
Select a pomegranate that is heavy and make sure your pomegranate is ripe. Cut the stem end off with a sharp knife. Pry open the pomegranate using your thumbs/hands. Remove the seeds using your fingers or a small spoon. Place the seeds in an air-tight container.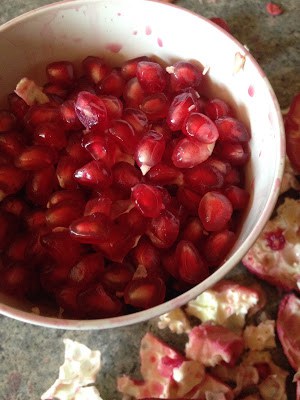 Recipes On Tap:
For this recipe we used Dole pineapple.