Cranberry Bratwurst Bites
We may earn money or products from the companies mentioned in this post.
Cranberry Bratwurst Bites
in Cranberry Jezebel Sauce
Cranberry Bratwurst Bites are smothered in a sweet, tart, sassy sauce called, Cranberry Jezebel Sauce. Cranberry Jezebel Sauce is exactly as the name suggests Sweet, Tart, Sassy, Fruity and Spicy. Just like Jezebel herself. For this recipe we used cranberry bratwurst from our favorite grocery store located in Rhinlander WI called Trigs.
What is Jezebel Sauce?
Cranberry Jezebel Sauce gets its sweetness from both granulated and dark brown sugar, tartness comes from the whole cranberries, the sassy flavor comes from Bee Sting Irish Whiskey, fruity flavor from seedless blackcurrant preserves and last but not lest, the spiciness comes from the prepared horseradish and Dijon mustard. This ingredient list might sound somewhat strange but believe you me, the end result is fantastic.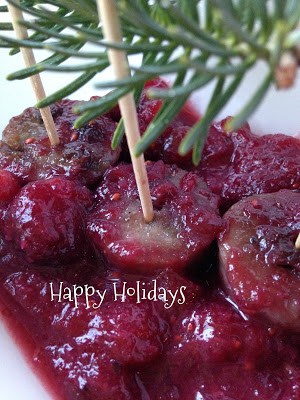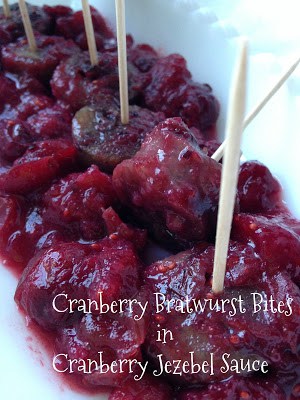 Your Favorite
If you can't find cranberry bratwurst in your area, use your favorite bratwurst or your favorite sausage links. You can also substitute meatballs if your not a fan of bratwurst or sausage links. Even cocktail wieners will work. Ground venison meatballs or ground duck meatballs work fantastic in this recipe also. In fact, any game meat works great with cranberry Jezebel sauce. Heck, everything is better with Cranberry Jezebel Sauce!! Don't like bratwurst? No problem! Simply dip string cheese into the Jezebel sauce. (No double dipping please) Cut string cheese into bite size pieces and serve with toothpicks and Jezebel Sauce.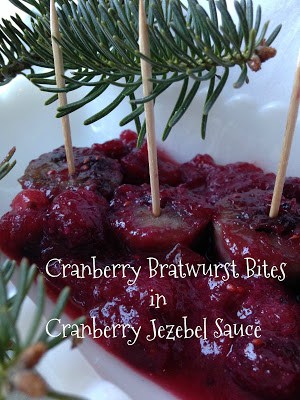 Recent Recipe on Tap: Homemade Sausage Pizza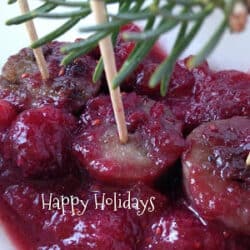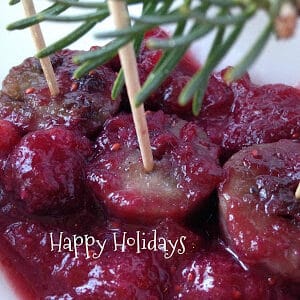 Cranberry Bratwurst Bites in Cranberry Jezebel Sauce
Delicious Cranberry Bites with Sweet and Spicy Jezebel Sauce
Ingredients
1

pound

cranberry bratwurst

water to cover bratwurst

1

cup

water

1/2

cup

granulated sugar

1/2

cup

packed dark brown sugar

1

12 oz bag

fresh cranberries

2

measures Irish Whiskey, optional

1/2

cup

seedless, blackcurrant preserves

3

tablespoons

prepared horseradish

1

tablespoon

Dijon mustard

pinch

of salt

toothpicks for serving
Instructions
Place water and sugars in a saucepan. Cook over medium-high heat and bring to a boil.

Add cranberries, return mixture to a boil, the reduce heat and simmer stirring often for 10 minutes. Cranberry skins should be popped and the mixture will thicken. Remove from heat. Stir in preserves, horseradish, mustard and pinch of salt. Simmer sauce for 15 minutes.

Prepare bratwurst: In a medium saucepan, add water and bratwurst. Bring to a boil. Boil for 2 minutes. Remove from heat and drain.

Brown bratwurst in a large skillet until browned on all sides and cooked through, 15 to 20 minutes. Remove bratwurst from skillet to a serving plate, let cool. When bratwurst are cool enough to handle, slice into 2-inch slices. Return bratwurst pieces back to skillet, add cranberry Jezebel sauce. Heat just until heated through, 5 to 10 minutes. Serve bratwurst in sauce.
Nutrition
Serving:
1
g
,
Calories:
353
kcal
,
Carbohydrates:
43
g
,
Protein:
8
g
,
Fat:
17
g
,
Saturated Fat:
6
g
,
Cholesterol:
42
mg
,
Sodium:
537
mg
,
Potassium:
246
mg
,
Fiber:
1
g
,
Sugar:
37
g
,
Vitamin C:
3.3
mg
,
Calcium:
35
mg
,
Iron:
0.6
mg
*Recipe Note: Add the juice and zest from one orange to the sauce for some citrus blast.
Cranberry Bratwurst  and Blackcurrant Preserves
Caramelized Onion Dip is another super delicious dip you'll want to try this holiday season.