Cornflake Coated Crispy Haddock
We may earn money or products from the companies mentioned in this post.
Cornflake Coated Crispy Haddock
Cornflake Coated Crispy Haddock is simply haddock fillets that are dipped in seasoned Russian salad dressing and then rolled in crushed cornflakes cereal. Drizzling the coated fillets with melted butter before baking makes this haddock wonderfully delicious! If you aren't a fan of haddock or fish in general, you can substitute boneless, skinless chicken breasts. This recipe turns out fantastic every time we make it.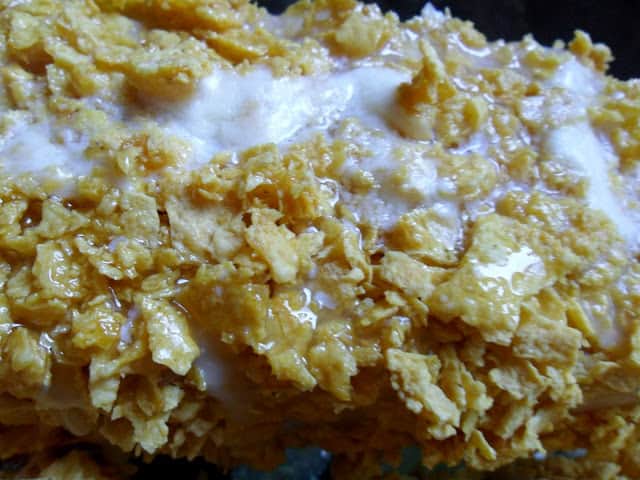 Serve With
We like to serve crispy haddock with a side of coleslaw and homemade baked beans. In my house we can't eat a piece of fish, no matter which way we prepare it, without a side of coleslaw and baked beans. Right before serving, you can squeeze fresh lemon juice over your crispy haddock and then serve with tarter sauce. Nothing fancy here, just a good old fashioned fish dinner.
NEXT UP: strawberry Macerated Strawberries
 Haddock 
Haddock pronounced [HAD-uhk] a saltwater fish that is closely related to but smaller than Cod. The low-fat haddock has a firm texture and mild flavor. It can weigh anywhere from 2 to 6 pounds and is available fresh either whole or in fillets, steaks, and frozen in fillets and steaks. Haddock is suitable for any style of preparation including baking, poaching, sautéing and grilling. Smoked haddock is called FINNAN HADDIE.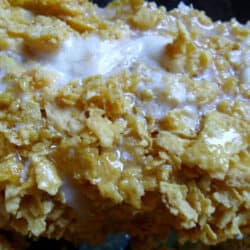 Crispy Haddock
Ingredients
2

large

eggs, lightly beaten

4

tablespoons 

water

1

cup 

Russian salad dressing

2

tablespoons 

seafood seasoning

5

cups

cornflakes cereal, 2 cups crushed

1/3

cup

finely chopped pecans, optional

3

11 x 3 x 1-inch squares

haddock fillets, cut in half, thawed if frozen

1

stick

butter, melted

2

lemons
Instructions
Preheat oven to 350º

In a shallow dish stir together eggs, water, salad dressing, and seafood seasoning.

Place crushed cornflakes and chopped pecans in another shallow dish.

Dip fish fillets in egg mixture, then dredge in crushed cornflakes, coat well.

Place coated fillets in a 13 x 9 in baking dish.

Drizzle with melted butter, squeeze lemon juice over all.

Cover dish with tin foil. Bake for 30 to 35 minutes. Remove foil.

Bake for an additional 15 to 20 minutes or until cereal is golden brown and fish flakes easily with a fork.
Shrimp Egg Rolls with Sweet Sour Sauce is a great recipe for egg rolls. Served with a homemade sweet-sour sauce, even better!