Cool Chocolate Mint Brownies
We may earn money or products from the companies mentioned in this post.
Cool Chocolate Mint Brownies
Cool Chocolate Mint Brownies are delicious. Chocolate and mint are made for each other. One of my favorite flavor combinations is chocolate and mint. I love anything chocolate and mint. Mint m & m's in my opinion are heavenly. They have got to be one of my greatest weakness, mint m & m's or should I say m & m's in general are a weakness of mine. Apparently, mint m & m's are also my grandsons weakness too.
Kids and Adults Like Chocolate and Mint
When my grandson was about 2 years old, I found him sitting on top of the dinning room table, helping himself to the candy dish that was filled to the top with mint m & m's. E-man had crawled up on the chair, onto the table and was sitting on top of the table munching away, popping one after the other into his mouth…by the time we had been the wiser, he had eaten 3/4 of the candy dish. We were just glad he didn't choke or get sick.
UP NEXT: Blackberry Cranberry Sour Cream Muffins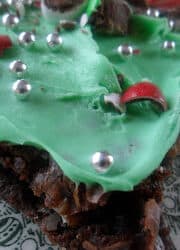 Chocolate Mint Brownies with Mint Frosting
Packed full of mini chocolate chips, pecans and hot fudge ice cream topping these brownies have it all. Add a mint frosting and chopped mint m & m's, fantastic!
Ingredients
3/4

cup

Hershey's cocoa

2/3

cup

butter, melted and divided

2

cups

sugar

1 1/2

cups

flour

1/4

teaspoon

salt

1/2

teaspoon

baking soda

1/2

cup

boiling water

2

eggs

1

teaspoon 

vanilla extract

1/2

cup

mini chocolate chips

1/2

cup

coarsely chopped mint m & m's, plus extra for garnish

1/3

cup

chopped pecans

2

Tablespoons

chocolate fudge ice cream topping

1/4

cup

butter, softened

3 1/2

cups

confectioners sugar

1

teaspoon

peppermint extract

1/4

cup

milk, add 1 tablespoon at a time until reach desired consistency

few drops of green food coloring

chopped mint m & m's
Instructions
Heat oven to 350º Grease a 13 x 9 x 2 baking dish.

Stir together cocoa and baking soda in large bowl, slowly stir in 1/3 cup melted butter. Add water; stir until mixture thickens. Add sugar, eggs, and remaining 1/3 cup melted butter. Stir until smooth. Add flour, extract and salt; combine until well blended. Stir in mini chocolate chips, mint candies, pecans and chocolate topping.

Spread into prepared pan.

Bake for 35 to 45 minutes or until toothpick inserted in middle comes out clean. Do not over bake. Cool pan on wire rack.

When cool, frost with mint frosting.

Make mint frosting.

Cream butter, add confectioners sugar and beat.

Stir in extract and milk.

Mix until mixture is smooth and creamy.

Add green food coloring, if desired, beat until reached desired color.

Spread on cooled brownies.

Garnish with chopped mint m & m's.
For this recipe we used mint m & m's