Coffee Cake Recipes for Coffee Lovers
We may earn money or products from the companies mentioned in this post.
Coffee Cake Recipes for Coffee Lovers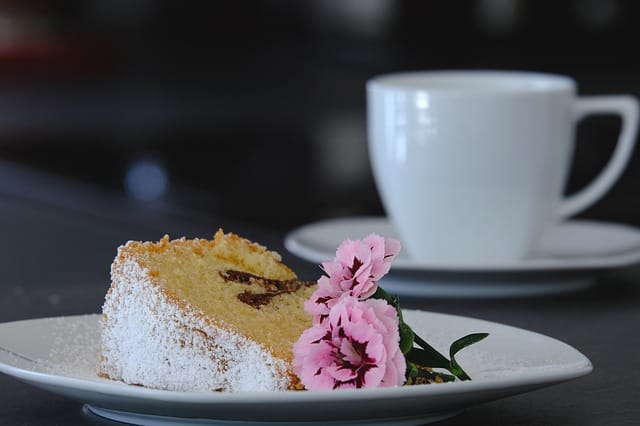 Source: Pixabay
The average American drinks 2.1 cups of coffee (or coffee drinks) per day. However, if you're a coffee lover, you're anything but average. Chances are, you'll take your coffee fix any way you can get it. One of the most scrumptious ways to get the amazing coffee flavor is with coffee cake. However, not just any coffee cake will do. Below are two Coffee Cake Recipes for Coffee Lovers.
Regardless if you like your coffee hot, cold, with a lot of sugar, or if you read guides such as "How to Make Pour-Over Coffee at Home – The Ultimate Guide," to learn new ways to enjoy coffee, having a delicious slice of coffee cake isn't something you are going to say no to. Keep reading to find some of the best of the best coffee cake recipes.
Best Quick Coffee Cake
If you are like most people, you're probably pretty busy during the day. Just because you have things to do, doesn't mean you can't enjoy a sweet slice of coffee cake. This recipe shows you how to create a super smooth vanilla cake with a layer of homemade streusel.
What you need:
1 c. of oil

2 beaten eggs

1 tsp. vanilla

3 c. flour

1 c. milk

1 c. sugar

3 tsp. baking powder

1.5 c. brown sugar

1.5 tsp. salt

 2 tsp. cinnamon

1.5 c. margarine or butter melted
To make this cake, combine your milk, vanilla, eggs and oil together in one bowl. In another, blend together salt, baking powder, flour, and sugar. Once mixed, combine the ingredients together and pour half of your batter into a greased 9×13 pan.
In another bowl prepare your streusel by combining your cinnamon and brown sugar. Sprinkle half of this mixture on the top of your batter, add remaining batter, then remaining streusel. Drizzle with melted butter and bake your cake at 350 for 25 to 30 minutes.
*This is  contributed content post*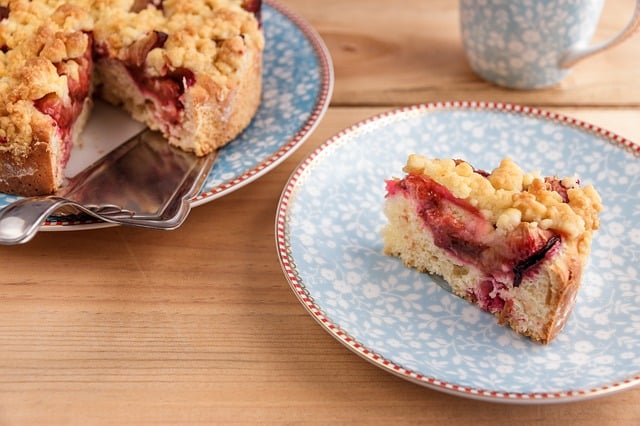 Source: Pixabay
Cherry Coffee Cake and Crumb Topping
If you have a little more time and want a more unique coffee cake, this one may be just what you are looking for.
What you need:
2 c. all-purpose flour

2 tsp. baking powder

0.5 c. of melted butter

0.5 c. milk

0.75 c. sugar (if you want less sugar, you can use 0.5 c. instead)

0.5 tsp. salt

2 eggs (lightly beaten)

1 can of cherry pie flavor or filling of your choice
Make the cake by preheating your oven to 325 degrees and grease a 9 by 13 baking pan using shortening. Put your baking powder, sugar, salt, and flour and melted butter in a mixing bowl. Stir the ingredients together with a fork until they are crumbly.
If you notice bigger clumps, use your fingers to break them apart. Take half of the crumbs out of your bowl and if you want to add nuts, now is the time to do so.
In another bowl whisk together your lightly beaten eggs and your milk. Add this mixture to your bowl of crumbs and stir well. There are going to be small lumps left in the batter.
Pour the batter into the prepared baking pan and spread the cherry pie filling over the cake. Place the reserved crumb topping on top of the pie filling and bake for 40 to 45 minutes.
You're Steps Away from Delicious Coffee Cake
As you can see, there are more than a few ways to make great tasting coffee cake. Be sure to try one or both of the recipes here or come up with your own twist for these recipes! When coffee is involved, you really can't go wrong.
Here are two of our favorite and easy coffee cake recipes: Easy Blueberry Coffee Cake and Buttercup Squash Coffee Cake