Coconut Macaroon Nests
We may earn money or products from the companies mentioned in this post.
Coconut Macaroon Nests
With Easter a few weeks away, why not try this recipe for Coconut Macaroon Nests. Made with egg whites, sweetened condensed milk, flaked coconut and lemon extract. I had to laugh when my grand-son thought the coconut macaroons looked like eggs and the spring green sixlets candies looked like peas! These cute "eggs" and "peas" would look great on your Easter Brunch table. The center of the cookies are filled with lemon curd. Lime curd can also be used.
Macaroon
Macaroon [mak-uh-ROON] A small cookie classically made of almond paste or ground almonds (or both) mixed with sugar and egg whites. Almond macaroons can be chewy, crunchy or a combined texture, with the outside crisp and the inside chewy. There is also a coconut macaroon, which substitutes coconut for the almonds, which is what this recipe is. Cookie macaroons can be flavored with chocolate, cherries or orange peel.
Curds
Curd is a creamy mixture made from juice, usually lemon, lime, or orange, sugar, butter and egg yolks. The ingredients are cooked together until the mixture becomes quite thick. When cool, the lemon, lime or orange curd becomes thick enough to spread and is used as a topping/filling for baked goods. Various flavors of curd are available in gourmet markets and supermarkets but the most popular is lemon and lime.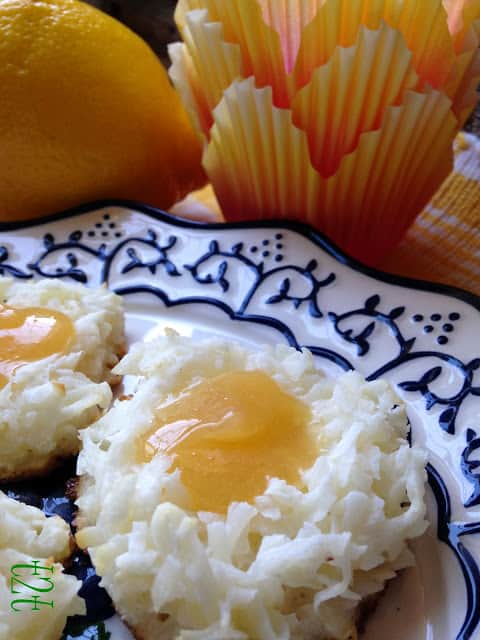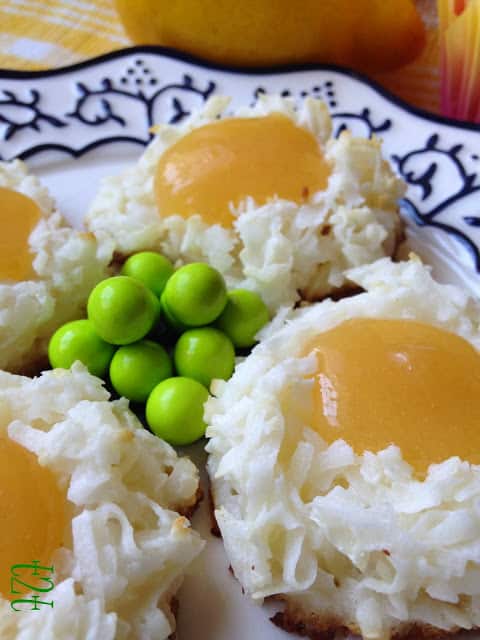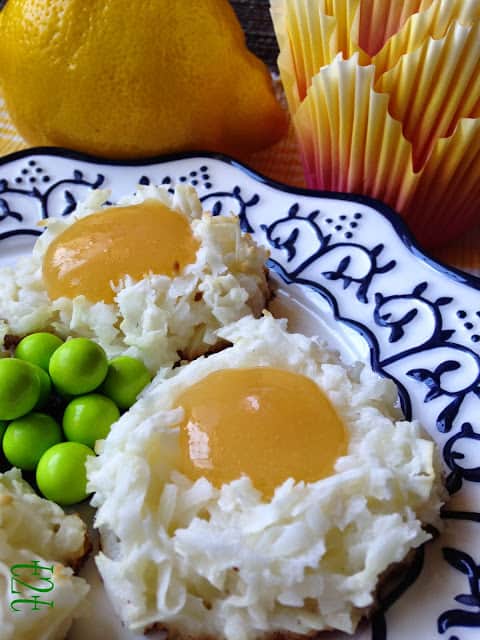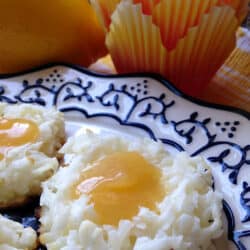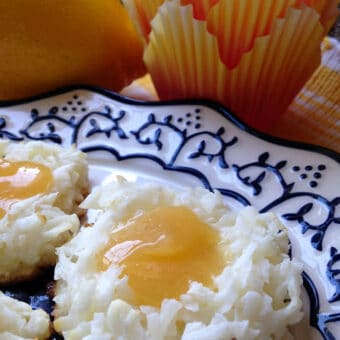 Coconut Macaroon Nests
Coconut macaroon nests are perfect for Easter. Fill with lemon curd or lime curd.
Ingredients
2/3

cup

sweetened condensed milk

1

large

egg white

1

teaspoon

lemon extract

1/8

teaspoon

salt

3 1/2

cups

sweetened coconut

1

jar

lemon curd or homemade lemon curd

Over the Top spring green sixlets candy or candy of your choice
Instructions
Preheat oven to 325° Line a baking sheet with parchment paper

In a large bowl, stir together sweetened condensed milk, egg white, lemon extract and salt.

Stir until combined. Add coconut and mix well.

With a 2 tablespoon size cookie scoop, measure out the dough.

Place dough on parchment lined baking sheet.

Make a small indentation with your thumb to from a nest.

Bake for 17 to 20 minutes.

Remove from oven. Press center again to make a nest.

Cool until firm. Remove from baking sheet. Cool completely.

Place a tablespoon of warmed lemon curd filling in the "nests"
Recipes On Tap
Mini Lemon Flower Tarts, Lemon Ginger Cream Cheese Danish  and Individual Lemon Blueberry Trifle
For this recipe we used jarred Lemon Curd from Trader Joe's.