Coconut Lime Jasmine Rice
We may earn money or products from the companies mentioned in this post.
Coconut Lime Jasmine Rice
If your looking for a delicious side dish to serve this summer with your grilled favorites, give Coconut Lime Jasmine Rice a try. Made with coconut milk, water, fresh lime zest and Earthly Grains Roasted Sweet Garlic Jasmine Rice from Aldi. Light and refreshing, coconut lime jasmine rice is perfect served alongside grilled salmon, chicken and my favorite, grilled or Oven Roasted Pork Tenderloin Kabobs.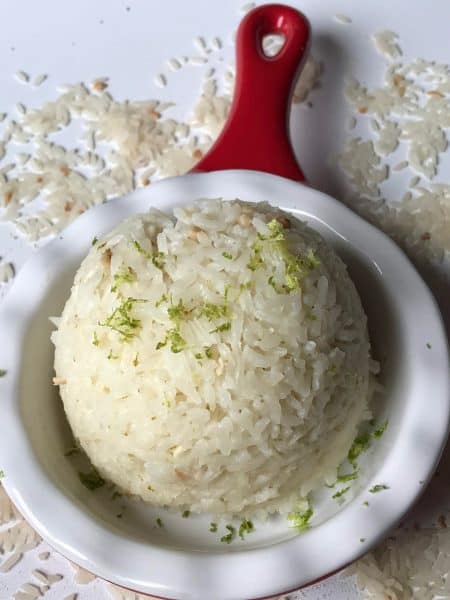 Summer Salads
Summertime is a time for grillin' and chillin.' For me summer means summer salads. For those of us who are watching our diets and carbs, summer can be a challenge. We still want to watch what we're eating but we don't want to feel like we're missing out. Missing out on all of the delicious foods summer has to offer. For me that means pasta/potato salads/jello salad. It's very hard for me to pass up a pasta/potato or jello salad! So what does one do?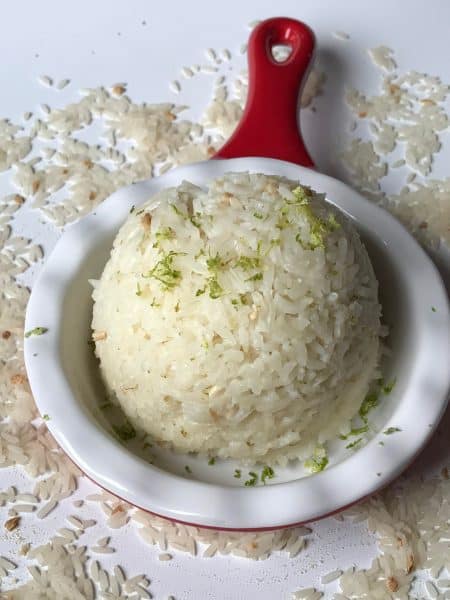 Not Low-Carb But
Even though this recipe isn't considered low-carb for me who isn't on a strict low-carb diet, it's a much better option than the mayo-laced potato and pasta salads so often seen during the summer months. There are a few alternative to carbs that I have really embraced. Mashed/riced/steaks/zoodle vegetables have become my new favorites. Mashed cauliflower and cauliflower "steaks" are made often. I've also gone "zoodle" crazy too!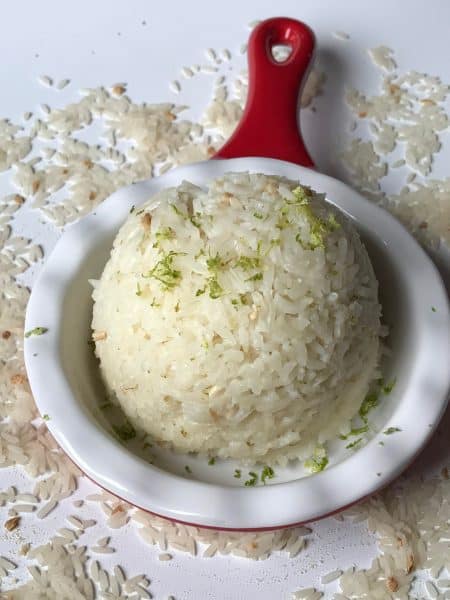 Zoodles
Keep your eyes peeled because we have purchased a Zoodle Maker!! And you know what that means, oodles of zoodle recipes. This summer as soon as I see produce at my favorite farm stand, I'm going to start 'zoodle-ing." Beets, carrots, squash, zucchini you name it, I'm going to zoodle it:) Actually what I bought is called a Spiral Maker but why split hairs, we prefer the term 'zoodle,' it just sounds fun. So stay tuned, zoodles are on their way.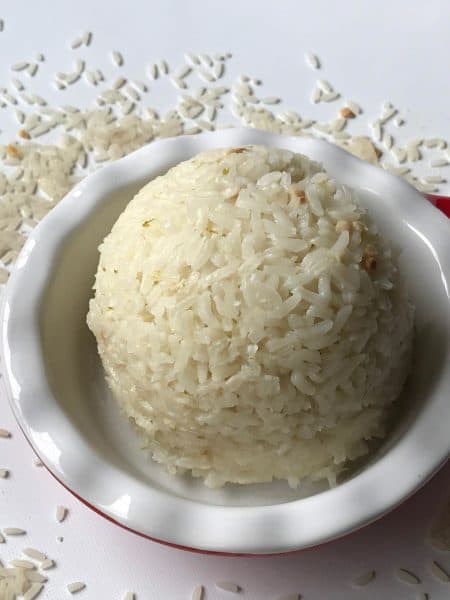 Recipe Alternative
This is a recipe tip or alternative to the recipe given below. If you aren't able to find Earthly Grains Roasted Sweet Garlic Jasmine Rice at Aldi don't hesitate to make this recipe. Simply substitute your favorite brand of jasmine or long-grain rice and one or two tablespoons dried minced garlic for the Aldi brand. You want to use a long-grain type of rice, not minute rice because you want the rice to absorb the coconut milk mixture. This gives the rice that yummy coconut flavor.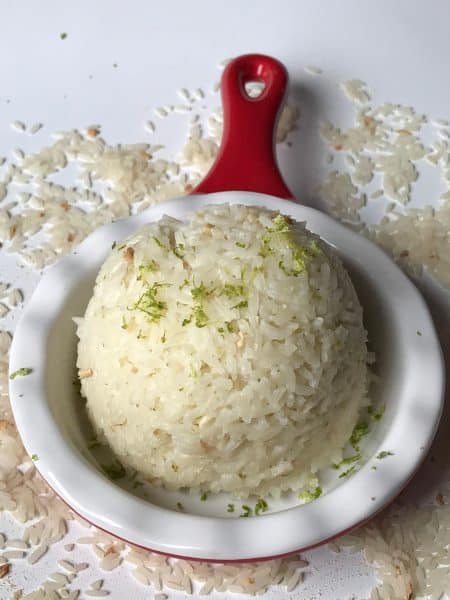 Another recipe alternative; instead of using canned coconut milk substitute coconut water or original, unsweetened coconut milk such as Silk.
Coconut Lime Jasmine Rice
Delicious and light with a hint of coconut and lime.
Ingredients
2

cups

water

2

cups

coconut milk (canned)

1/2

teaspoon

salt

1

teaspoon

coconut oil or butter

2

cups

Earthly Grains Roasted Sweet Garlic Jasmine Rice

,

*See Note

zest of 1 lime

juice from 1 lime

1/3

cup

shredded Parmesan cheese
Instructions
In a medium saucepan combine all ingredients. Bring to a boil, reduce heat. Cover and simmer gently until all liquid is absorbed, 18 to 20 minutes. Stir in shredded Parmesan cheese right before serving.
Notes
Recipe Note: Substitute 2 cups long-grain white rice or 2 cups plain jasmine rice and 1 or 2 tablespoons dried minced garlic for the Earthly Grains Roasted Sweet Garlic Jasmine Rice.