Cocktail Sweet n' Sour Meatballs
We may earn money or products from the companies mentioned in this post.
Cocktail Sweet n' Sour Meatballs
More over grape jelly meatballs, there is a new meatball in town. Who doesn't like grape jelly meatballs? Everyone in my family certainly does. My family also likes the half dozen 'other' versions I have made too. You know the recipes, you've probably have made them also. Recipes that basically replace the grape jelly with jellied cranberry sauce, barbecue sauce or orange marmalade. Cocktail Sweet n' Sour Meatballs are new and here to stay.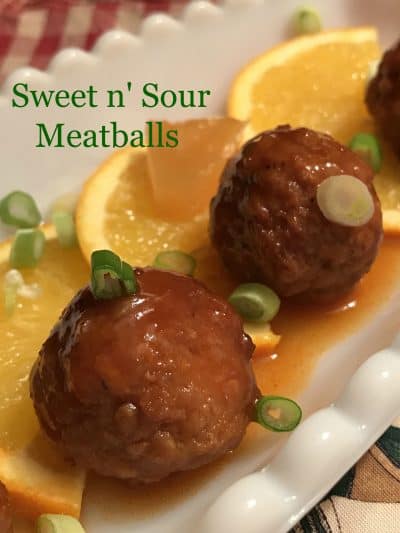 Meatballs
My family loves the packaged-style meatballs. Yes, I know, they're funny that way. So when my son asked me to make Sweet n' Sour meatballs this year for Christmas I thought, this should be easy. I don't even have to make meatballs, I can just buy a bag. Now, don't get me wrong, if they want to eat packaged, pre-made meatballs, that's fine with me! Saves me time in the kitchen and during the busy holidays, that's a plus in my book.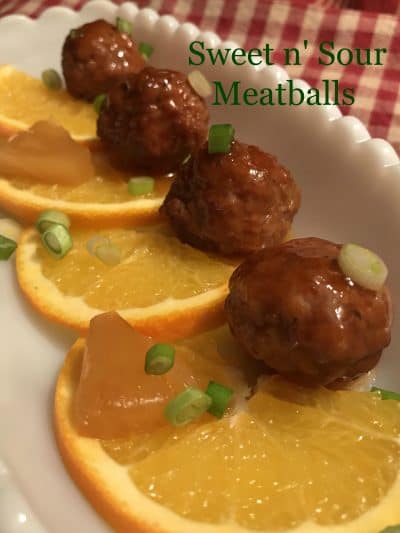 SNL Skit
We can't talk meatballs without mentioning one of my all thyme favorite SNL Skits. You know the one! It's that time of year again, time for meatballs and that holiday favorite, Schweddy Balls. I just can't resist Schweddy  Balls. This skit cracks me up every time I watch it, which is every at this time when I make meatballs. I haven't watched SNL for many years, but way back in the 90's I certainly did.
Happy Holidays
From Our Kitchen to Yours…Wishing You and Yours 'Happy Holidays', 'Merry Christmas' and A 'Very Happy New Year!' We will be back next year with more delicious fast, easy and affordable recipes. At this time I want to Thank All of You for you stopping by and visiting us here at Turnips 2 Tangerines. I really appreciate it so very much…See you next year! Lynn
Recent Recipe: Fiery Cajun Shrimp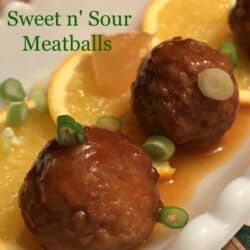 Cocktail Sweet and Sour Meatballs
A delicious change of pace from the usual meatballs served during the holidays.
Ingredients
2

26 oz bags

frozen meatballs (Farm Rich)

2

tablespoons

soy sauce

1

20 oz

can pineapple slices with juice, cut in quarters

1

10 oz

jar La Choy Sweet and Sour Sauce

1

cup

ketchup

1

cup

apple cider vinegar

1

cup

brown sugar, packed

1/2

cup

orange marmalade

1

orange, juiced

1/2

teaspoon

salt

1/4

teaspoon

black pepper

1/2

teaspoon

onion powder

1/2

teaspoon

garlic powder

1/8

teaspoon

cayenne pepper, or to taste

finely chopped chives, garnish
Instructions
Place frozen meatballs in a bottom of slow cooker. In large bowl mix together soy sauce, pineapple, sweet and sour sauce, ketchup, apple cider vinegar, brown sugar, orange marmalade, orange juice, salt, pepper, onion powder, garlic powder, and cayenne pepper to taste.

Pour sauce over meatballs. Turn slow cooker to high. Cook on high for 3 to 4 hours. Serve with toothpicks or pretzel sticks.
Notes
*Recipe Note: This recipe can be cut half. 
For this recipe we used La Choy Sweet n Sour Sauce, Dole Pineapple and Farm Rich Homestyle Meatballs.