Classic Tuna Noodle Salad
We may earn money or products from the companies mentioned in this post.
Classic Tuna Noodle Salad
I have been making Classic Tuna Noodle Salad for as long as I can remember. My mom Aggie always made this salad, usually during lent and I have always made this salad for summer barbecues. When I was a newlywed, so many years ago, it was an easy and very affordable salad to make and still is! We prefer this salad on the dry side… meaning I like to make this salad with a light hand on the mayo but feel free to add as much as your family likes.
Just Like Mom
This recipe is basically the same as Aggie made so many years ago, with addition of added cheese the only exception. Aggie made this tuna noodle dish during lent, along with her recipe for tuna noodle casserole, you know the one, with the crushed potato chips on the top. I've always preferred this recipe verses the "hot" tuna noodle casserole. I'm just not a huge fan of warm tuna anything.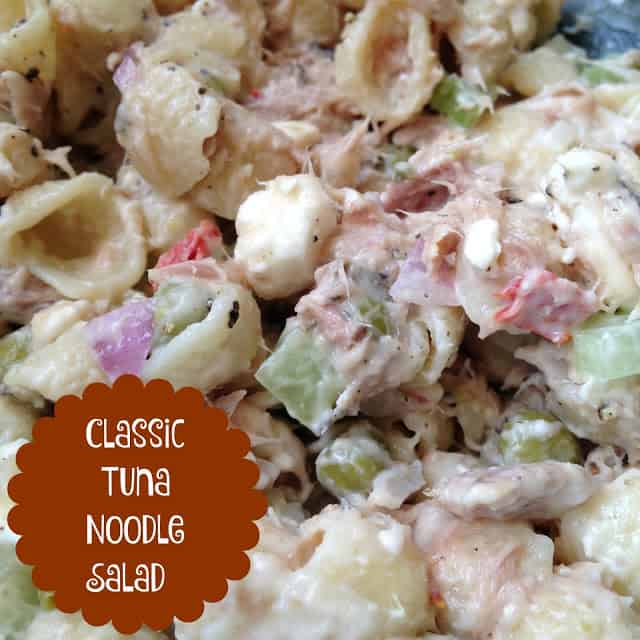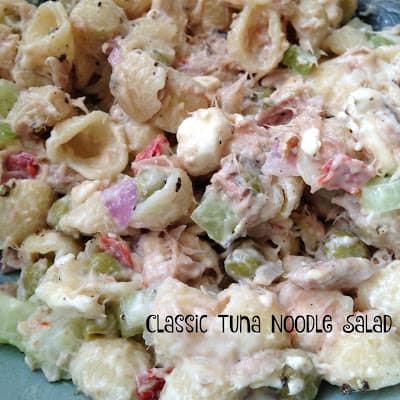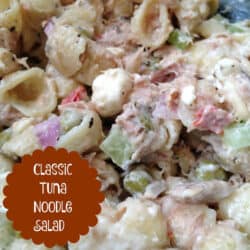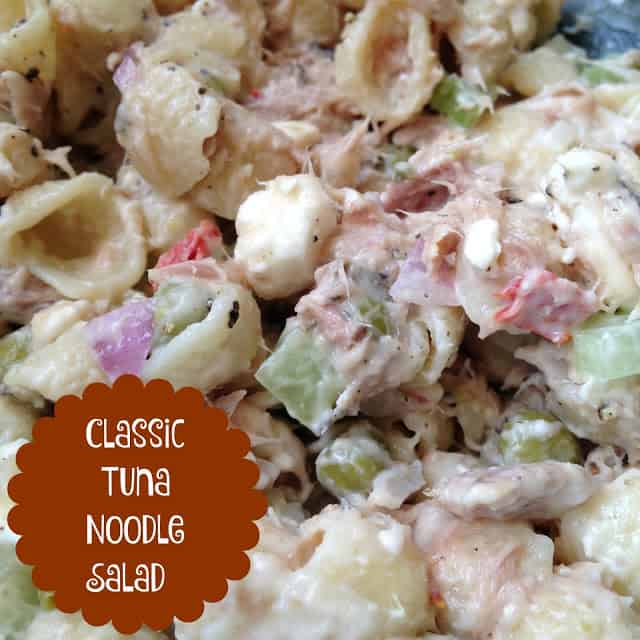 Classic Tuna Noodle Salad
Ingredients
1

8 oz

package small shell macaroni

1

5 oz can

tuna, drained

2

stalks

celery, diced

2

tablespoons

diced red onion

1

small can

sweet peas, drained

1

cup

cubed extra sharp cheddar cheese

1/2 to 1

cup

mayonnaise

salt and pepper to taste
Instructions
Cook shell macaroni according to package directions, drain and rinse under cold water, drain.

Place in a large bowl. Add to bowl, tuna, celery, red onion, sweet peas, and cheese.

Lightly toss ingredients with mayonnaise, season with salt and pepper to taste.
Baked Stuffed Clams is a super easy and delicious recipe. Normally a dish you order at the restaurant but now you can enjoy stuffed clams at home.
For this recipe we used Chicken of the Sea Tuna. I prefer to use tuna-in-oil, well drained but you can certainly use tuna-in-water. This is just a personal preference.
Recipe Ideas
*Use the amount of mayonnaise you prefer.
*This recipe can be doubled/tripled with the same great results. *2 tablespoons diced pimentos can be added.
Recent Recipe on Tap: Light and Mild Walleye Fingers