Classic Shrimp Cocktail
We may earn money or products from the companies mentioned in this post.
Classic Shrimp Cocktail
Classic Shrimp Cocktail also known as Prawn Cocktail in some areas has been around for many, many years. Oysters were the original 'cocktail' shellfish, usually served as an appetizer in tiny cups and served with a spicy, ketchup sauce containing horseradish and Tabasco sauce. 'Cocktails' became extremely popular during the 1920's, the decade of prohibition. What better way to serve shrimp than hanging off a martini glass that would otherwise be collecting dust behind the bar?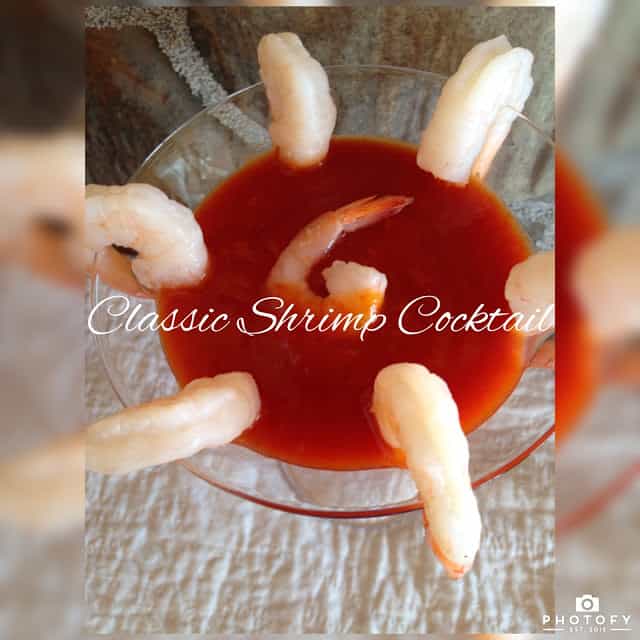 Super Club
Nothing says "Super Club" to me more than this recipe for a classic Shrimp Cocktail. When I was around 12 years old, in the early 70's, my Mom Aggie and my Grandma Rose took me out to dinner at a "Supper Club" called "Jacks or Better." "Jacks or Better" is/was a well known "Super Club" located in downtown Little Chute WI, where it had been a local fixture for many, many years.
Jacks or Better
"Jacks or Better" was where I ordered my first "Shrimp Cocktail" and it certainly has not been my last. Shrimp Cocktail is fast, easy, delicious and
very affordable to make at home. In many "fancy" restaurants or Supper Clubs, Shrimp Cocktail is traditionally served as an appetizer, but can also be served in place of a side salad. So go ahead impress your friends and serve Classic Shrimp Cocktail in a fancy glass.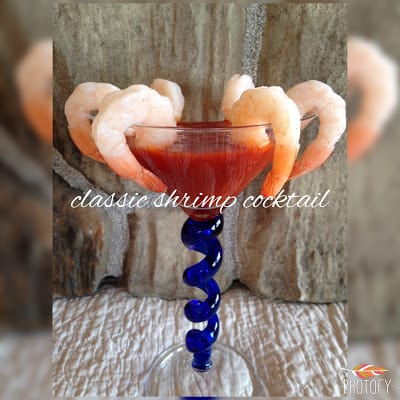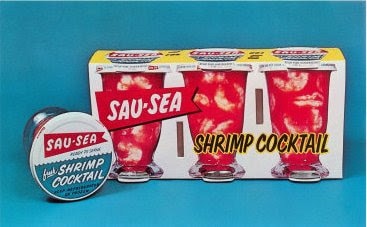 Sau-Sea Shrimp Cocktail
The first mass produced shrimp cocktail was introduced to the American Market in December of 1948. Sau-Sea brand Shrimp Cocktail was invented in New York City by Abraham Kaplan and Ernest Schoenbrun. Sau-Sea Shrimp Cocktail was sold in 5 oz ready-to-eat portions packaged in reusable glass jars for about 50¢ a piece.
Sau-Sea brand Shrimp Cocktail is still in business today, some 60+ years later. The people at Sau Sea Foods know Shrimp Cocktail. Sau-Sea Foods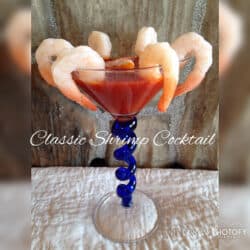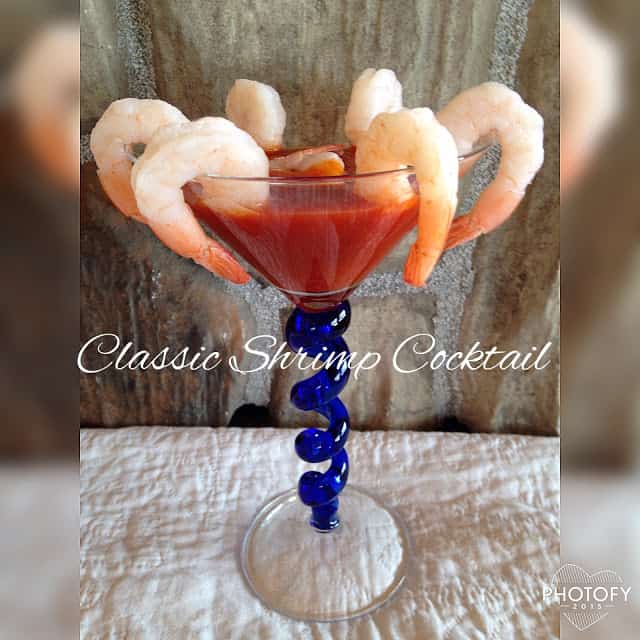 Classic Shrimp Cocktail
Ingredients
1

pound

fresh or frozen cooked clean shrimp, with the tails on

Sauce Ingredients

1/2

cup

ketchup

1/2

cup

chili sauce

2

tablespoons

horseradish

1/4

teaspoon

sugar

1/2

teaspoon

each salt and pepper

1

tablespoon

lemon juice

6

drops hot sauce

1/2

teaspoon

Worcestershire sauce

1

clove

garlic, minced
Instructions
In a small bowl mix all sauce ingredients, adjust flavors to taste, if desired.

Chill in the refrigerate for 2 hours.

Place several fresh shrimp on the rim of a martini glass, with tails on the outside.

Spoon sauce in the middle of martini glass.

Serve with lemon wedges.