Classic Chicken Pot Pie
We may earn money or products from the companies mentioned in this post.
Classic Chicken Pot Pie
"Pot Pies" are a great way to use up left-overs. You can make your own pie crust but to save time you can use a package pie crust. This is the perfect recipe to make using your Thanksgiving Day left-overs. Classic Chicken Pot Pie is absolutely delicious!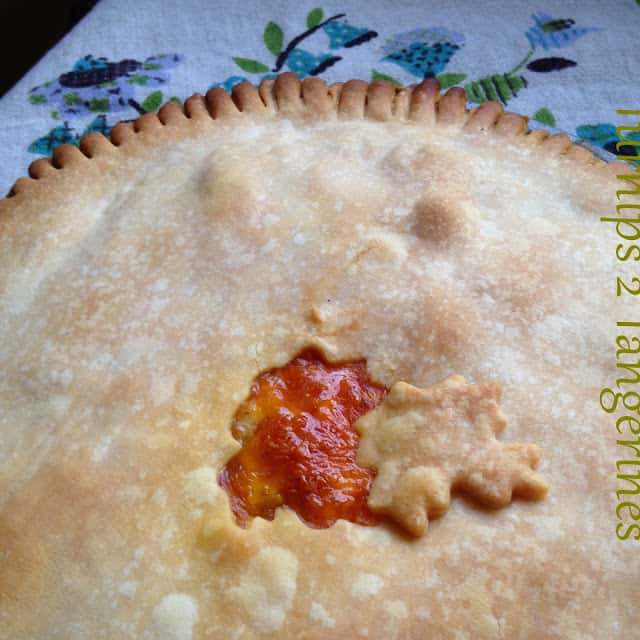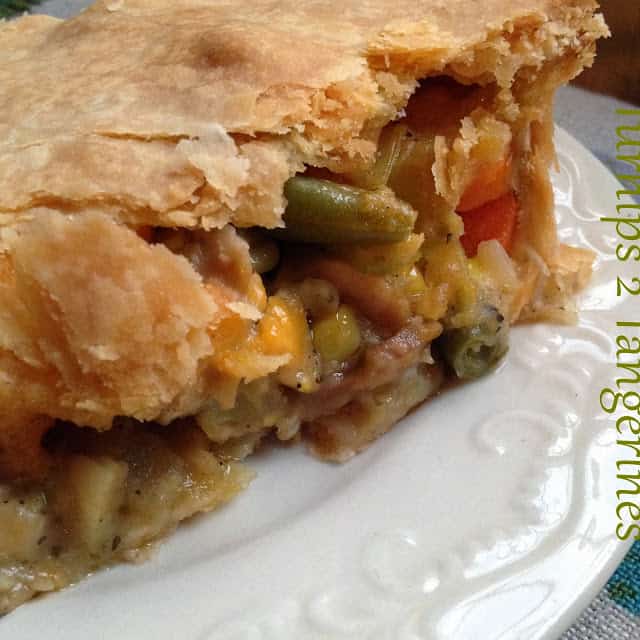 Frozen Pot Pies
My hubby is in love with pot pies. The pot pies that you buy in the freezer section of your grocery store, the single serving pot pies. You know the kind. Years ago, you could buy them for 6 pot pies for a $1.00. My sister Joan, who was living with me at the time, loved pot pies. She'd eat a pot pie every day for lunch. I doubt if she still eats a pot pie every day anymore but I'm certain my hubby would, if he could. I'm not positive but I think one pot pie is well over a dollar now, still a bargain by today's standards.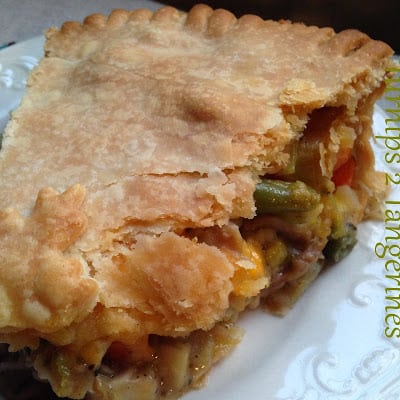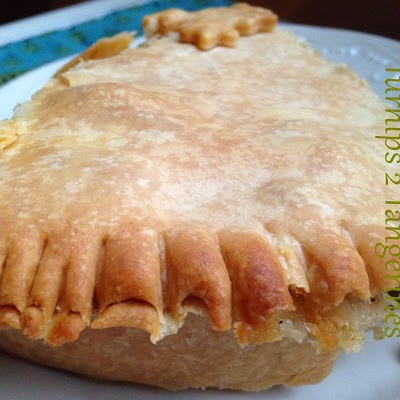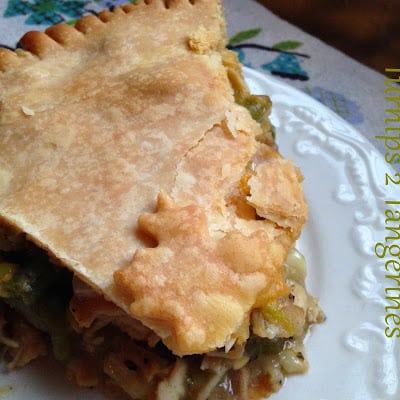 Give It A Chance
Don't let the long list of ingredients make you turn around and run in the opposite direction with your hands in the air screaming. It's going to be ok. I'll agree that there are a number of ingredients in this recipe but the end justifies the means. This recipe, for the most part, uses left-overs. For convenience sake we used refrigerated pie crusts. Turkey, garlic, celery, onions, leeks, carrots, corn and green beans are all left over from Thanksgiving. So is the chicken broth, spices and cheese. I do believe that the only ingredient that I needed to purchase was a can of cream of chicken soup. Not bad for this hearty pot pie!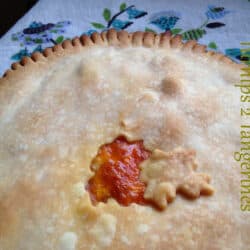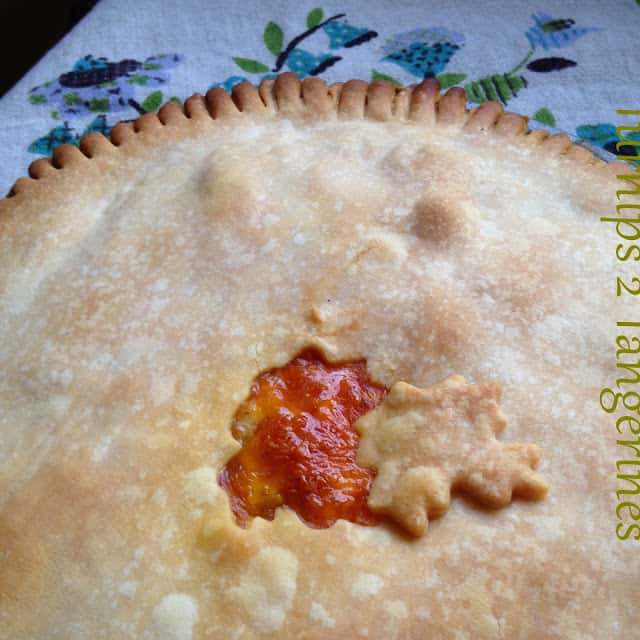 Classic Chicken Pot Pie
Ingredients
1

(14 oz) package

refrigerated pie crusts, room temperature

4

tablespoons

oil

2

cloves

garlic, minced

1

small onion, chopped

1/2

cup

sliced leeks, white parts only

2

stalks celery, diced

3

cups

cubed cooked chicken or turkey

2

tablespoons

dried parsley flakes

1

teaspoon

dried basil leaves

1

teaspoon

dried oregano

1

teaspoon

ground sage

1/2

teaspoon

salt

1/4

teaspoon

pepper

1/2

cup

fresh or frozen corn

1/2

cup

fresh carrots, peeled and sliced

1

cup

fresh or frozen green beans, roughly chopped

1/4

cup

chicken broth

1/4

cup

white wine or additional chicken broth

1

can cream of chicken soup

1

cup

shredded sharp cheddar cheese

Roux:

4

tablespoons

oil

6

tablespoons

flour

salt and pepper, to taste

1

egg beaten, for top of crust

2 to 4

tablespoons

Parmesan cheese, for top of crust
Instructions
Preheat oven to 400 degrees.

In a large skillet heat oil over medium heat. Saute' garlic, onion, leeks, celery, chicken, parsley, basil, oregano, sage, salt and pepper. Cook for 10 mins. Stir in corn, carrots and green beans. Cook 5 minutes. Stir in chicken broth and white wine. Bring to a boil, reduce heat to medium low, simmer 5 minutes. Remove from heat. Pour mixture into a large bowl, stir in can of cream of chicken soup. Set aside.

Make a Roux:

In a small skillet, (10-incheat oil over medium low heat. Whisk in flour, one tablespoon at a time, until smooth. Season with salt and pepper to taste. Turn heat to medium. Continue to cook and whisk mixture until bubbly and mixture becomes caramel in color and starts to thickened. Add roux to chicken-veggie mixture. Stir to combine.

Line bottom of 9-inch pie plate with one pie crust. Trim excess crust. Spoon chicken mixture into bottom crust. Sprinkle cheddar cheese over chicken mixture.

Cut several slits in the top crust or cut out decorative shape(with small cookie cutters. Place pie crust over filling. Trim excess crust, crimp edges of crust together or seal with the tines of a fork. Brush surface of top crust with beaten egg. Sprinkle with Parmesan cheese.

Bake for 35 to 45 minutes or until crust is golden brown and filling is bubbly.

Let "pie" stand 10 minutes before serving
Nutrition
Serving:
1
g
,
Calories:
346
kcal
,
Carbohydrates:
11
g
,
Protein:
15
g
,
Fat:
27
g
,
Saturated Fat:
7
g
,
Cholesterol:
70
mg
,
Sodium:
397
mg
,
Potassium:
238
mg
,
Fiber:
2
g
,
Sugar:
2
g
,
Vitamin A:
1820
IU
,
Vitamin C:
6.9
mg
,
Calcium:
182
mg
,
Iron:
1.5
mg
Venison Sausage and Wild Rice Quiche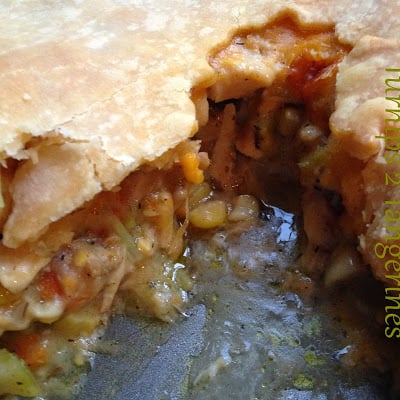 For this recipe we Pillsbury Refrigerated Pie Crusts