Cinnamon Tortilla Treats
We may earn money or products from the companies mentioned in this post.
Cinnamon Tortilla Treats
Cinnamon Tortilla Treats are fast, easy, affordable and delicious. You'll want to get your kids and/or grandkids involved in the festivities and make this fantastic recipe to celebrate Cinco de Mayo. But you don't have to wait until Cinco de Mayo to make and enjoy these super easy and sweet treats. Make them anytime you want a cinnamon/sugar snack.
Few Ingredients
All you need are a few ingredients to make these treats: ground cinnamon, sugar, butter and tortillas. You can double, even triple this recipe depending on how hungry you and your helpers are. When making these treats, we like to use flour tortilla shells, the large burrito size and to add an extra layer of authenticity to the recipe, we used Mexican cinnamon. Serve these crispy, cinnamon-sugar coated treats with your favorite chocolate dessert topping or my personal favorite, cinnamon ice cream. Yum!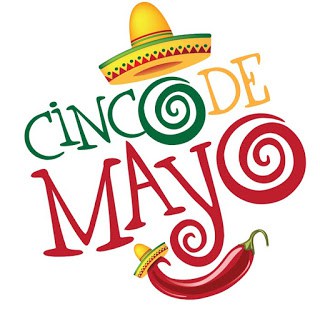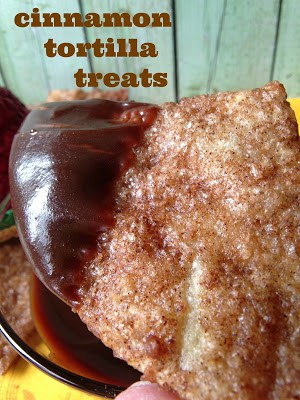 Chocolate Sauce or Apple Pie Filling
Cinnamon Tortilla Treats are Fast, Easy, Affordable and Delicious. They are also fun to make and only take a few minutes to prepare. You can dunk these cinnamon tortilla treats into your favorite warmed ice cream topping or you can make your own chocolate sauce. You could even use cinnamon tortilla treats to scoop up warmed apple pie filling. We used Chocolate Caramel & Sea Salt dessert topping by Robert Rothschild. Cinnamon tortilla treats were the perfect vehicle for warmed chocolate caramel sauce.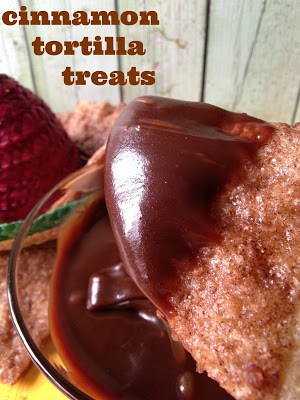 Snack or Dessert
These delicious baked tortilla chips are great served for dessert or as a snack at your Cinco de Mayo festivities. Serve these treats with icy cold Margaritas for the adults and Mexican hot chocolate for the kiddies. There are so many wonderful and delicious ways you can serve cinnamon tortilla treats. Let your imagination run wild and see what you can come up with. Olé
Rockin' Robin's
This recipe comes to you from: Rockin Robin's Cooking Mexican Recipes. A fantastic blog packed full of delicious and authentic Mexican recipes. Rockin Robin has so many Looking for a Cinco de Mayo Dinner you can easily prepare? Try these easy recipes and make it a Cinco de Mayo Dinner Night at your house tonight. 'Ole.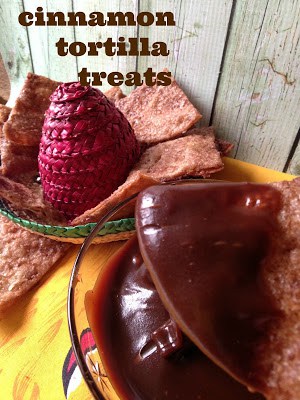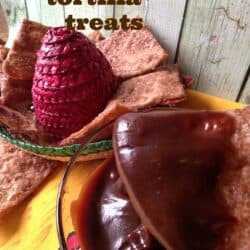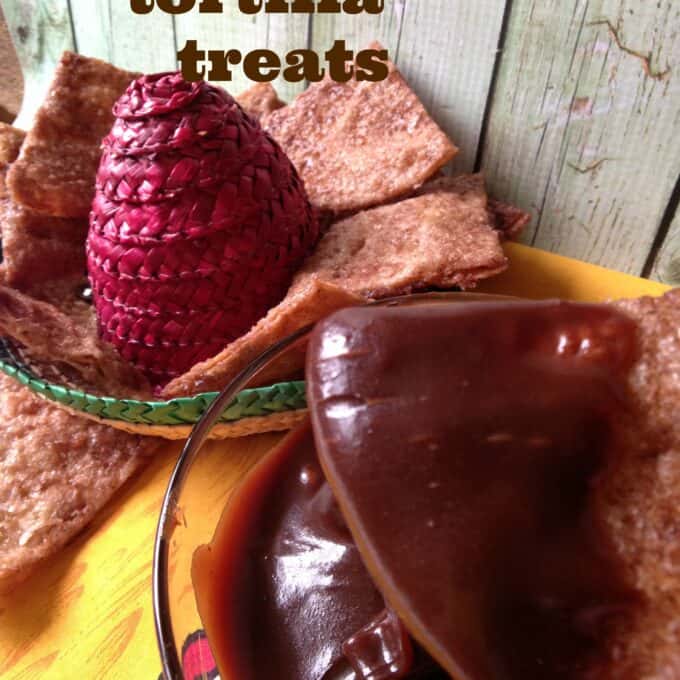 Cinnamon Tortilla Treats
Pick up a package of tortillas and make these fast, Easy and affordable snacks.
Ingredients
1

package

flour tortilla

1

tablespoon

ground cinnamon

3/4

cup

sugar

1/2

stick butter, melted
Instructions
Preheat oven to 375 degrees.

In a small bowl mix sugar and cinnamon together. Cut tortillas into triangles. Brush melted butter on both sides of tortilla triangles, sprinkle with cinnamon/sugar mixture.

Place tortilla triangles on a baking sheet lined with parchment paper. Bake for 8-10 minutes or until golden brown and crispy.
Recipes on Tap
Smothered Burritos and Frozen Margaritas and Favorite Cinco de Mayo Dinners and Treats.