Cinnamon Pecan Swirl Pancakes
We may earn money or products from the companies mentioned in this post.
Cinnamon Pecan Swirl Pancakes 
Cinnamon Pecan Swirl Pancakes are delicious. They're the perfect start to your day. Your family will come running to the breakfast table when they smell these pancakes cooking. Sweet, cinnamony, with the right amount of crunch from the pecans. This recipe comes about after my hubby and I went out for breakfast, something we never do. We stopped at one of those "ma and pa" type diners somewhere in northern Wisconsin. My hubby ordered pancakes and I ordered my usual, an omelette. I don't know if this happens to you but everytime my hubby and I go out to eat, which isn't very often mind you, he always asks, "What are you going to order?" Being the anal person that I am, I always order something I've ordered before or something "safe", Jim on the other, always orders something "weird."
Let Me Elaborate
Let me elaborate on this for a minute. What do I mean by "safe?" and "weird?"A safe bet for me means basically something I know can't be screwed up, for instance at this particular diner I ordered a ham and cheese omelette. (for lunch I might have ordered a grilled cheese) That's considered "safe." My hubby ordered cinnamon swirl pancakes, which falls under the "safe" category but normally he would have ordered a gyro. Now I like a good gyro as much as the next guy but not from a diner…that's considered "weird."
So Anyway…
So anyway, back to my story. My hubby always asks me, "what are you going to order?" and I'll tell him. It takes me usually under 5 minutes to make up my mind. Jim will change his mind his mind over and over. I think I'll order this, I think I'll order that and then when it's time to order, he orders something totally different altogether. (This is very annoying when we're at the drive thru…I mean c'mon, pick a number and order it) Then when we get our food, he'll look at my order and then his. Every single time he says the same thing, "I should have ordered what you got." Well, honey we aren't switching.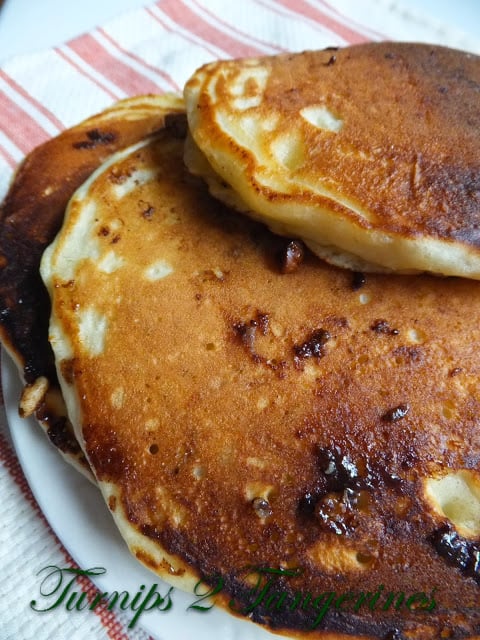 Trick of the Trade
A few years back, when I worked at Cracker Barrel Old Country Store, I asked the head chef what her secret was for making her pancakes so light and fluffy. A question many customers asked also I might add. She simply replied "Follow these three steps" 1. Have a super hot griddle 2. Allow the pancake batter to "rest" 15 to 30 minutes before you use it and 3. Lightly oil your griddle, right before you pour on the batter. My pancakes have turned out perfect every time.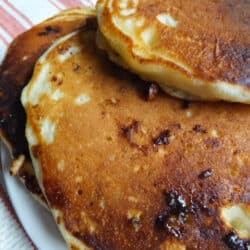 Cinnamon Pecan Swirl Pancakes
A super delicious and new way to eat pancakes.
Ingredients
4

tablespoons

butter, melted

1/4

cup

packed light brown sugar

2

tablespoons

maple syrup

2

tablespoons

ground cinnamon

1/4

cup

ground pecans

1

cup

flour

2

teaspoons

baking powder

1/2

teaspoon

salt

1

cup

milk

1

large egg, beaten

1

tablespoon

oil
Instructions
In a medium bowl, stir together butter, brown sugar, syrup, cinnamon and pecans. Put the filling into a heavy duty baggie and set aside.

In a medium bowl, whisk together the flour, baking powder and salt. Whisk in milk, egg and oil just until moistened. Batter will have a few lumps. Let batter rest for 10 to 20 minutes.

Gently stir batter. Dampen one end of a piece of cheesecloth with oil. Wipe the oil soaked end across the surface of the griddle. Use an ice cream scoop or 1/3 cup measuring cup to add the batter to the griddle

Snip off one end of the baggie of cinnamon-pecan filling. Squeeze the filling on top of the pancake batter in a swirl pattern or using a small spoon sprinkle the cinnamon-pecan filling on batter. Cook the pancakes 2 to 3 minutes or until bubbles on the surface begin popping.

Gently flip the pancake over and cook an additional 2 to 3 minutes or until golden brown. Serve with maple syrup and butter.
Nutrition
Serving:
1
g
,
Calories:
291
kcal
,
Carbohydrates:
35
g
,
Protein:
5
g
,
Fat:
15
g
,
Saturated Fat:
6
g
,
Cholesterol:
51
mg
,
Sodium:
293
mg
,
Potassium:
278
mg
,
Fiber:
2
g
,
Sugar:
15
g
,
Vitamin A:
340
IU
,
Calcium:
158
mg
,
Iron:
1.6
mg
Recent Recipe: Pecan Date Cheese Dip  and Dried Beef Dip and Spinach Dip