Cilantro Lime Black Bean Rice
by
Lynn
//
March 27, 2020
We may earn money or products from the companies mentioned in this post.
Cilantro Lime Black Bean Rice
Cilantro Lime Black Bean Rice is a super delicious recipe that I found on Pinterest. As anyone knows who has spent anytime on Pinterest knows how many yummy and tempting recipes you can find on this site. They say people eat with their eyes first and that is definitely true when it comes to Pinterest. Now that we all have some extra time on our hands, drop by Pinterest and get hungry!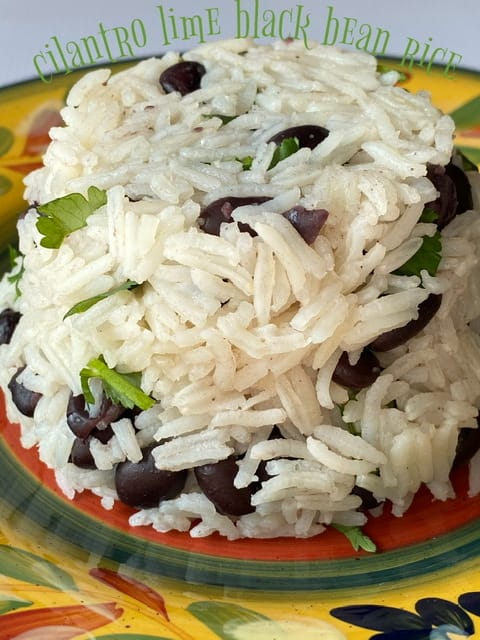 Side Dish
This cilantro lime black bean rice makes a great side dish to serve alongside grilled chicken, salmon or even a grilled burger. One thing that I really liked about this easy recipe is it doesn't need to be served piping hot. It's great served at room temperature or even cold, straight from the refrigerator. This recipe also seems to get better with a little time. The rice seems to absorbs some of the lime juice and everything just seems to come together.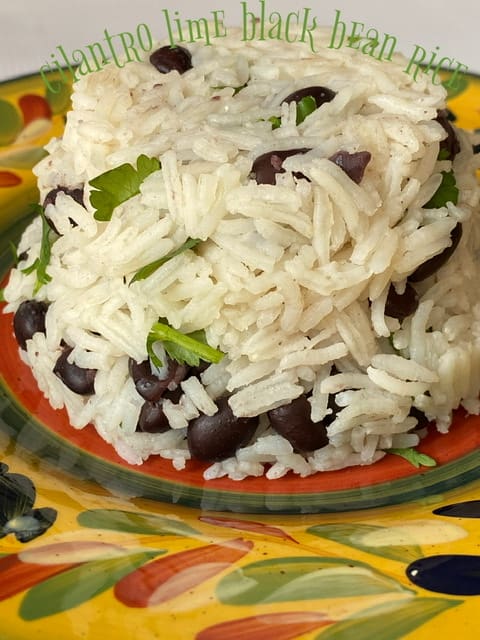 Beans, Cilantro, Rice, Lime
For this recipe we used canned Goya black beans, rinsed. Only fresh cilantro will do for this recipe because the cilantro is one of the key four ingredients in this recipe. If you grow your own cilantro, super! If not, head to the grocery store and pick up a bunch. On to the rice. We chose to use Mahatma jasmine rice for this recipe, simply because jasmine rice has a nice floral flavor. If possible, use key limes in this recipe, if not regular limes will do.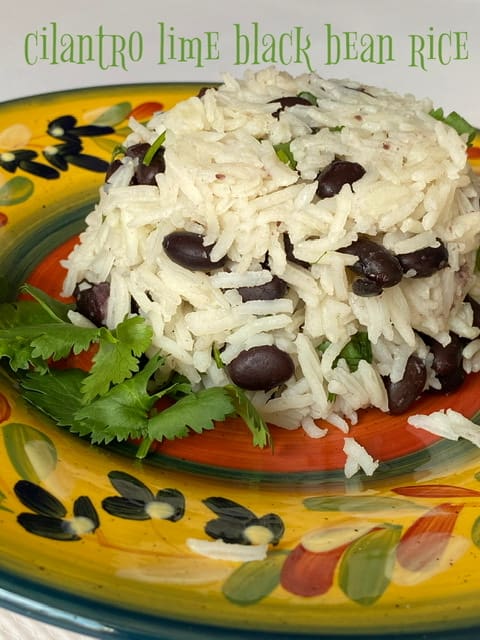 Recipe Idea
Besides serving cilantro lime black bean rice as a side dish, you can do what my hubby does. When we have burritos, he likes to add a layer of rice along with taco flavored ground beef. In an upcoming recipe for taco casserole, (which I'll be posting in a few days) is basically a recipe for a taco layer casserole or dip. My hubby likes to eat his taco layer casserole or dip in a burrito size flour tortilla shell along with a layer of cilantro lime black bean rice and all the usual taco toppings.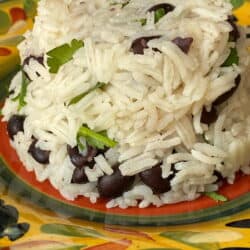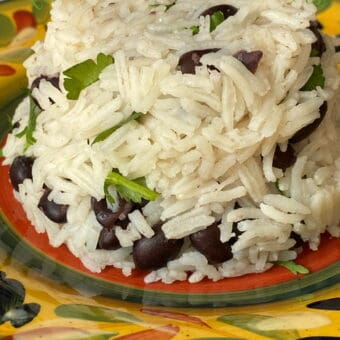 Cilantro Lime Black Bean Rice
Prep Time:
5

minutes
mins
Cook Time:
20

minutes
mins
Total Time:
25

minutes
mins
An easy and delicious side dish.
Ingredients
2

cups

chicken or vegetable broth

1

cup

Jasmine rice

1/4

teaspoon

salt

4

cloves

minced garlic

2

tablespoons

freshly squeezed lime juice

1

teaspoon

fresh grated lime zest

1

15 oz can

black beans, drained and rinsed

1/2

cup

fresh cilantro, chopped
Instructions
In a large saucepan, add chicken or vegetable broth, uncooked rice, 1/4 teaspoon salt and minced garlic to the saucepan. Stir well.

Bring to boil. Reduce the heat to simmer. Cover and simmer for 15-20 minutes,or until rice is tender.

Remove from heat. Fold in freshly squeezed lime juice, lime zest, black beans and fresh cilantro. Serve
Author:
Lynn / Turnips 2 Tangerines
Keyword:
black beans, cilantro, jasmine rice, lime
Recipes On Tap: