Churros and Mexican Hot Chocolate
We may earn money or products from the companies mentioned in this post.
Churros and Mexican Hot Chocolate
Serve Churro's with a delicious cup of traditional Mexican Hot Chocolate for a real taste sensation to celebrate Cinco De Mayo. Another delicious snack to serve is Walking Taco Trail Mix found at: Aldi Walking Taco Trail Mix has: Guacamole bites, salsa corn sticks, spicy chili peanuts, cashews, cheese corn sticks, multi-seed chips, and southwest mission almonds.
What is a Churro?
Churro [CHOOR-roh]  Similar to a cruller, this Spanish and Mexican specialty consists of a sweet-dough spiral that is deep-fried and eaten like a doughnut. Churros are usually coated with a mixture of cinnamon and powdered or granulated sugar. Churro are also similar or related those delicious and sweet carnival treats; fritters, elephant ears and funnel cakes.
What is a Cruller?
Cruller [KRUHL-uhr] A doughnut-style dough, usually leavened with baking powder, that's shaped into a long twist, fried and sprinkled with granulated sugar or brushed with a sweet glaze. The extremely light French cruller is made with choux pastry, cream-puff dough. The word "cruller"comes from the Dutch krulle, meaning "twisted cake."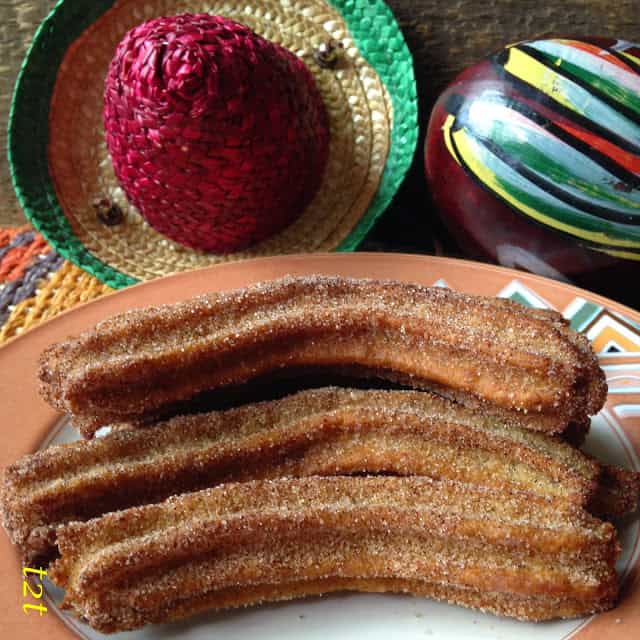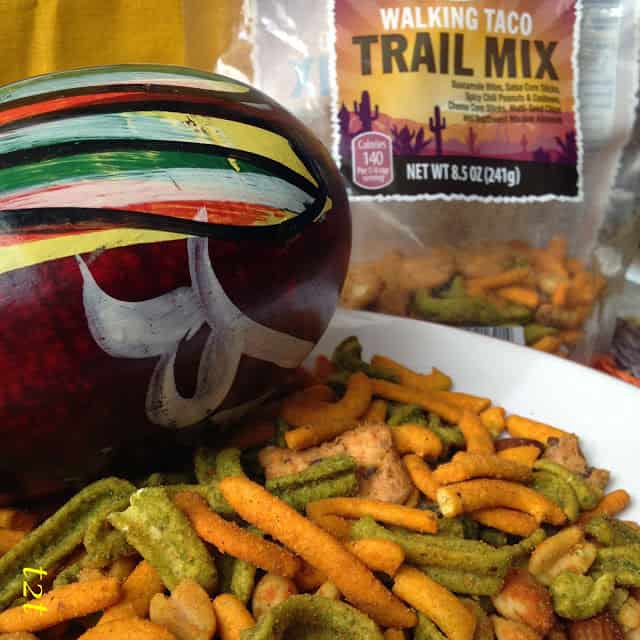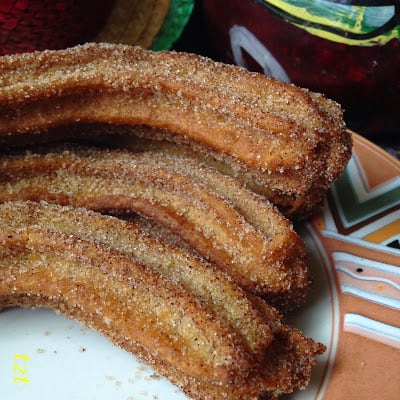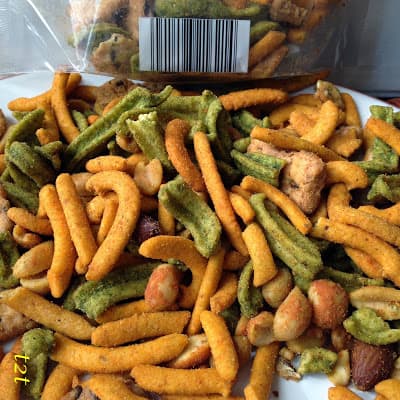 Walking Taco Trail Mix can be found at Aldi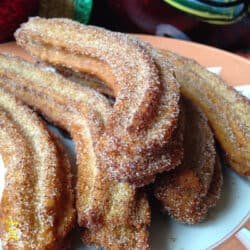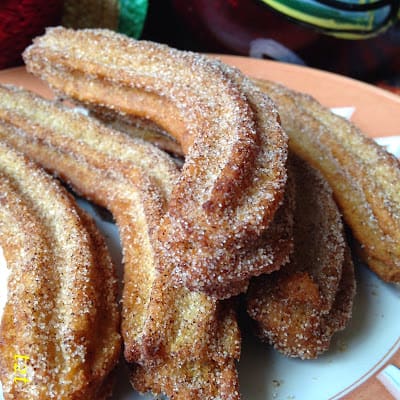 Churro Recipe
Ingredients
1

cup

water

2

tablespoons

brown sugar

1/2

teaspoon

salt

1/3

cup

butter

1

cup

flour

2

eggs

1/2

teaspoon

vanilla extract

1/4

cup

sugar

1

teaspoon

ground cinnamon

vegetable oil for frying
Equipment
Deep Fryer

Deep cast iron skillet
Instructions
Heat 4 to 5 inches of vegetable oil in a deep cast iron skillet to 375 degrees.

In a separate dish, mix the 1/4 cup sugar and 1 teaspoon ground cinnamon. Set aside.

In a 3 quart saucepan, add water, brown sugar, salt and butter, heat to a good boil.

Remove from heat and add the flour, stirring in the flour vigorously, mix it in until well blended.

In a separate bowl mix the eggs and vanilla together.

Then add this mixture to the flour mixture.

Stir until well blended and all the egg is completely mixed in.

Fill your decorating tool with the churro dough.

Attach the largest star tip you have, you can also use a decorating bag filled with dough and a large star tip.

Test your oil by placing a small amount of dough in the oil.

The dough should bubble up right away, if it doesn't the oil is not hot enough and you will end up soggy churros.

Once the oil is hot enough, squeeze dough into hot oil about 4 inches long.

Use a knife to release the dough from the decorator tip or use your finger to release the dough but be very, very careful. Cook for 1 minute, turn over with a slotted spoon.

Cook an additional minute or two. (you want a nice golden brown color)

Remove churros with slotted spoon and drain on paper towels.

While still warm, roll each churro into the cinnamon/sugar mixture.