Christmas Sugar Cookies Family Tradition
We may earn money or products from the companies mentioned in this post.
Christmas Sugar Cookies
 Family Tradition
As you can tell by the shape of my Christmas Cookie recipe,  I have made this recipe many, many, many times. In fact, I have been making this Christmas Cookie Recipe for over 40 years!  This recipe has stood the test of time. Like my son says, "The cookies that taste just like Christmas." The sugar cookies for this post were lovingly decorated by my grandson Eliott:) I think he did a super job even though Uncle taught him the art of dumping instead of sprinkling:)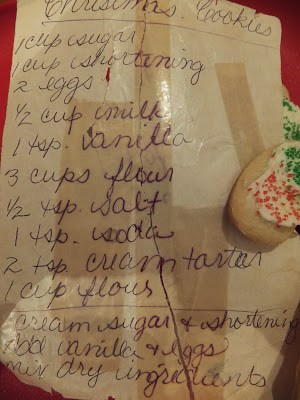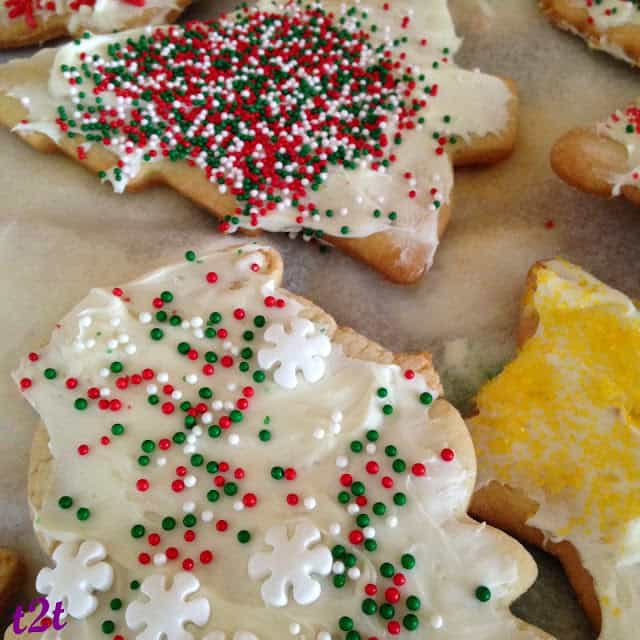 Pass It On
This recipe came to me via my first mother-in-law. She gave me this recipe when I was first married, to my then husband, some 42 years ago. I've never used any other recipe to make Christmas cut-out cookies, that's how good the recipe is. The dough is a soft dough at first but the more you roll the dough and re-roll it, the easier it is to work with. Now that my children are grown and have kids, my grandkids, it's now time for me to pass the recipe on.
Cookie Cutter
I have a rather large collection of cookie cutters that I have collected over the years. I looked up the definition of cookie cutter and this is what I found out. Cookie cutter is a metal or plastic device used to cut decorative shapes out of dough that has been rolled flat. Cookie cutters are available singly or in sets. Dipping a cookie cutter into flour or sugar will prevent it from sticking to the dough.
Rolling Cookie Cutter
A rolling cookie cutter has a wooden handle at the end of which is a metal or plastic cylinder marked with raised designs. When the cutter is rolled across the dough, it cuts a jigsaw-puzzle pattern of differently shaped cookies without any wasted dough. A Cookie gun, often referred to as a cookie press can be used also to form decorative cookies. Cookie Molds and Cookie Stamps are they popular way to make European cookies.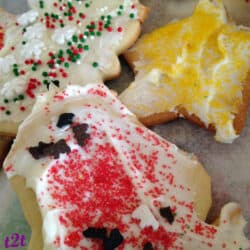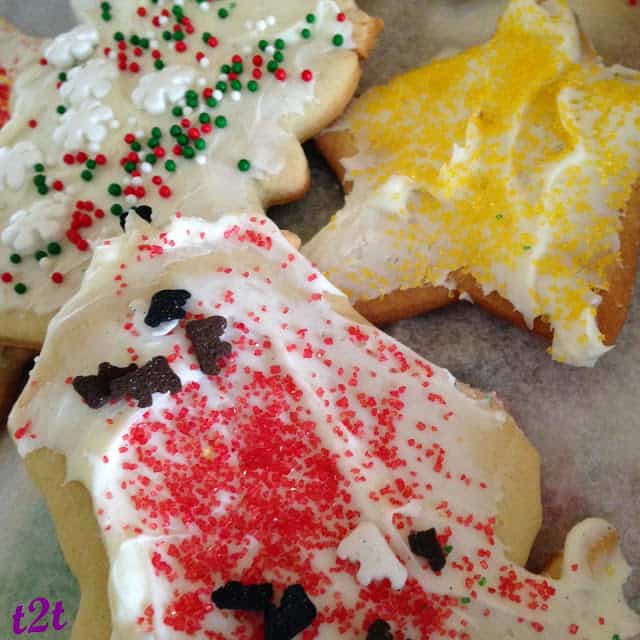 Christmas Sugar Cookies
A traditional classic Christmas cookie recipe.
Ingredients
1

cup

sugar

1

cup

shortening

2

eggs

1/2

cup

milk

1 teaspoon

vanilla extract

3

cups

flour

1/2

teaspoon

salt

1

teaspoon

baking soda

2

teaspoons

cream of tarter

1

cup

flour

,

plus more for rolling

assorted cookie cutters

1 to 2

cans

classic vanilla frosting

,

Pillsbury or Duncan Hines

assorted sprinkles
Instructions
Cream together sugar and shortening, add vanilla and eggs. Mix together dry ingredients. Add milk and dry ingredients, alternately to the creamed mixture. Roll dough out on floured surface and knead in extra flour as needed. Use assorted cookie cutters, and cut out shapes. Place shapes on baking sheets. Bake at 350 degrees for 10 to 12 minutes or until golden brown.

Cool cookies on wire rack.

When cool, frost cookies, decorate with sprinkles
More Christmas Favorites
Even though the cookies don't look good, they taste delicious! I've never used anything but canned classic vanilla frosting to frost my Christmas cookies. Feel free to frost them with your favorite frosting. Here are a few cookie recipes from 'Around the World. Mexican Sugar Cookies,  Moravian Spice Crisp Cookies ,  Danish Jam Ribbon Cookies  and Chocolate Crinkle Cookies Holiday Style. For this recipe E-man used Pillsbury classic vanilla frosting.