Chocolate Whoopie Pies with Maple Cream
We may earn money or products from the companies mentioned in this post.
Chocolate Whoopie Pies with Maple Cream Filling
Whoopie pies are super easy to make. Follow this simple recipe and you'll be making Whoopie pies in no time flat. Simply change the 'flavor' of cake mix and pudding and pie mix, to create many different new and exciting Whoopie Pies. Change the 'flavor' of extract and you have a whole new filling flavor. The possibilities are endless. Chocolate Whoopie Pies with Maple Cream Filling are just the beginning.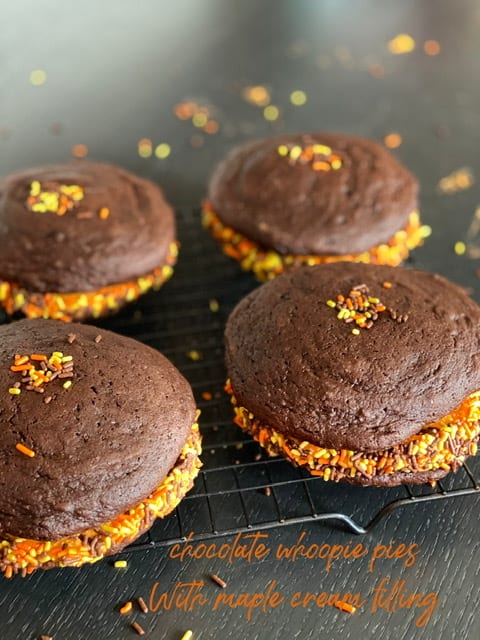 Chocolate Peppermint Whoopie Pies
One of my all time favorite holiday flavor combinations is chocolate and peppermint. This flavor combo urge hits me around the 1st of November and lasts until December 31st. Every January 1st it's the same old thing, I have to lose 15 'extra' pounds due to peppermint bark squares, peanut clusters and peppermint ice cream. Today I thought, the next time I make chocolate whoopie pies, I'm going to fill them with peppermint filling. Crushed candy canes will work nicely too. Hmmm, it must be close to Nov. 1st…..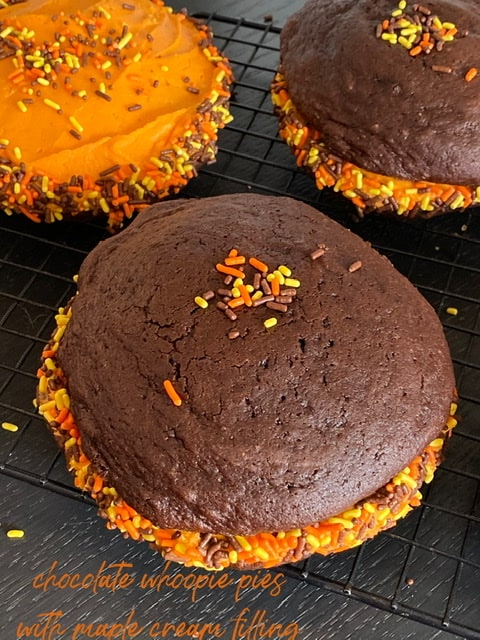 Chocolate Peppermint Addiction
It all started a few years ago when I made the mistake of purchasing a bag of Ghirardelli  Peppermint Bark Squares. OMG! Talk about fall in love! I literally ate bags of peppermint bark squares. I even came up with a fudge recipe called Candy Cane Fudge to pick up the slack. Year #2. My madness went into a frenzy over Pillsbury 'Limited Edition' Creamy Supreme Peppermint Frosting. This turned into a love affair with Ghirardelli Chocolate Chip Brownies, topped with Peppermint Frosting and crushed peppermint candy canes. All I can say in my defense, thank heavens it's a 'limited edition' frosting.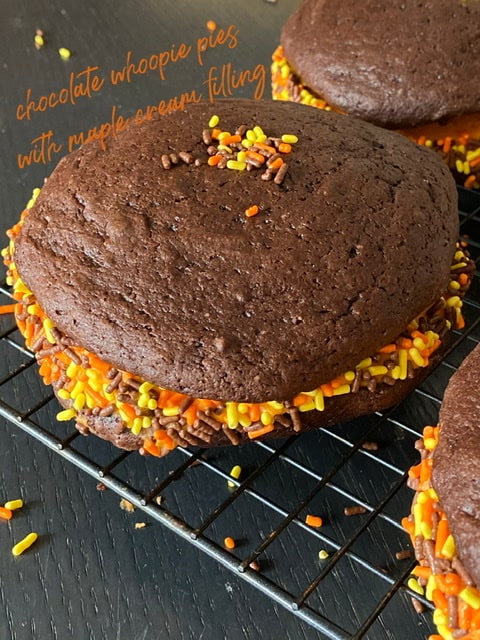 The following year it was Peppermint Oreos! Love them:) Another brand is Rippin' Good Double Filled Twist Tops Peppermint Chocolate Sandwich Cookies that I found at the Dollar Tree. Personally, I preferred the Rippin Good Brand over the Oreos. I proceeded to drive back to the Dollar Tree, 3 more times to purchase more cookies! I'm not sure if Rippin Good still makes this particular type of cookie anymore but they should. Even if it's only for a 'Limited Edition' engagement. And let's not forget about 'Limited Edition' Peppermint Ice Cream! Now that's a treat in itself, especially with a drizzle of hot fudge sauce!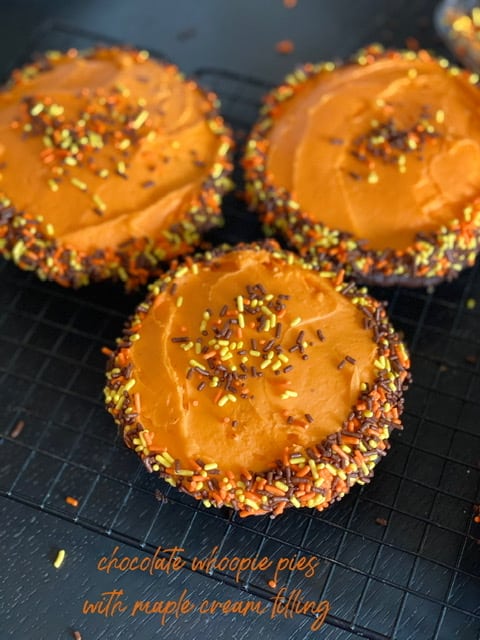 Rambling Away
I can ramble on and on but let's get back to the recipe at hand, shall we. Like I stated earlier, this recipe is super good. One word of advice? When making your whoopie pie circles, make them on the smaller size. I made mine larger than I had intended too, so we ended up with gigantic pies. Still delicious, but huge:) The batter is super thick which is what you want, but do spread the batter into a medium size circle. Bake the circles until the top springs back when lightly touched. Basically do what you do when checking the doneness of cupcakes or cake. Cool completely before filing.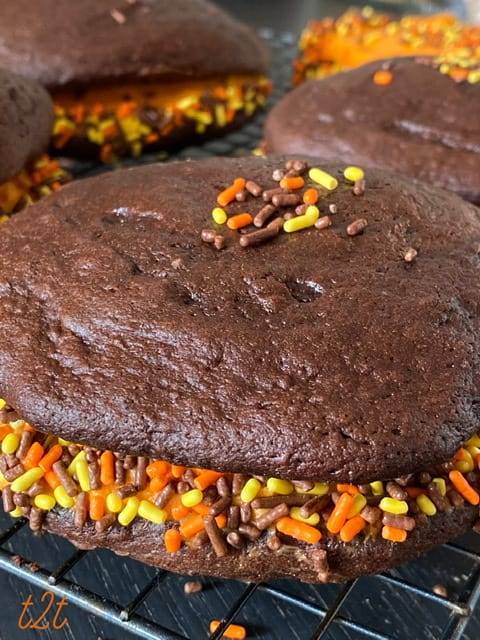 The filling is really, really good. You could definitely spread the filling between two round cake layers, fill baked cupcakes or even to sandwich two cookies together! Refrigerate the filling for several hours before using. I found it was easier to work with when chilled. Now if you'd rather not, that's totally up to you. The filling is made with a cup of butter, so it will soften up rather quickly. Wrap individual whoopie pies in plastic wrap and store in the refrigerator.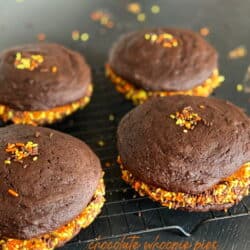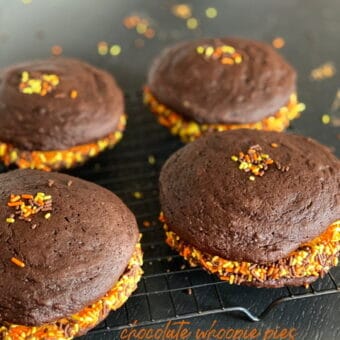 Chocolate Whoopie Pies with Maple Cream Filling
Simple, Easy and Delicious
Ingredients
1-

15.25 oz.box

Devils Food Cake Mix

3/4

cup

water

1/2

cup

vegetable oil

3

eggs

1-

4 serving size box

chocolate fudge instant pudding and pie mix

1

cup

powdered sugar, sifted

1

cup

unsalted butter, room temperature

7

oz

marshmallow fluff

2

teaspoons

maple extract

orange gel food coloring

Halloween sprinkles or edible black glitter
Instructions
Preheat your oven to 350°F.

Combine the Devil's food cake mix, water, vegetable oil, eggs, and pudding mix in a large mixer bowl and beat on medium until well blended.

For larger Whoopie Pies, add 18 evenly sized scoop fulls of the batter into Silpat-lined or parchment paper lined baking sheets in a round shape.

For smaller Whoopie Pies, make 36 batter circles.

Bake 7-10 minutes, depending on the size of the pies.

Let fully cool before decorating.

Pipe the icing onto the flat side one Whoopie Pie cake and top with a second cake.

Sprinkle on the sprinkles
Original Recipe found on: Delicious Little Bites