Chocolate Waffles with Strawberries
We may earn money or products from the companies mentioned in this post.
Chocolate Waffles with Strawberries
The next time you crave waffles, pass on the maple syrup and reach for fresh fruit and cream. Toppings like fresh fruit and flavored whipped cream transform breakfast waffles into delightful desserts. Chocolate Waffles with Strawberries is a true dessert delight. Top off these delicious chocolate waffles with fresh macerated strawberries and strawberry cream. You will have a delicious, easy and fun dessert the whole family will love.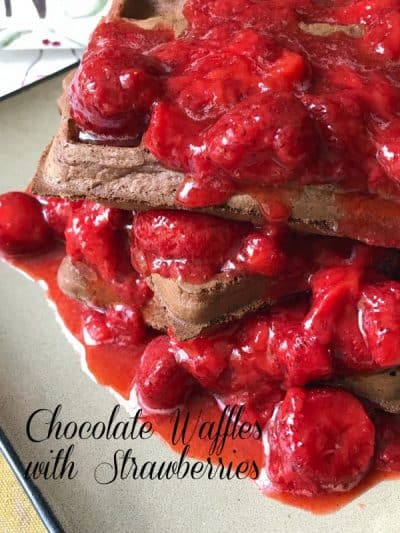 For Best Results
For best results, cook the batter within an hour after mixing. If you have a large family, it's often difficult to keep the waffles coming to the table fast enough, so you might need to keep the waffles warm while preparing the remaining batter. To keep the waffles warm and firm, place them on an ovenproof platter in a 200 degree oven while you prepare the rest. Waffles are also great for freezing.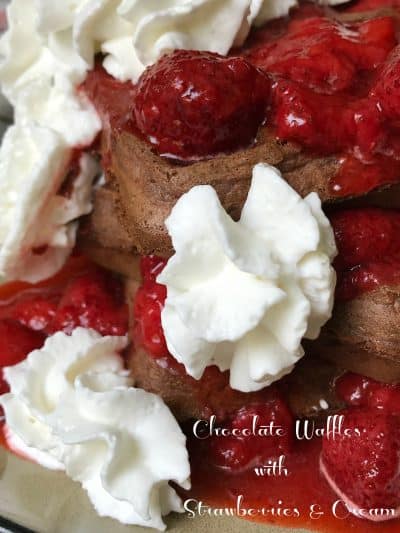 Homemade or Boxed
We used a "from scratch" recipe to make our chocolate waffles. It's a super easy recipe to make but we have also made chocolate waffles using a boxed pancake and waffle mix with the same great and delicious results. If you choose to use your favorite boxed pancake and waffles mix, follow the directions on the box but add: 3 tablespoons sugar, 3 tablespoons baking cocoa and 1/4 t. ground cinnamon to the dry mix.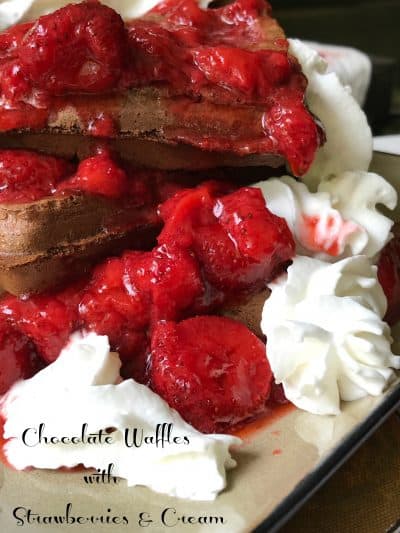 Strawberries
If your looking for a new and tasty way to serve strawberries, you should really consider making Roasted Strawberries. Roasting strawberries in the oven brings out the strawberries natural sweetness and the juices become more concentrated and flavorful. Roasting all fruit is super easy and it's a great way to add flavor and depth to fruit desserts. Easy Roasted Grapes , Roasted Raspberries and Easy Roasted Rhubarb are a few fruits to try to get you started on your fruit roasting adventure!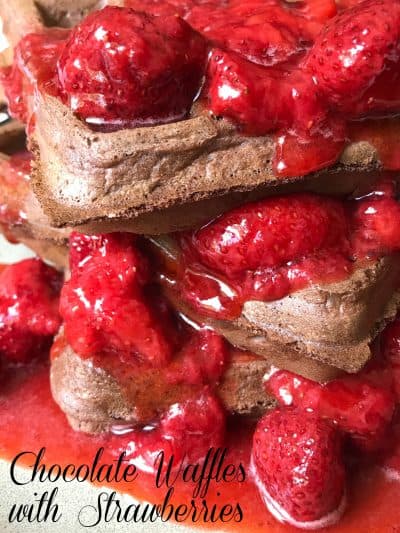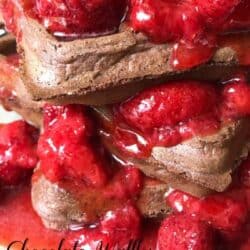 Chocolate Waffles with Fresh Strawberries and Strawberry Cream
Chocolate Waffles are topped with macerated strawberries and strawberry cream!
Ingredients
3/4

cup

all-purpose flour plus

2

tablespoons

all-purpose flour

1/2

teaspoon

baking soda

1/8

teaspoon

salt

1/4

cup

sugar plus

2

tablespoons

sugar

3

tablespoons

cocoa

1/4

teaspoon

ground cinnamon

1

egg, separated

1

cup

buttermilk

2

tablespoons

butter, melted

2

cups

fresh whole strawberries, hulled

3

tablespoons

sugar, or to taste

3/4

cup

whipping cream

1/3

cup

sifted powdered sugar

1/4

cup

diced fresh strawberries
Instructions
Make Macerated Strawberries: Place 2 cups fresh hulled strawberries in a large mixing bowl. Sprinkle strawberries with 3 tablespoons sugar or to taste. Using a fork or potato masher, lightly mash strawberries, Set aside.

Make Chocolate Waffle Batter: Combine 3/4 cup plus 2 T. flour, baking soda, salt, 1/4 cup plus 2 T. sugar, cocoa and cinnamon in a large glass bowl. Combine egg yolk, buttermilk, and butter; add to flour mixture, stirring until dry ingredients are moistened.

Beat egg white, (at room temperature) until stiff peaks form; carefully fold into batter. Bake in preheated, oiled waffle iron following manufacturers directions. Keep waffles warm if necessary.

Make Strawberry Cream: Beat whipping cream until foamy. Gradually add powdered sugar, beating until soft peaks form. Fold 1/4 cup diced strawberries into whipped cream.

To Serve: Cut waffles into squares. Serve with macerated strawberries and strawberry whipped cream.
Another delicious recipe perfect anytime of the year. Warm Peach Blueberry Shortcake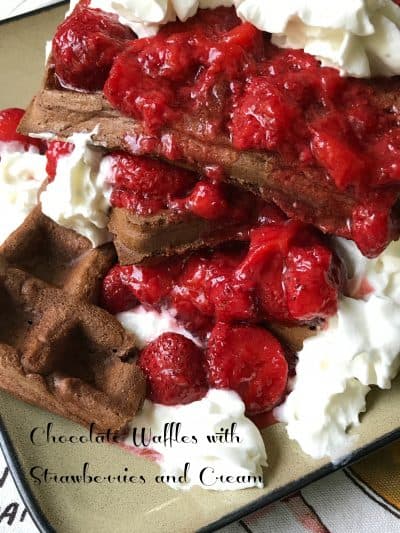 Food Find Alert:
If your looking for a great buttermilk baking and pancake/waffle mix that offers home-style taste, this is for you. Cracker Barrel Old Country Store has a wonderful baking and pancake mix that I recently purchased at Walmart. On the back of the box, recipes are given for biscuits, pancakes, waffles, favorite fruit cobbler and easy biscuit skillet pot pie. I made biscuits and they turned out super light and fluffy.