Chocolate Mint Brownies
We may earn money or products from the companies mentioned in this post.
Chocolate Mint Brownies
with Peppermint Frosting
Chocolate and Mint are meant for each other. This classic flavor duo is one of my favorites. Cool, refreshing mint with creamy chocolate. Chocolate Mint Brownies with Peppermint Frosting are perfect for the holidays. Decorate the top of the brownies with whole or crushed candy canes, festive sprinkles and my grandsons favorite, mint m & m's.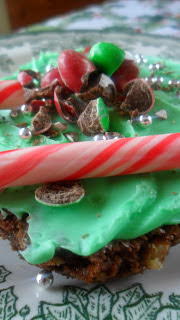 Homemade or Boxed
The recipe that follows is for homemade brownies. They're made with baking cocoa of course and the usual homemade brownie ingredients. Mini chocolate chips, chopped mint m & m candies and pecans are thrown in for good measure. If you are crunched for time during this busy season, you can certainly substitute your favorite boxed brownie mix. We like to use any Ghirardelli boxed brownie mixes.
Substitutions
When making this recipe, try these substitutions;  Winter blend mint chocolate chips instead of the coarsely chopped mint m & m candies. Use a ready-made peppermint frosting (Pillsbury) tinted green. Can't find peppermint frosting in your area, stir 1 teaspoon peppermint extract into a container of vanilla or cream cheese ready-made frosting. Use green gel food coloring to tint the frosting, optional.
Brownie
A brownie is a dense, chewy, cake like cookie that is generally chocolate flavored, hence the name. Brownies can also be a variety of flavors including butterscotch, vanilla, and or caramel in which case it's called a blondie. Blondies are typically made with butter and brown sugar, which give the blondies their typical butterscotch flavor. Brownies are considered a 'bar cookie'. Bar cookies are created when a batter or soft dough is spooned into a shallow pan, then baked, cooled and cut into bars.
Chocolate Mint Brownies with Peppermint Frosting
Minty, Chocolate and Delicious
Ingredients
3/4

cup

baking cocoa

2/3

cup

butter, melted and divided

2

cups

sugar

1 1/2

cups

flour

1/4

teaspoon

salt

1/2

teaspoon

baking soda

1/2

cup

boiling water

2

eggs

1

teaspoon

vanilla extract

1/2

cup

mini chocolate chips

1/2

cup

coarsely chopped mint m&m's, plus more for garnish

1/3

cup

chopped pecans

2

tablespoons

chocolate syrup

1

container peppermint frosting

2 to 4

drops

green food coloring

1

container vanilla frosting

,

with 1 teaspoon peppermint extract added.*
Instructions
Heat oven to 350

Grease a 13 x 9 x 2 baking dish.

Stir together cocoa and baking soda in large bowl; Stir in 1/3 cup melted butter. Add water; Stir until mixture thickens. Stir in sugar, eggs, and remaining 1/3 cup melted butter. Stir until smooth. Add flour, extract and salt; stir until well blended. Stir in chips, m & m's, pecans and chocolate topping. Spread into prepared pan.

Bake at 350º for 35- to 45 minutes or until toothpick inserted in middle comes out clean. Do not over bake. Cool pan on wire rack.

When cool, add 2 to 4 drops of green food coloring to peppermint frosting, stir well. Frost brownies with green tinted peppermint frosting.*