Chocolate Custard Cups for Valentine's Day
We may earn money or products from the companies mentioned in this post.
Chocolate Custard Cups for Valentine's Day
This recipe makes 2 servings…One for you and One for your Valentine. Chocolaty with a hint of coffee flavor. Valentine's Day is filled with Love, Candy, Flowers, Lingerie, Jewelry, Romantic Dinners, Wine and of course, Chocolate. This year for Valentine's Day why not make your sweetie this
chocolaty dessert. Fast, easy and so delicious! Chocolate custard cups are made with ingredients you probably already have on hand.
Perfect for Dessert
This Valentine's Day you can go out to eat and fight the crowd of lovers or you can stay home. Why not make a delicious dinner for two at home? This fast and easy Valentine's Dinner for Two will certainly put a smile on your sweethearts face. Here is my suggestions for a Valentine's Dinner; simple salad with your favorite salad dressing, twice baked potatoes and heart-shaped rib-eye steak with sauteed mushrooms. For dessert; chocolate custard cups.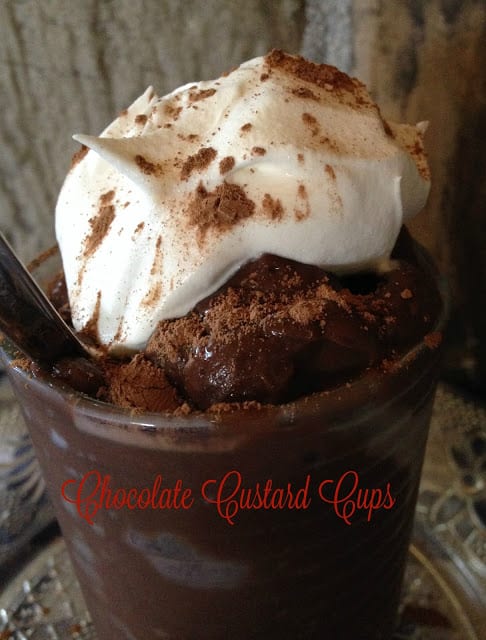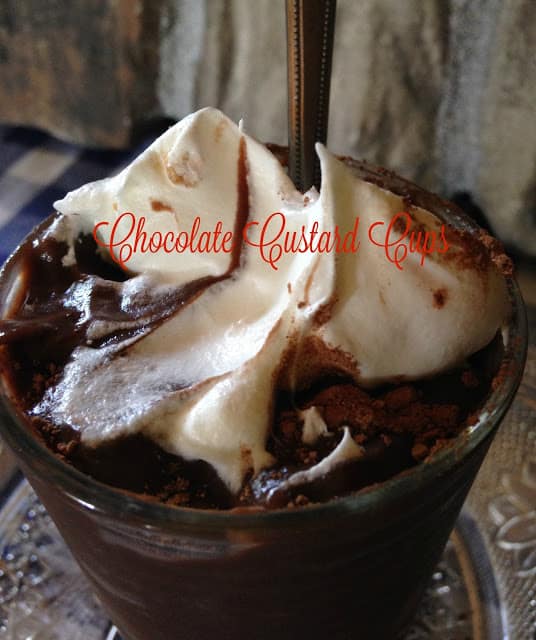 Heart-Shaped Steak for Two?
Depending on where you live, you might be able to locate a heart-shaped steak in your area. In my area you can purchase a Heart-shaped Rib-eye Steak at Cedar Creek Marketplace . Publix also has steaks in the shape of a heart if you have a Publix in your area. My advice would be to call around where you live and see where you can purchase one. You just might be surprise where you will find one.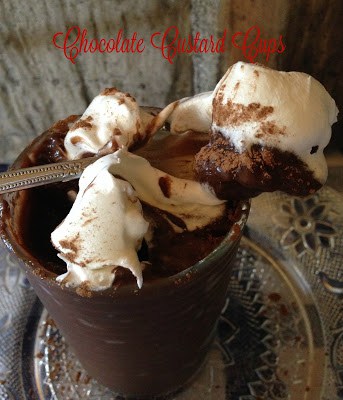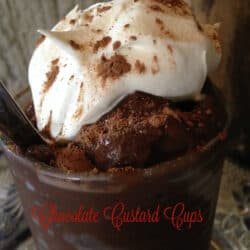 Chocolate Custard Cups
Delicious, Fast and Easy.
Ingredients
1/4

ounce envelope

unflavored gelatin

2

tablespoons

cold water

1/3

cup

half and half

2

tablespoons

sugar

1

teaspoon

instant coffee crystals

1 1/2

ounces

bittersweet chocolate, finely chopped

2/3

cup

cup skim milk

pinch

of salt

sifted cocoa powder, optional

whipped topping, optional
Instructions
In a small bowl, sprinkle gelatin over 2 tablespoons cold water. Let soften 5 minutes.

Meanwhile, in a medium saucepan, bring half-and-half to a boil over high heat.

Reduce heat to low; whisk in sugar and instant coffee until dissolved, about 1 minute.

Whisk in chocolate until melted (be careful not to let it burn), about 2 minutes. Remove from heat.

Whisk softened gelatin into chocolate mixture until gelatin has dissolved, about 1 minute.

Stir in milk and salt. Strain into a large liquid measuring cup (for easy pouring).

Divide between two 6-ounce coffee cups or custard cups.

Refrigerate until set, at least 3 hours.

Top with whipped topping and sprinkle with cocoa powder, if desired.
Recipes on Tap: