Chocolate Cranberry Cake
We may earn money or products from the companies mentioned in this post.
Chocolate Cranberry Cake
Chocolate Cranberry Cake is an unusual sounding cake with an unusual list of ingredients. This cake is made with a boxed chocolate cake mix, chopped fresh cranberries, and chopped pecans. Its then topped with a canned frosting and decorated with raspberry creme filled candies, which are optional but they sure do taste good! If your looking for a fast, easy, and different cake to make, then look no further this cake is for you.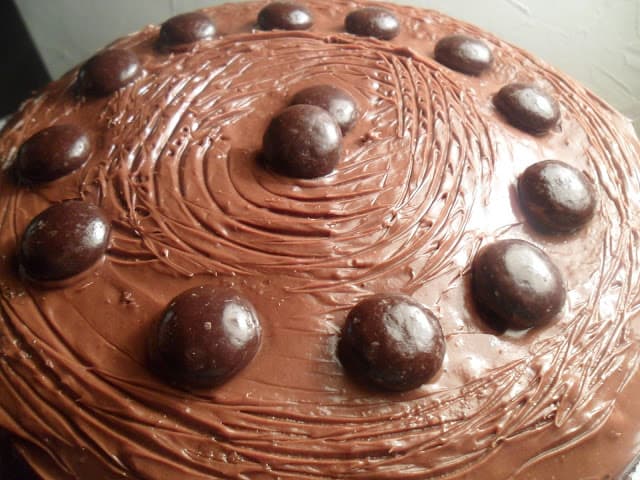 Super Moist
This recipe is super moist due in part to the addition of chopped, fresh cranberries. The chopped cranberries are allowed to hang out in a couple tablespoons of sugar for several hours, which not only sweetens them up somewhat, it also allows them to soften and expel juice. I had some fresh cranberries that I wanted to use and this seemed like the perfect recipe. Chocolate Cranberry Cake is an un-expected taste explosion.
Taste Of Home
I first saw this recipe in one of my many Taste of Home Cookbooks. You might be curious to know just how many TOH cookbooks I have. Well at last count I think I was up to over 300. Taste of Home is located in Glendale WI which is a suburb of Milwaukee. I became acquainted with Taste of Home in the early 1990's and subscribed to their magazine. Taste of Home magazine/cookbooks have come a long way since their conception so many years ago.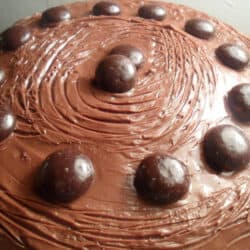 Chocolate Cranberry Cake
A delicious, and moist chocolate cake made with chopped fresh cranberries.
Ingredients
1

18 oz package

devils food cake mix

1 1/4

cups

water

1/3

cup

oil

3

eggs

1

cup

fresh cranberries, chopped

2

tablespoons

sugar

1/2

cup

chopped pecans

1

16 oz can

chocolate frosting

1

2.5 oz package

raspberry creme candies, optional
Instructions
Preheat oven to 350º Grease and flour two 9-in round baking pans.

In a medium bowl place chopped cranberries, sprinkle with 2 tablespoons sugar.

Set cranberries/sugar mixture aside for 2 to 4 hours. Drain cranberries.

In a large bowl combine cake mix, water, oil, and eggs. Beat on low speed for 30 seconds, beat on medium speed for 2 minutes. Stir in chopped cranberries and pecans. Pour into prepared pans. Bake for 30 to 35 minutes or until a toothpick inserted near the center comes out clean.

Cool in pans for 5 minutes, remove from pans to wire rack, cool completely.

Frost cake with chocolate frosting.

Decorate top with raspberry candies, optional.
Do you like cranberries? We love them! Here are a few more recipes you will love. Cranberry Nut Swirl Bread , Rhubarb Cranberry Apricot Pie Filling.
Featured Recipe: Lemon Poppy Seed Oatmeal Scones