Chocolate Cinnamon Sourdough Waffles
We may earn money or products from the companies mentioned in this post.
Chocolate Cinnamon Sourdough Waffles
Chocolate Cinnamon Sourdough Waffles are super delicious. The sourdough recipe is from a fabulous cookbook from Kathy Doogan. I've made several recipes from this recipe booklet and every recipe has turned out super delicious. Many of our favorite recipes and the recipes that our readers love here on T2T are from this recipe booklet. I bought the booklet on Amazon several years ago for under $10.00. Not bad, not bad at all.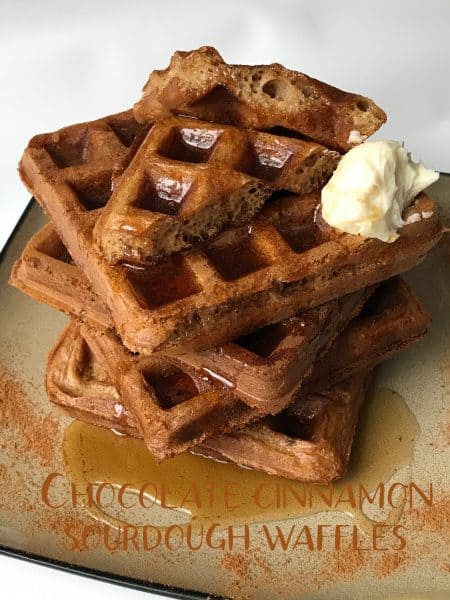 Sourdough Waffles
As I stated, the sourdough waffle recipe I used is from the recipe booklet called: Simply Sourdough ~The Alaska Way~ At the last minute, I decided to stir in some cocoa powder and cinnamon. The end result was fantastic. Sourdough is meant for making waffles because it makes them light and airy. Adding cocoa powder and ground cinnamon makes them irresistible. You can certainly make these waffles without the cocoa and cinnamon but why?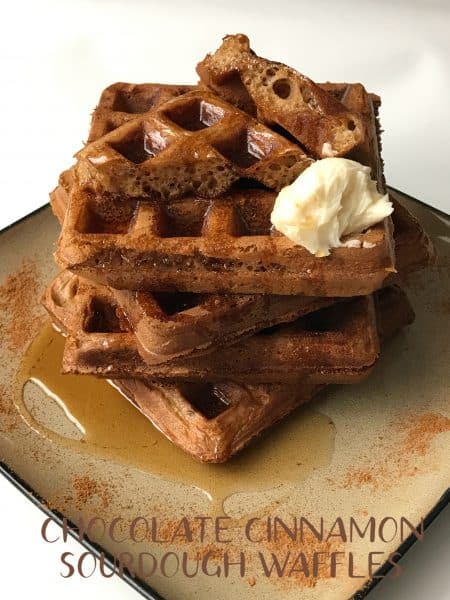 Maple Cinnamon Butter
If chocolate, sourdough, cinnamon and waffles weren't enough to get you in the mood to make waffles, then think about how delicious they will be topped with maple cinnamon butter! Woohoo, get outta my way, I'm running to the kitchen:) I've made many different types of 'flavored' butters but  maple cinnamon butter is so good! Try it on pancakes, french toast, bagels, you name it! Stir maple syrup and cinnamon into softened butter and you have yum!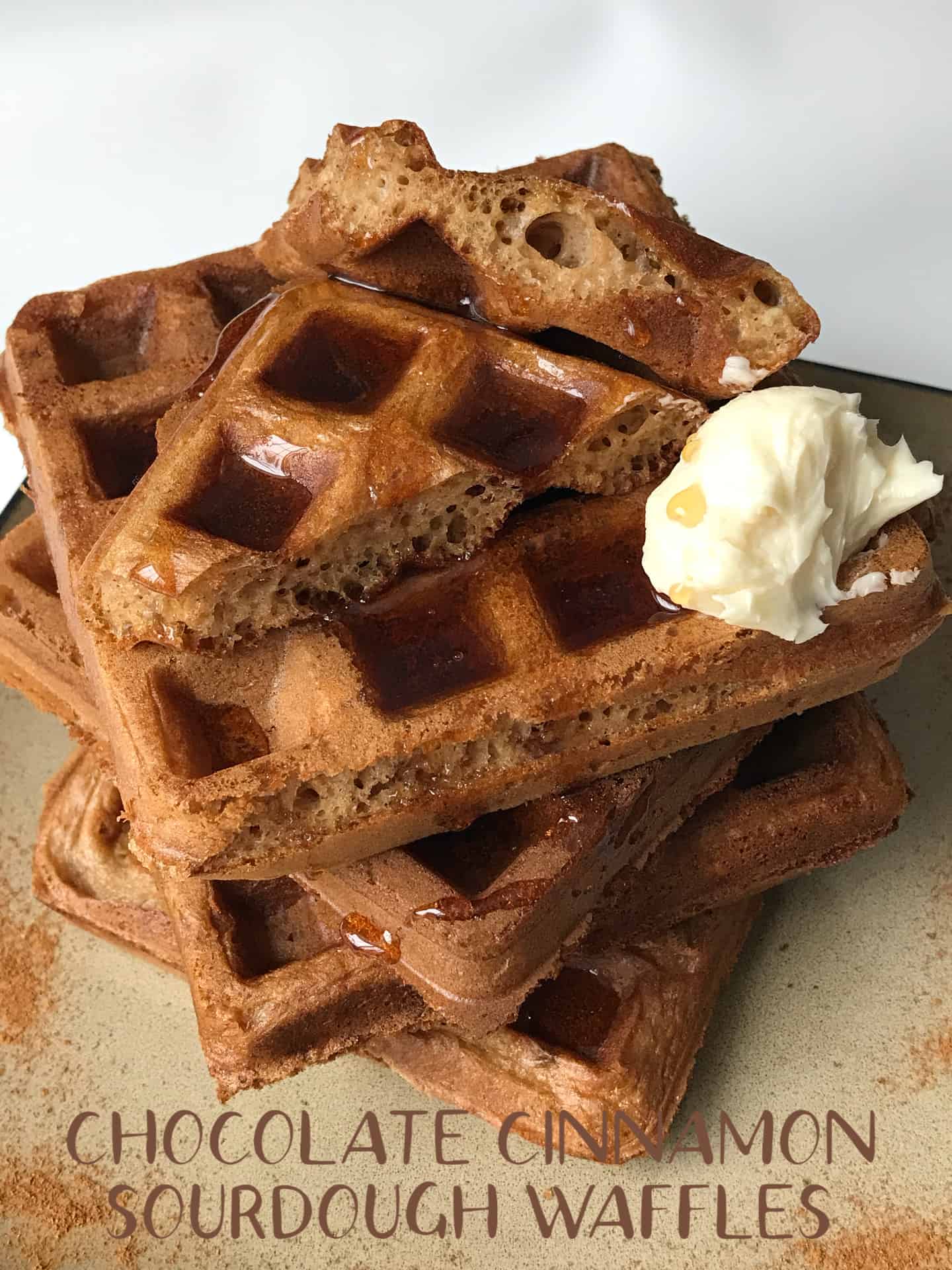 Chocolate Cinnamon Sourdough Waffles
Sourdough and Waffles are meant for each other. Add some cocoa powder and cinnamon, delicious. Top waffles with maple cinnamon butter and you have spectacular.
Ingredients
2

cups

sourdough starter (active)

1

teaspoon

baking soda

1

teaspoon

salt

1

teaspoons

ground cinnamon

2

tablespoons

sugar

2

tablespoons

baking cocoa

2

eggs

1/4

cup

vegetable oil

1/4

cup

softened butter

1

tablespoon

pure maple syrup

1/8

teaspoon

ground cinnamon
Instructions
In a mixing bowl, combine starter, baking soda, salt, cinnamon, sugar, baking cocoa, eggs and oil.

Cook immediately on a hot, lightly greased waffle iron. Cook according to manufacturer directions.

In a small bowl, whisk together butter, maple syrup and ground cinnamon. *Adjust the amounts given to your personal preferences.
Like Sourdough? So do we. Give these super sourdough recipes a try. Carrot Raisin Sourdough Muffins, Sourdough Oatmeal Bread and Sourdough Cinnamon Raisin Bread. 
Recent Recipe: Roasted Cauliflower with Tomatoes, Garlic, & Onions