Chocolate Chip Waffle Ice Cream Sandwiches
We may earn money or products from the companies mentioned in this post.
Chocolate Chip Waffle Ice Cream Sandwiches
Today is all about Waffles. Sweet Waffles with Ice Cream. With temperatures hitting the high 90's today, these ice cream filled chocolate chip waffles will sure to cool you off this summer. Chocolate Chip Waffle Ice Cream Sandwiches are the perfect sweet treat to snack on during the summer months. I made these waffles for my grandson. To say he liked these ice cream sandwiches would be an understatement.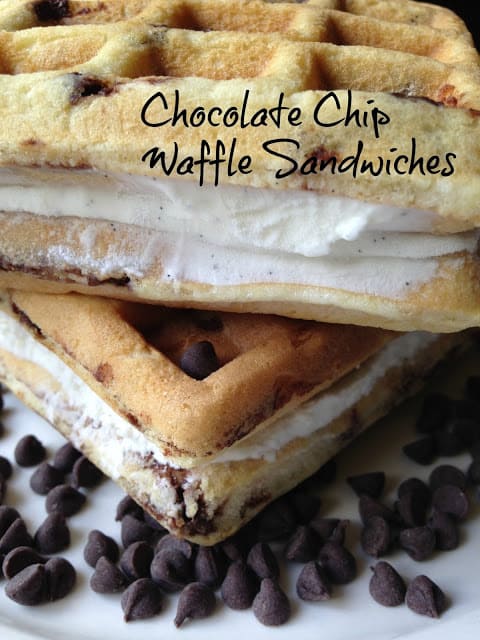 A Few Tips
There are a few tips to follow when making these yummy chocolate chip waffle sandwiches. Don't worry, none of the steps are difficult. First, try to use mini chocolate chips, you can add more chips this way. Second, use your favorite ice cream. Chocolate, mint chocolate chip, or strawberry. The sky is the limit here! I found a regular waffle maker works better than a Belgian waffle maker. Personally, I think Belgian waffle makers make the waffles too thick, but it's up to you really.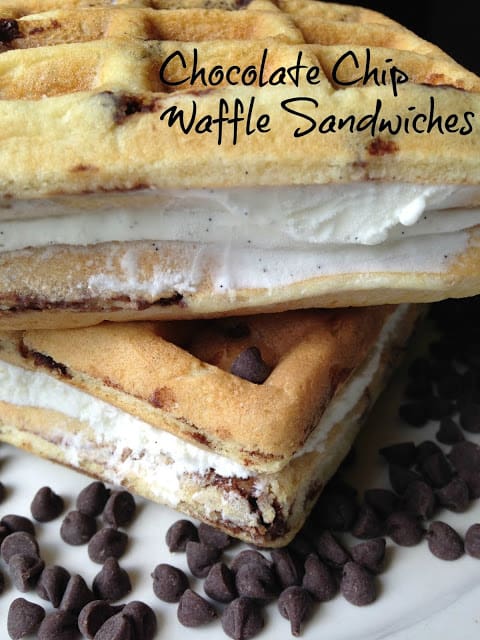 Boxed Mix
For this recipe we made a homemade waffle batter. If you don't have time to make a from scratch batter or simply don't feel like it, no problem! There are many brands of boxed pancake/waffle mixes available on the market. Buttermilk boxed mix is a favorite of ours and the brand we use the most is from Krusteaz. Don't wait until summer to make these chocolate chip waffle sandwiches. They're good anytime.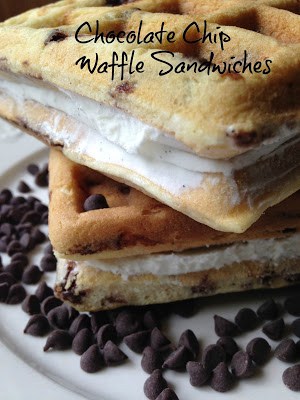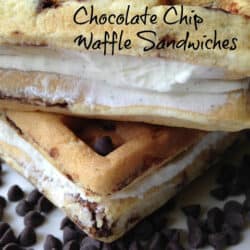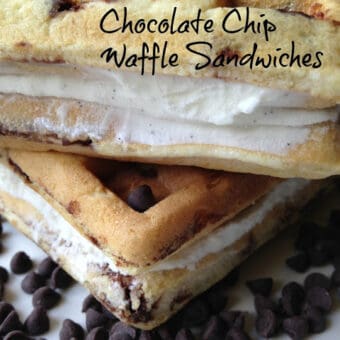 Chocolate Chip Buttermilk Waffle Ice Cream Sandwiches
A cool and refreshing summer dessert.
Ingredients
1 3/4

cups

all-purpose flour

1 1/2

teaspoons

baking powder

1

teaspoon

baking soda

1/2

teaspoon

salt

1/4

teaspoon

ground cinnamon

3

large

eggs, separated

1/2

cup

unsalted butter, melted and slightly cooled

1/3

cup

sugar

1 3/4

cups

buttermilk

1

teaspoon

vanilla extract

1/8

teaspoon

cream of tartar

1

cup

mini chocolate chips

1

quart

vanilla bean ice cream
Instructions
Preheat waffle maker according to manufacturers directions.

In a large bowl, combine the flour baking powder, baking soda, salt and cinnamon. Set aside.

In another large bowl, whisk egg yolks, butter, sugar, buttermilk and vanilla extract together until combined.

Pour the wet ingredients into the dry ingredients and whisk gently until smooth. Add the mini chocolate chips. Do Not Over-mix.

In a medium bowl, beat together egg whites with cream of tartar with an electric mixer until stiff peaks form. Gently fold egg whites into the batter.

Pour 1/3 cup to 1/2 cup batter into preheated waffle maker, amount will depend on the type of waffle maker using, close the lid and cook the waffles until the green light goes off, my waffle maker, or until waffles are golden brown. Transfer waffles to a cooling rack, repeat with all batter. Allow waffles to completely cool before adding ice cream.

Remove ice cream from freezer. Allow to thaw 20 minutes or longer, to soften. When ice cream is soft enough to handle, spread softened ice cream on one waffle, top with second waffle, slightly press down. Wrap waffles in saran wrap. Store in freezer.
Recipes On Tap
Mini Dirt Chocolate Pudding Cups and Watermelon Rice Krispie Treats are fun and kid friendly summertime treats.
For this recipe we used Breyer's Vanilla Bean Ice Cream