Chocolate Cherry Chip Crunchy Cookies
We may earn money or products from the companies mentioned in this post.
Cherry Garcia or Chocolate Cherry Chip Cookies
Cherry Garcia or Chocolate Cherry Chip Cookies came about one day when I had a huge craving for cookies. I decided to make a batch of my favorite cookies, Chicago Crunchy Cookies. My sister Barb gave me this recipe years ago and I have been making it ever since. They're always a hit and will definitely disappear fast. The recipe for Chicago crunchy cookies, (I have no clue why they're called that either) makes a huge batch. Depending  on the size of cookies, at least 4 to 5 dozen. Thus, making them great to bring to parties or to sell at bake sales.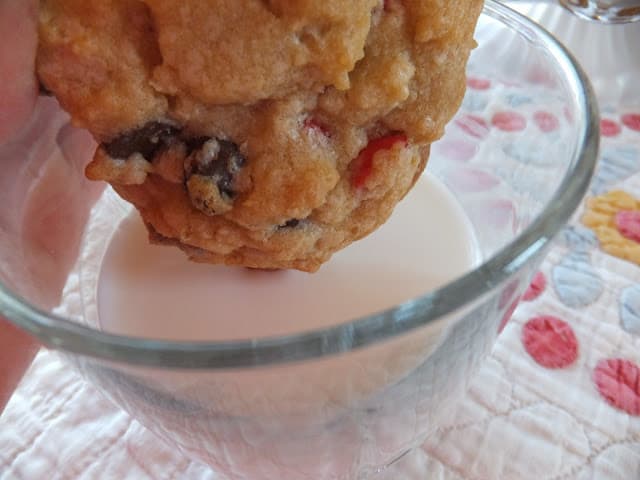 Chocolate and Cherry Chips
This recipe that I'll be sharing today originally calls for using only chocolate chips. I had a 10 oz bag of cherry chips that I bought for a different recipe. I never got around to making the recipe so I thought, "what the heck, throw them in too!" And boy am I glad I did. My hubby re-named the cookies, Cherry Garcia cookies because, "They have everything in them but the kitchen sink." Cornflakes, old-fashioned oatmeal, chocolate chips, cherry chips, chopped walnuts and you have a cookie that's irresistible.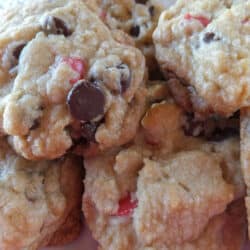 Cherry Garcia Cookies or Chocolate and Cherry Chips Cookies
Ingredients
1

cup

butter, softened

1

cup

vegetable oil

1

cup

packed brown sugar

1

cup

sugar

1

egg

1

tablespoon

milk

2

teaspoons

vanilla extract

3 1/2

cups

flour

2

teaspoons

baking soda

1

teaspoon

salt

1/4

teaspoon

cinnamon

1

cup

cornflakes

1

cup

old-fashioned oats

1

12 oz bag

chocolate chips

1

10 oz bag

cherry flavored chips

1

cup

chopped walnuts
Instructions
Preheat oven to 350º

Cream together butter, oil and sugars. Add egg, milk and vanilla extract. Mix well.

Stir together flour, baking soda, salt and cinnamon. Gradually add dry ingredients to creamed mixture. Mix well. Stir in cornflakes, oats, chocolate chips, cherry chips and nuts.

Drop by rounded spoonfuls onto baking sheet lined with parchment paper.

Bake at 350º for 10 to 12 minutes or until golden brown.
Cherry Orange Marmalade Bread is a fantastic Quick Bread made with dried cherries and orange marmalade.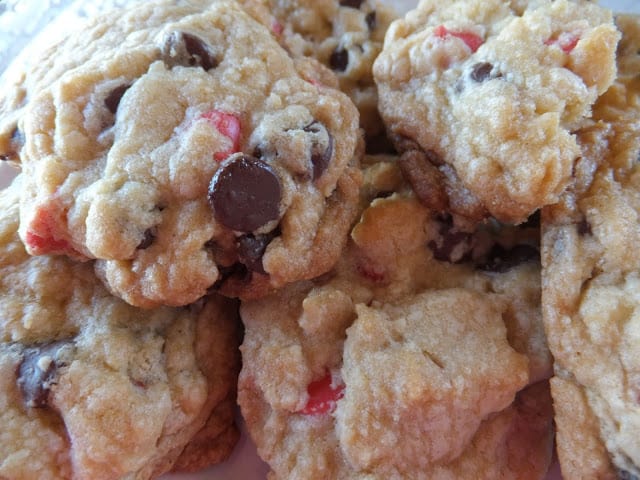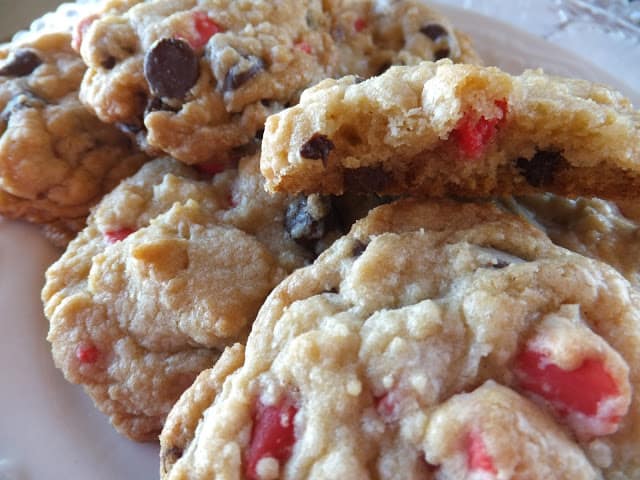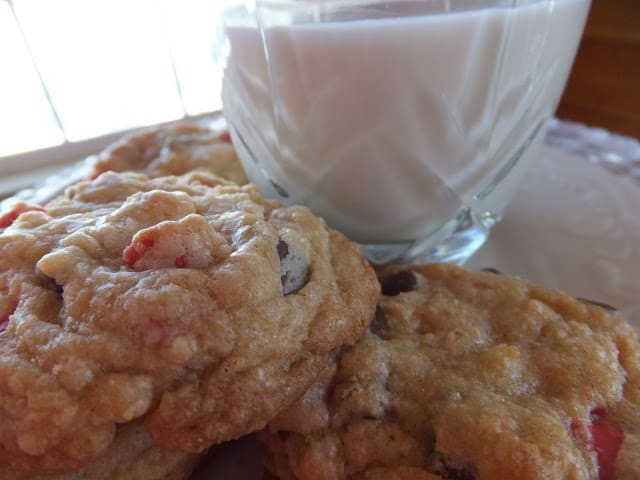 For this recipe we used:
Nestles, Kellogg's  and Gurley's Foods Sweet Cherry Chips