Chicken Sausage, Spinach Pasta Bake
We may earn money or products from the companies mentioned in this post.
Chicken Sausage, Spinach Pasta Bake
Recently when I was doing my bi-weekly grocery shopping at Aldi, I picked up a package of chicken, feta and spinach sausages. They were located near the pork bratwurst and the little breakfast sausage links. Now I've looked at them before, picked them up and read the ingredients a time or two but have never purchased a package. My hubby is adamant about his sausages. They should contain only pork and beef. He could care less if his sausages contain animal bi-products and fillers. As long as they contain pork or beef and fat, he's happy. But not me. I like to know what's in the food I eat:)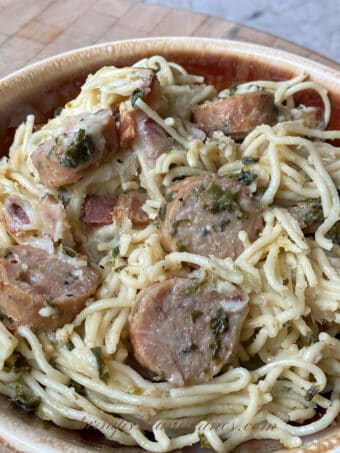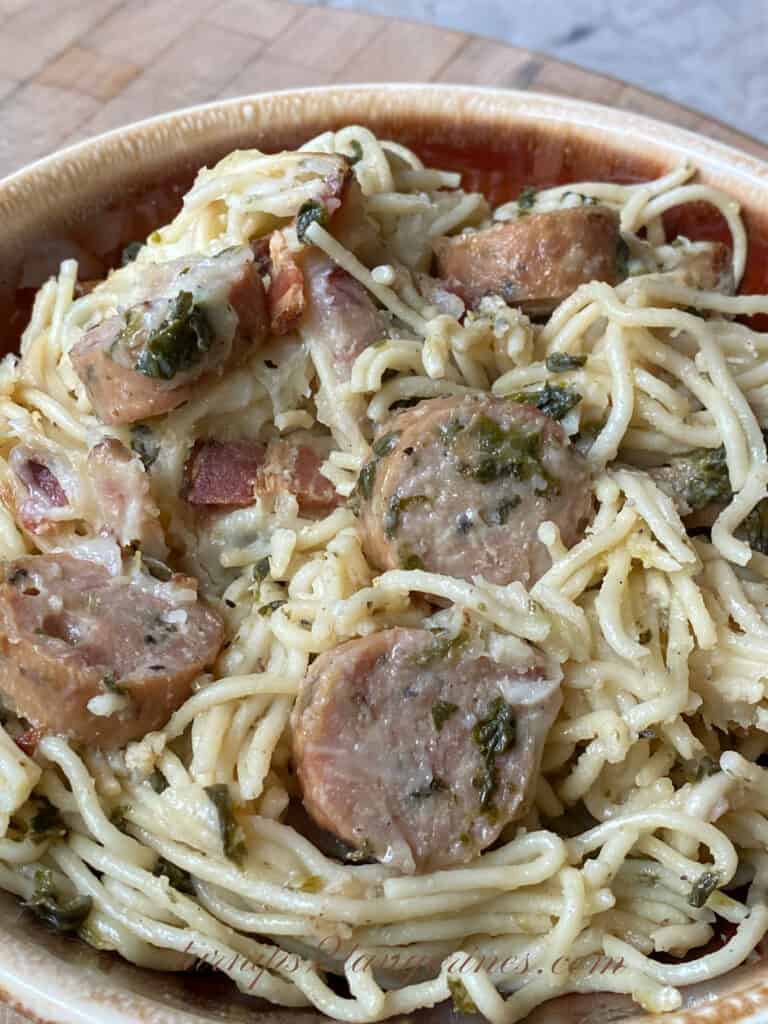 "Never Any" Brand
Aldi is great when it comes to following the latest food trends. Offering low carb options, keto friendly options, vegan  and all natural options. Aldi has what is called the "Never Any" option you can choose from also. Personally, I look for the Never Any logo when I purchase meat and seafood products at Aldi. FYI, this post wasn't in anyway sponsored by Aldi. We just like to pass on to our readers the products that we like and therefore recommend you try:)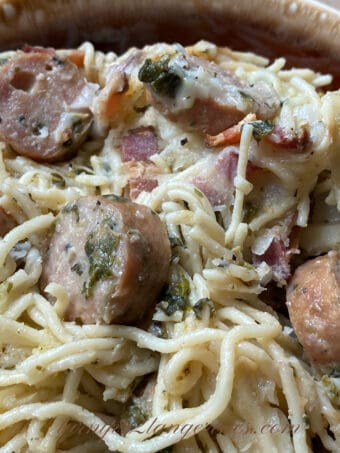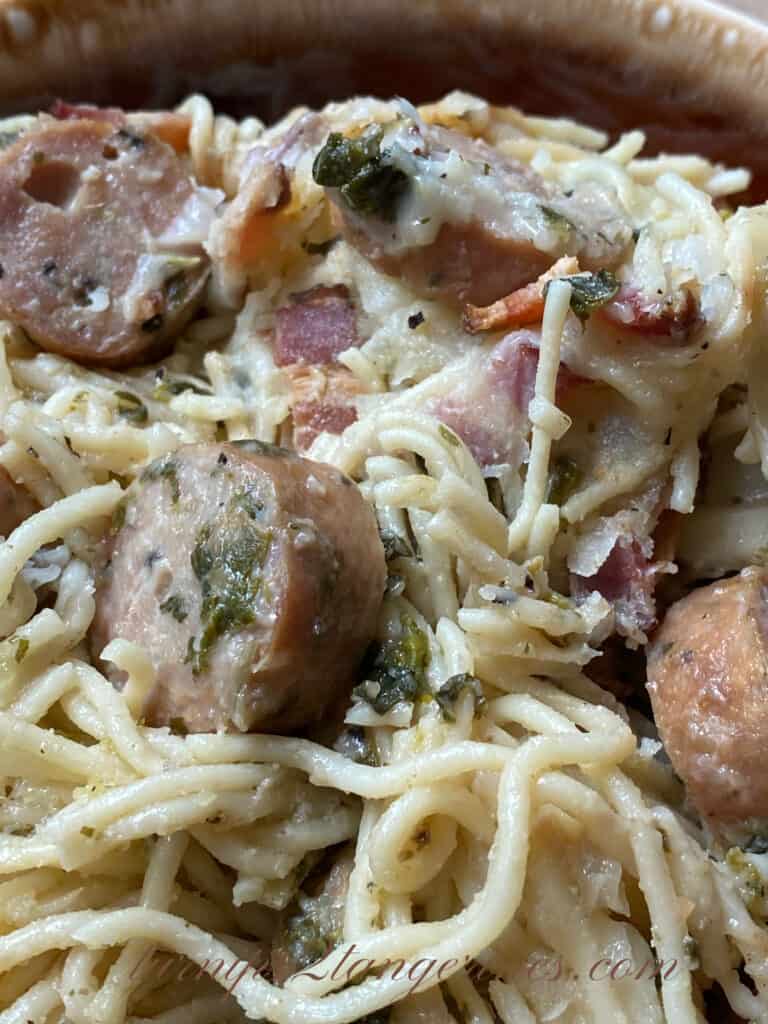 What is Never Any! Anyway?
Never Any!
"Antibiotics? Never. Added hormones? Never. Artificial ingredients? Never! Never Any! offers more than 20 high-quality meats at affordable prices."
"Never ANY! Get more of the taste you want without the additives. Every Never Any! product is certified by the USDA as meeting three criteria: No antibiotics, No added hormones or steroids, No animal by-products (vegetarian fed)."
"Our high-quality meat is not only healthier for our customers but provides more humane conditions for our animals. In 2018, Never Any!, earned the Good Housekeeping Seal, a symbol of quality assurance and consumer protection since 1909." When looking for Never Any! products, look for the Never Any! logo.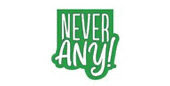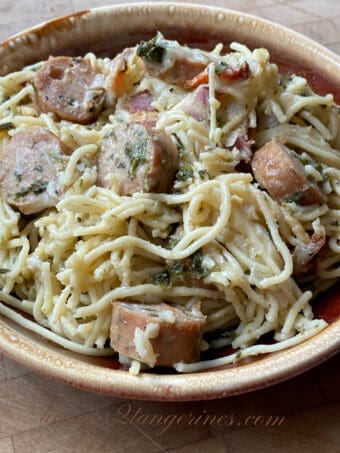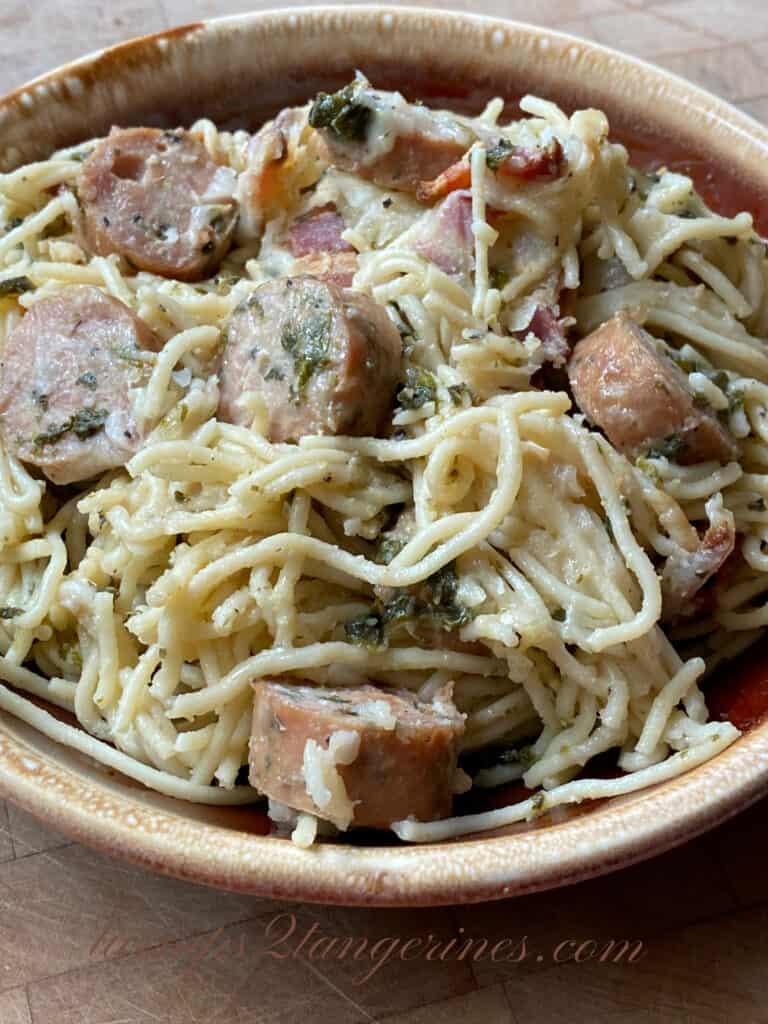 UP NEXT: Door County Old Fashioned Cherry Crunch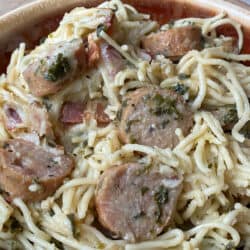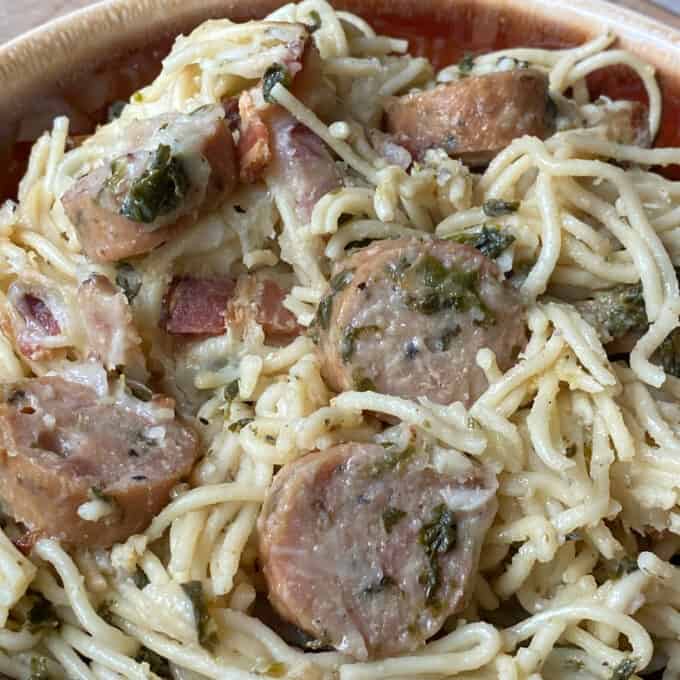 Chicken Sausage, Spinach Pasta Bake
Ingredients
4

tablespoons

olive oil

1/2

large sweet onion, diced

3

cloves

garlic, minced

1

12 oz.

package Spinach & Feta Chicken Sausage,* sliced into bite size slices

1/3

cup

chicken broth

1/3

cup

white wine, optional

1

15 oz.jar

creamy Alfredo sauce

1/4

teaspoon

each salt and pepper

1/4

teaspoon

garlic powder

1/4

teaspoon

onion powder

1

teaspoon

Italian seasoning

1

tablespoon

dried parsley

1/2-

10 oz. package

frozen spinach, thawed and squeezed dry

1/2

cup

shredded Parmesan cheese

6

slices

crispy bacon, crumbled

8 oz

package

angel hair pasta, cooked according to package directions
Instructions
In a medium sauté pan, heat olive oil on medium low for 1 minute. Add onions and garlic, sauté until tender, about 3 minutes. Add chicken sausage slices and sauté until light brown, about 10 minutes.

Slowly pour in chicken broth, white wine and Alfredo sauce. Stir until blended over medium low heat, 5 minutes. Stir in spices and continue to simmer for 5 more minutes. Stir in spinach, cheese and bacon until combined. Simmer until heated through, 5 minutes. Toss in cooked angel hair pasta. Pour mixture into a 3 quart baking dish, top with extra cheese, cover with foil and bake at 350° for 45 minutes.
Notes
*Aldi Never Any Spinach & Feta Chicken Sausage
More recipes for your dinning pleasure: