Chicken or Turkey Egg Rolls
We may earn money or products from the companies mentioned in this post.
Chicken or Turkey Egg Rolls
I love homemade egg rolls. They're so much better than the egg rolls you find in the frozen food section of your local grocery store. Egg rolls have gotten somewhat of a bad food wrap. Mainly due to those soggy, greasy, logs that contain nothing more than shredded cabbage, found at your local 'China Thyme Buffet.' Once you make egg rolls at home, you'll never see egg rolls in the same light again. Chicken or Turkey Egg Rolls are super good!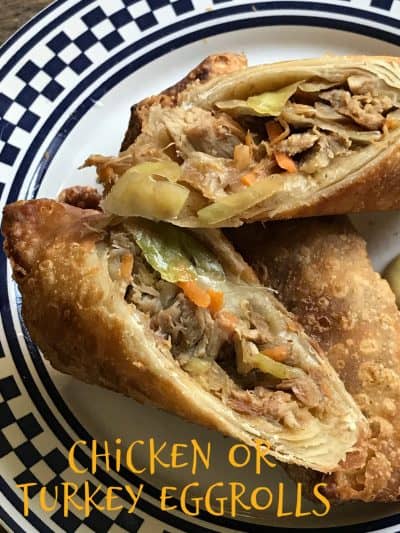 A Few Tips
Egg rolls should be crunchy on the outside, with a tasty filling on the inside. Nor should they be soggy or greasy. That's why egg rolls should really be eaten asap. Here are a couple of tips to remember when making great egg rolls at home. When frying egg rolls in oil, make sure your oil is super hot! If your oil isn't hot enough, the end results will be soggy, greasy egg rolls. Use peanut oil which has a high smoke point and neutral taste.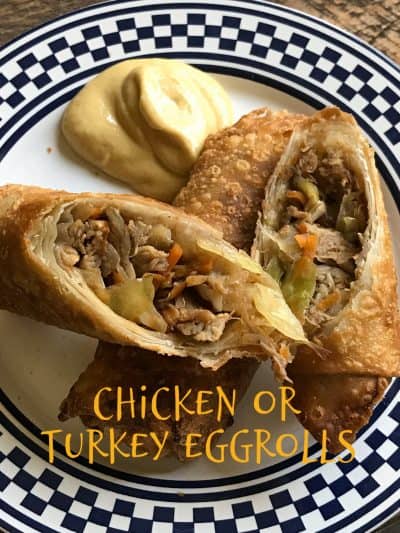 Only fry two or three egg rolls at a time. This will depend on the size of pan you're using. Our recommendation: a 3-inch deep, 10-inch cast iron frying pan. When frying two or more egg rolls at a time, make sure to add them to the oil at roughly the same time. This ensures the oil will remain at the same temperature. With Thanksgiving fast approaching, I can't think of a better way to use up leftover holiday turkey than to make a batch of Chicken or Turkey Egg Rolls.
All You Need 
One thing I like about making homemade egg rolls is they are easier to make than you might think. A small amount of meat, such as shredded pork, chicken or turkey works perfectly. Or you can easily go the seafood route. Any form of seafood works great; shrimp, crab, or lobster if you afford it, will all work super. You can easily make vegetarian egg rolls too, after all most egg rolls contain more veggies than meat.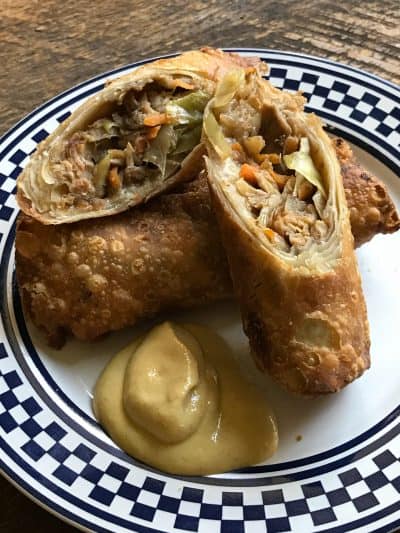 For convenience, use a bag of shredded cole slaw mix that you can find in any grocery store produce section. Use the mix that has shredded green and purple cabbage, along with carrots. Egg roll wrappers can also be found in most produce sections, usually by the Asian food section. Buy egg roll wrappers, not won ton wrappers. Won ton wrappers are not as large as egg roll wrappers and are best used for sum dumb dumplings or Rangoon.
Perfect For
Egg rolls are perfect to serve as an appetizer with a selection of five or six different dipping sauces. Try duck sauce, plum sauce, spicy mustard sauce or just plain ol' soy sauce. Serve egg rolls as a light lunch or dinner option. For lunch serve with a steaming bowl of egg drop soup and a cup of tea. For dinner, serve egg foo young, jasmine rice and egg rolls as a side dish. Pour a glass of sake and enjoy. Anytime you serve egg rolls is the right time.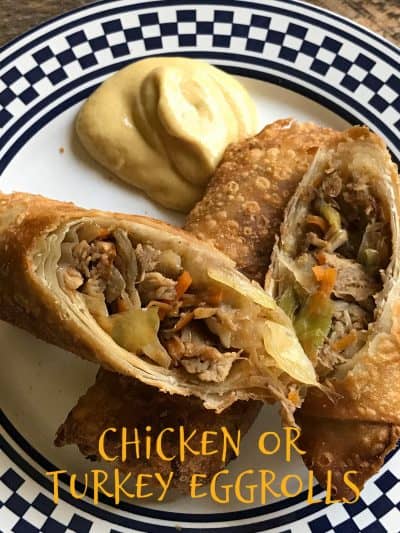 Dipping Sauce
In my house we like to serve egg rolls with a honey mustard dipping sauce. The best recipe for honey mustard sauce is fast, easy and super delicious. Made with honey from our friend Andy, Keen's mustard, cayenne pepper and mayonnaise. This is seriously the best honey mustard sauce you'll ever experience. From chicken nuggets, to egg rolls, to pretzels, this stuff is super. Here's the recipe: Honey Mustard Dipping Sauce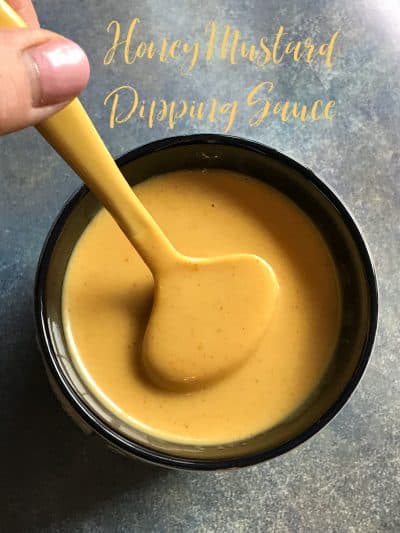 It's A Wrap
Egg rolls can be made any which way and served with any dipping sauce imaginably. In fact, there is possibly as many different dipping sauces, as there are Chinese dishes. Egg Rolls can be fried in oil or even baked. When making egg rolls make sure to make extra. Egg rolls freeze super! When the urge for egg rolls strikes, place a couple of frozen egg rolls on a baking sheet, spray with cooking spray and bake at 375 degrees until hot. So Good!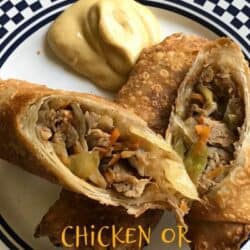 Homemade Chicken or Turkey Egg Rolls
Homemade egg rolls are so good.
Ingredients
1/2

cup

soy sauce

1/4

cup

packed light brown sugar

1

tablespoon

ground ginger

2

teaspoons

garlic powder

6

cups

cole slaw mix

3

green onions, thinly sliced

2

cups

shredded cooked chicken or turkey

12

egg roll wrappers, plus more if needed

water

Oil for frying
Instructions
In a small bowl, combine soy sauce, brown sugar, ginger, and garlic powder; mix well.

In a large bowl, combine cole slaw mix, scallions and chicken or turkey; mix well. Pour soy sauce mixture over cabbage-chicken mixture; toss to coat well. Let stand 10 minutes. Place cabbage mixture in a colander and set over a large glass bowl.

Spoon about 1/3 to 1/2 cup cabbage-chicken mixture evenly onto center of egg roll wrapper. Lightly brush edges of egg roll with water. Fold one corner of each egg roll wrapper up over cabbage mixture then fold both sides over, envelope fashion; roll up tightly.

In a deep heavy or cast iron fry pan, heat about 1-1/2 inches oil until hot but not smoking. Add egg rolls in batches and fry 3 to 4 minutes per side, or until golden. Drain on a paper towel-lined platter. Serve immediately with sauce of choice.
Twin Dragon Egg Roll Wrapperswas used in this recipe to make Chicken or Turkey Egg Rolls. Recent Recipe: Hasselback Potatoes with Garlic and Thyme
Here are a few more egg roll recipes you'll want to try; Pineapple Pork Egg Rolls, Shrimp Egg Rolls with Sweet-Sour Sauce, Stuffed Poblano Pepper Egg Rolls