Chicken Noodle Soup
We may earn money or products from the companies mentioned in this post.
Chicken Noodle Soup
The weather here in Northern WI has been chilly. Very, very chilly, for the month of June. We love soup any time of the year here on Turnips 2 Tangerines and this chicken noodle soup is perfect on a chilly summer evening or on a cold winters day. After all, any day is a good day for soup. A soup and sandwich combo is probably one of the best loved luncheon meals.
Classic Combinations
The classic soup and sandwich combinations that I like to make at home and order whenever I go out for lunch is of course tomato soup with grilled cheese sandwich, chicken noodle soup with a turkey club, ham and bean soup with turkey on sourdough and last but not least is broccoli cheese soup with roast beef on rye. They are for certain my favorite lunch combinations. What are yours?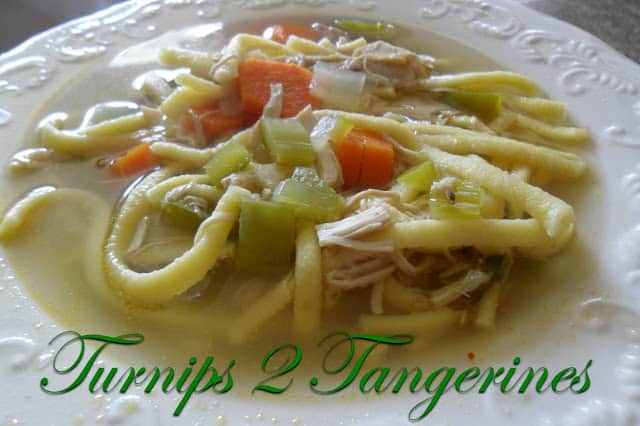 Soup, Delicious and Good for You!
Old Fashioned Chicken Noodle Soup, just like mom used to make and exactly what the doctor ordered. Grandma's and moms have been making chicken noodle soup for eons. Too chase away the winter chill and to ward off colds and the flu. Chicken noodle soup is good for whatever ails you. Nothing better than a cup of soup and half a sandwich for lunch, unless you want to add a handful of potato chips and a chocolate chip cookie!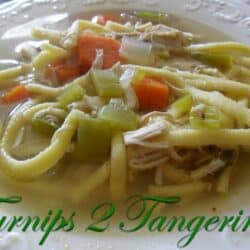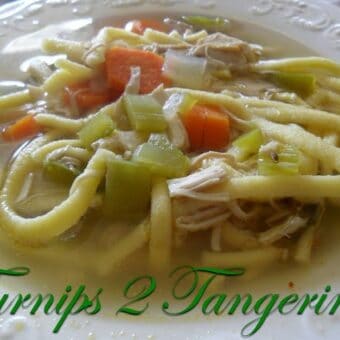 Chicken Noodle Soup
Chicken Noodle Soup perfect anytime of the year.
Ingredients
1

3 1/2 to 4 pounds

whole chicken, cleaned and rinsed

3

quarts

cold water

5

chicken bouillon cubes

6

whole

peppercorns

2

bay leaves

1

teaspoon

salt

1 1/2

cups

peeled, sliced carrots

1

cup

chopped celery

1

cup

chopped green pepper

1/2

cup

chopped onion

1 1/2

teaspoons

seasoned salt

1/4

teaspoon

teaspoon pepper

1/2

teaspoon

crushed red pepper

1

14 oz package

egg boodles or noodles of your choice
Instructions
Place chicken, water, bouillon, peppercorns, bay leaves, and salt in an 8-quart dutch oven or soup kettle. Cover and bring to a boil; skim off fat that rises to the top. Reduce heat; cover and simmer 1 1/2 hours or until chicken is tender. Remove chicken from broth. Set aside to cool. Strain broth through several thickness of cheesecloth, discard bay leaves and peppercorns. Return strained broth back to kettle. Allow chicken to cool; debone and cut into bite-size pieces. Skim fat from broth, add chicken pieces to kettle. Add carrots, celery, green pepper, onion, salt, pepper and crushed red pepper; bring to a boil, reduce heat; cover and simmer for 1 hour. Uncover; increase heat to a gentle boil. Add egg noodles and boil 10 minutes or until noodles are tender.
Chicken Flavored Fried Rice is a delicious fried rice recipe perfect to serve alongside Chicken Noodle Soup.