Chicken Noodle Soup With Turkey Meatballs
We may earn money or products from the companies mentioned in this post.
Chicken Noodle Soup with Turkey Meatballs
This is my second and final recipe that I will be entering in the Udon Noodle Blogger Recipe Contest hosted by JSL Foods. The first recipe I submitted was for Beef Mushroom Noodle Soup . Both recipes, Beef Mushroom Noodle Soup and this recipe for Chicken Noodle Soup with Turkey Meatballs have their own unique flavors and both recipes turned out super delicious. Nothing better than a nice bowl of hot soup on a cold day to warm you up.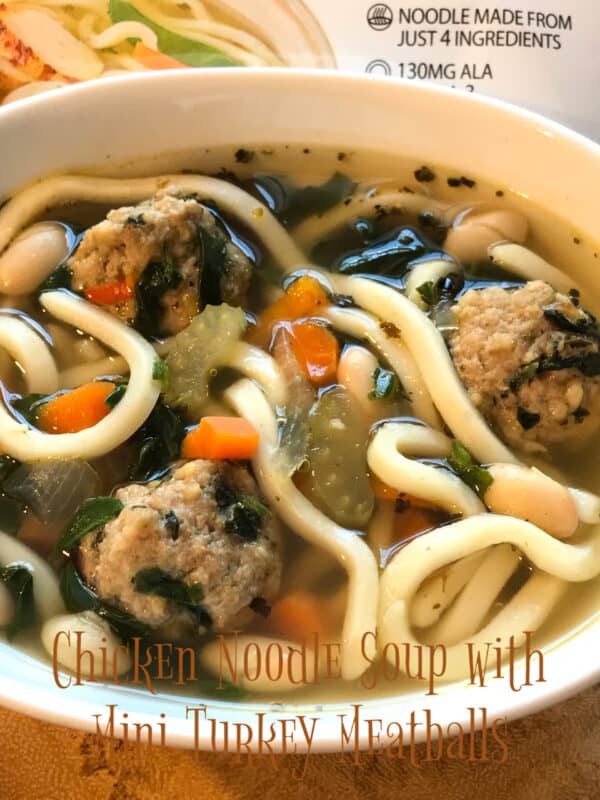 Meatballs
Recently while grocery shopping, the store I was shopping at had rolls of ground turkey on sale. The first thing that came to mind were meatballs. Now I had the task of turning a 3 lb. roll of ground turkey into meatballs and for this soup mini meatballs. After I got home and thought about it, well actually I thought about it on my drive home, I decided to use one recipe for the golf ball size meatballs and another recipe for the mini meatballs. For this soup you'll probably only need about 12 to 18 meatballs. This amount depends on how large or small you make the mini meatballs.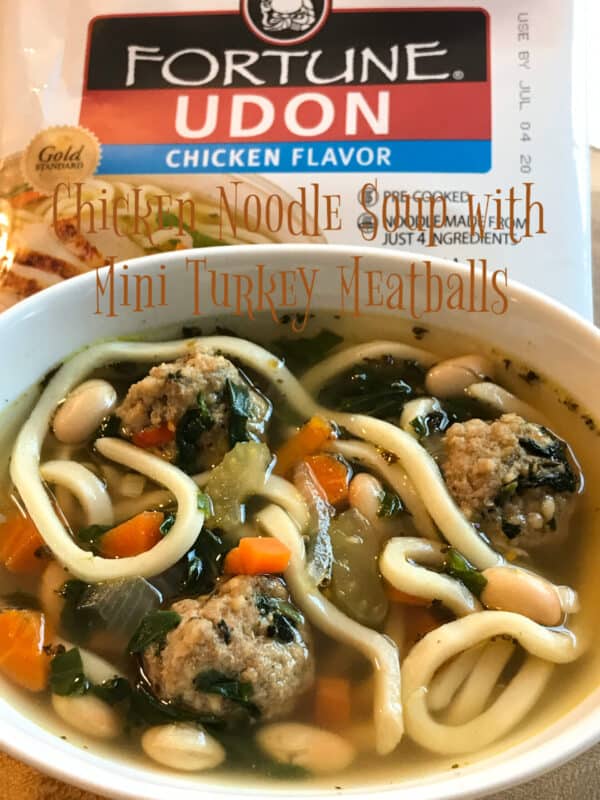 Freeze Them!
If you don't use all of the mini meatballs, you can freeze them! Freezing meatballs is not only easy, it's economical too. Here in Wisconsin, we still have a good eight weeks of winter left. The months of February and March are often times worse than the months of December and January. Having extra mini meatballs in the freezer means I can make Italian Wedding Soup or Cheesy Meatball Soup whenever the urge strikes.
Freezing meatballs, mini or otherwise, is simple. Line a baking sheet with parchment or wax paper. Try to use a baking sheet with sides, meatballs like to roll off the baking sheet and tumble to the floor. (I have three pugs, so you don't want anything tumbling to the floor in my house) Line meatballs up on prepared baking sheet, cover with plastic wrap and place in the freezer until frozen. Place frozen meatballs in a ziplock freezer baggie and put back in the freezer until needed.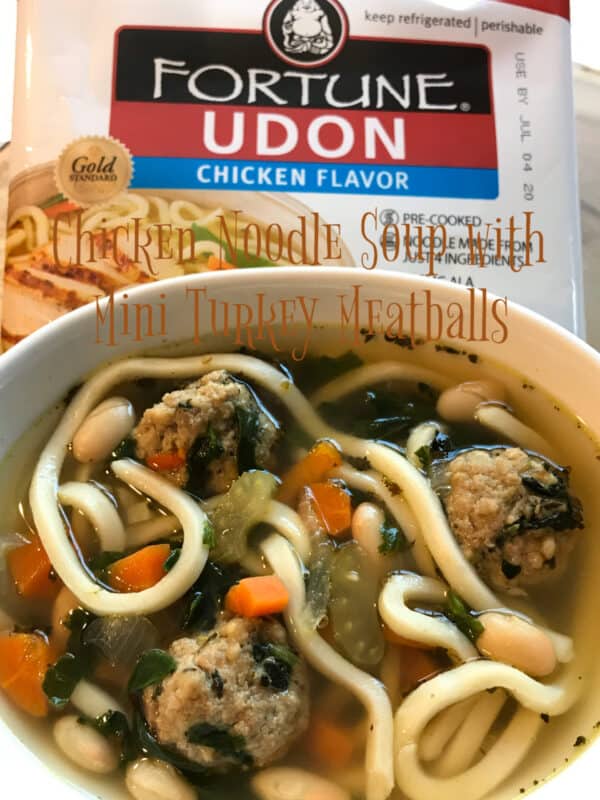 Recipe Tip:
Here is a super recipe tip that will make your life a little easier when making mini meatballs. The easiest way to get meatballs that are roughly the same size is to use a medium cookie scoop. Having all of your meatballs the same uniform size allows them to cook evenly therefore, get done at the same time. If you don't have a cookie scoop, don't run out to the nearest SuperCenter and buy one. (unless of course you want too) Substitute a melon baller for the cookie scoop. If you don't have one of those either, you'll just have to wing it:) Or head to the nearest SuperCenter and go shopping.
Find out more about JSL Foods:
Website: JSL Foods
Facebook: JSL Foods Facebook
Twitter: JSL Foods Twitter
Instagram: JSL Foods Instagram
To get your free coupon follow this link: Join the Noodle Club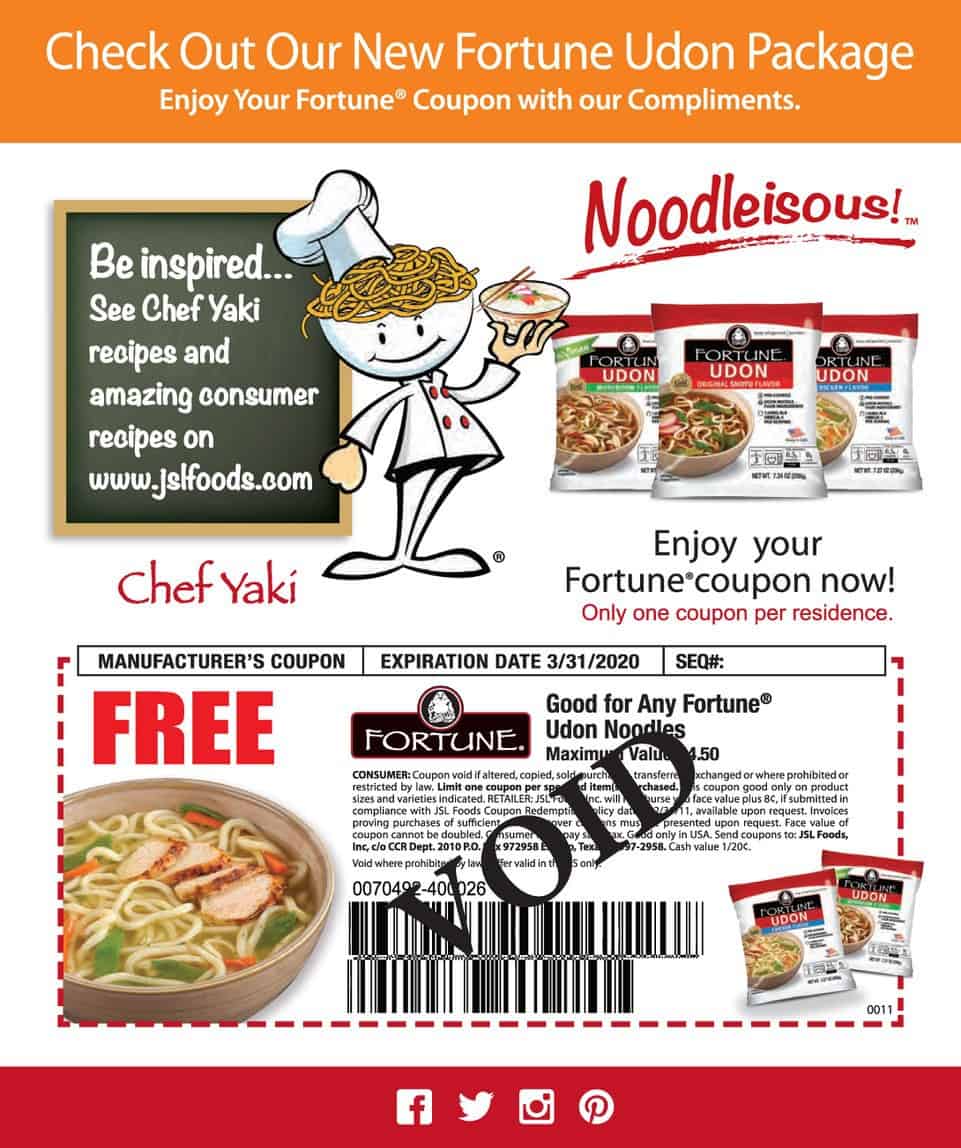 Recent Post: Tropical Dried Fruit Fritters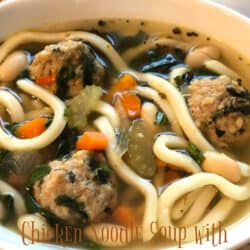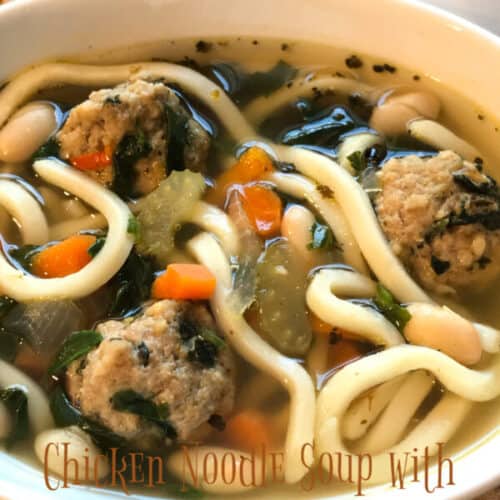 Chicken Noodle Soup with Mini Turkey Meatballs
Delicious and comforting, Chicken Noodle Soup with Mini Turkey Meatballs is beyond Delicious!!
Ingredients
For the meatballs*

1 1/2

lbs.

ground turkey

1

egg

1/2

cup

buttery cracker crumbs

1/3

cup

grated Parmesan cheese

2

cloves

minced garlic

2

mini

sweet peppers, chopped

3

tablespoons

frozen spinach, thawed and squeezed dry

1/2

teaspoon

onion powder

1

teaspoon

Italian seasoning

1

teaspoon

oregano

1

teaspoon

parsley

salt and pepper to taste

2

tablespoons

olive oil

For the soup

1

tablespoon

olive oil

1/2

medium

yellow onion, chopped

2

cloves

garlic, minced

2

medium

carrots, peeled and chopped

1

stalk

celery, chopped

3

mini

sweet peppers, sliced

8

cups

chicken broth

2-4

cups

water

1

15-oz. can

cannellini beans, drained

2

teaspoons

oregano

2

teaspoons

dried parsley

1

10-oz package

frozen spinach, thawed and squeezed dry

,

*Set aside 3 tablespoons for the meatballs*

2

packages

Udon Chicken Flavored Noodles with seasoning packets

4

green onions, sliced, optional
Instructions
In a large bowl, mix ground turkey, egg, cracker crumbs, Parmesan, garlic, peppers, spinach and spices with your hands until well combined (being careful not to over-mix). Form the turkey mixture into about 40 mini meatballs. *See Note*

Heat 2 Tbsp olive oil in a large skillet over medium-high heat until hot, Add as many meatballs needed for soup, about 20, brown in batches being careful not to crowd the pan. Brown for about 10 minutes, turning occasionally.

Remove browned meatballs from the skillet to a large plate. Set aside.

Meanwhile, heat 1 Tbsp olive oil over medium heat in a Dutch oven or soup pot until hot. Add onion, garlic, carrots, celery, peppers and saute for about 7-8 minutes until veggies are beginning to soften.

Add broth, water, beans and spices. Heat over medium heat for 15 minutes. Add the meatballs, spinach and Udon Noodles, simmer soup for 30 minutes or until meatballs are heated through.

Garnish bowls of soup with sliced green onions, optional
Notes
*Recipe Note* 
This recipe will make more mini meatballs needed for this soup. Freeze the remaining mini meatballs for another time. Line uncooked mini meatballs on a parchment lined baking sheet. Freeze meatballs until frozen solid. Place meatballs in ziplock freezer baggie and freeze until needed.