Chicken Flavored Fried Rice
We may earn money or products from the companies mentioned in this post.
Chicken Flavored Fried Rice
Fried Rice is a wonderful way to use up left over rice and let-overs in general. Traditionally made with white rice or jasmine rice, this recipe is made with left-over cooked chicken-flavored rice. Add left-over cooked chicken or pork and vegetables for a fast and quick dinner option. Fried rice is traditionally made with an egg, which becomes scrambled. I can't think of a better way to eat a scrambled egg!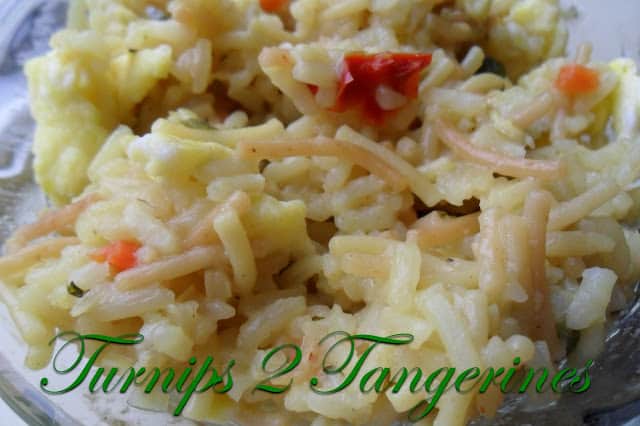 Fried Rice
Fried rice is an Asian dish of rice that has been cooked and refrigerated for a day before being fried with other ingredients. Ingredients such as small pieces of meat and vegetables, along with seasonings like soy sauce. An egg is also often added to the mix. The name of the rice dish depends on the  main ingredient used, besides rice of course. Examples are "chicken" fried rice, "shrimp" fried rice, "pork" fried rice, and so on.
Super Easy
I can't think of an easier recipe than this one. Seriously. Not only is the recipe made from left-overs, it's super inexpensive and a cinch to make. This recipe can also be made in literally under 15 minutes. The next time you make a box of chicken flavored rice, make extra. That way you'll be able to make chicken fried rice the following night for dinner. For this recipe we used Rice-a-Roni. If you're my age and grew up in the 60's and 70's, you undoubtedly have had Rice-a-Roni. It was a mainstay back in the day and still is. When I first got married, in the late 70's, you could buy 4 sometimes 6 boxes of rice-a-roni for $1.00! Now that's a lot of meals. Add some browned ground beef  or ground turkey and supper was served. I still remember the commercial jingle, "Rice-a-Roni, that San Francisco treat."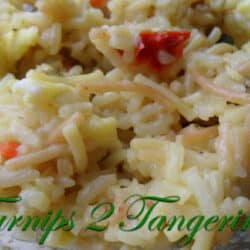 Chicken Flavored Fried Rice
A fast and easy way to use up that left-over rice in your refrigerator.
Ingredients
2

tablespoons

oil, divided

2

large

eggs, lightly beaten

salt and pepper, to taste

4

cups

cooked, cold chicken flavored rice

2

tablespoons

soy sauce

1

small can

peas and carrots, drained

2

green onions, sliced

2

tablespoons

chopped fresh parsley

1 1/2

cups

cooked cubed chicken or pork
Instructions
Heat 1 tablespoon oil in large skillet or wok over medium heat. Add eggs, season with salt and pepper to taste. Cook stirring until lightly scrambled. Remove eggs from pan and set aside.

In same skillet or wok, heat 1 tablespoon oil over medium heat. Add rice, stir fry for a few minutes breaking up rice. Stir in soy sauce and small can of peas and carrots, cook for 2 minutes. Add sliced green onions, scrambled eggs and chicken or pork if using, stir lightly. Garnish with fresh parsley if desired.
Chicken Noodle Soup is an old fashioned recipe that moms have been making for years, too ward off colds and the flu.