Chicken Empanada
We may earn money or products from the companies mentioned in this post.
Chicken Empanadas
Empanada [em-pah-NAH-dah;  em-pah-NAH-thah] Empanar is Spanish for "to bake in pastry." These Mexican and Spanish specialties are usually single-serving Turnovers, with a pasrty crust and savory meat and/or vegetable filling. They can also be filled with fruit and served as a dessert. Empanadas range in size from the huge empanada gallega, large enough to feed an entire family to empanaditas-tiny, ravioli-size pastries.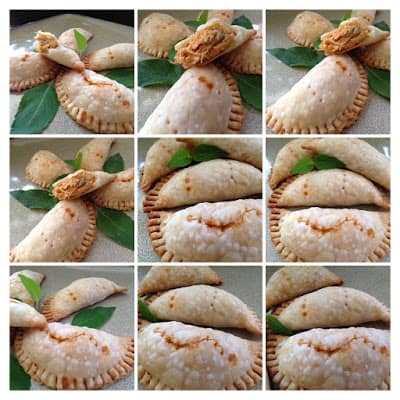 Leftovers
Empanadas are a great way to use left-over meat and vegetables. The possibilities and combinations are endless. We used a package of refrigerated piecrusts for convenience but you can easily make your own crust. This chicken empanada recipe is fast, easy and affordable. Enjoy.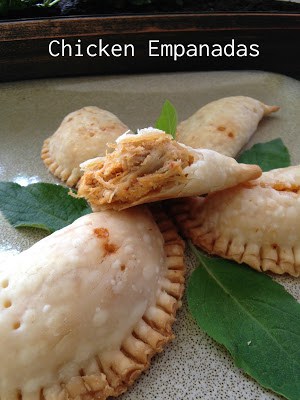 Ingredients
3 cups




chopped, cooked chicken

8 ounce package




shredded marble cheese

4 ounces




cream cheese, softened

1/4 cup (jarred)




roasted red bell pepper, chopped

1/4 cup diced




green chilies

1 tablespoon




ground cumin

1 teaspoon




salt

1/2 teaspoon




pepper

1 (15 oz) package




refrigerated piecrusts
Cooking Directions
Preheat oven to 400º. Lightly grease a large baking sheet.
In a large bowl, combine the chicken and next 7 ingredients.
Unroll 1 piecrust onto a lightly floured surface. Roll into a 15-inch circle.
Cut out rounds using a 3-inch cookie cutter. Re-roll dough as needed. Repeat procedure with remaining piecrusts, making 12 to 15 circles total.
Place one round on a clean, flat surface. Lightly brush the edges of crust with water. Place 1 heaping teaspoon of chicken mixture in the center of the round. Fold dough over the filling, pressing the edges with a fork to seal. Repeat with the remaining rounds and chicken mixture. (Up to this point, the recipe can be made and the empanadas frozen for up to 1 month. Bake frozen empanadas at 400º for 15 to 20 minutes. Don't thaw empanadas, cooking times may vary.) Arrange empanadas on the prepared baking sheet. Bake for 15 minutes.