Chicago Crunchy Cookies
We may earn money or products from the companies mentioned in this post.
Chicago Crunchy Cookies
My sister gave me this recipe at least 30 years ago. I have made this recipe way too many times to count. Chicago Crunchy Cookies are delicious and addictive. This recipe makes a lot of cookies and they freeze great too. Chicago Crunchy Cookies are great to make when you need a lot of cookies such as for a bake sale, family picnic or to share at work. All that you need to serve with these delicious cookies is either a glass of milk or a cup of coffee. My Grandma Rose passed her love of cookies down to me and now I've passed that love on down to my grandson, she'd be pleased.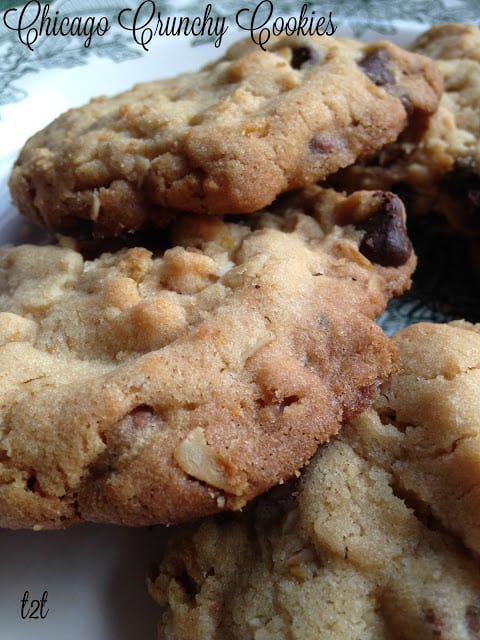 Cookies
Cookies are hands down my favorite "dessert." There is something so sweet about having a couple of cookies after lunch or with a cup of coffee for a mid-afternoon snack. My love for cookies was passed down to me from my Grandma Rose. I can't think of a time that I went over to her house and she didn't have cookies in her pantry. My Grandma Rose always keep all of her groceries in a "pantry." I'm not sure if that's what she called it but her groceries were always keep in a small "closet" that had shelves lined with shelf paper.
Always Filled With Cookies
The shelves and the contents on the shelves, were neatly arranged accordingly, (if I was a betting lady, I'd bet that my grandma is the reason for some of my OCD:)  and a light bulb hung from the ceiling, to turn the light on you had to pull the long string and on it went. The pantry "closet" always had a door on it, which she kept closed. Grandma also kept a small step-stool in the pantry, a broom, and dust pan. On one shelf in her pantry, was an old, beat up, aqua blue Tupperware-style container. That aqua blue container is where she kept her cookies, her homemade cookies.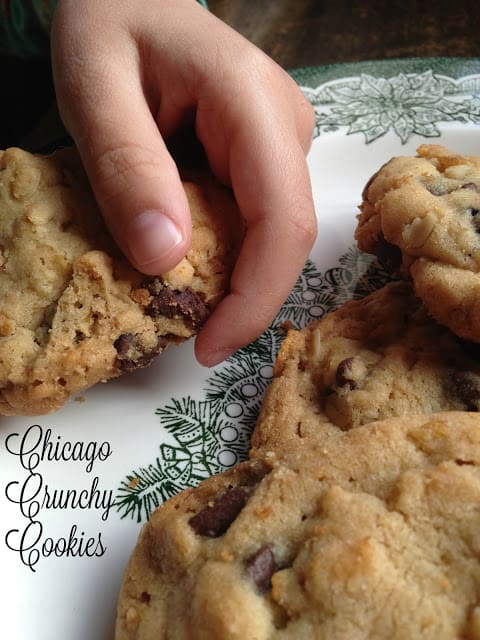 Tasty Tip
Yellow peas are low in fat and a good source of protein. One cup of cooked yellow peas has about 16 grams of protein and 1 gram of fat.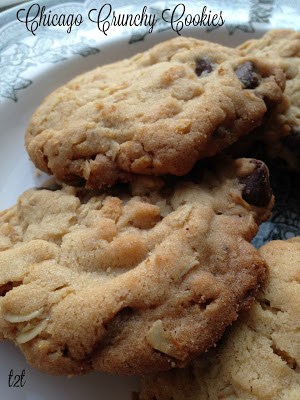 Chocolate Custard Cups is a super recipe. Chocolate custard is a rich and delicious pudding style dessert.
Substitute
This recipe calls for espresso flavored chocolate chips. We found espresso and milk chocolate swirled chips at Aldi.  If you can't find the chips at Aldi, don't sweat it. Just substitute an extra 1/2 cup of milk chocolate or semi-sweet chocolate chips.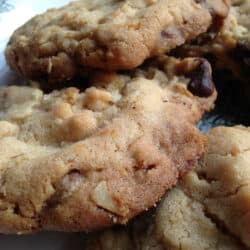 Chicago Crunchy Cookies
One of our favorite cookie recipes. This recipe makes a lot of cookies, perfect for holidays and bake sales.
Ingredients
1

cup

butter, room temperature

1

cup

sugar

1

cup

brown sugar

1

egg

1

tablespoon

milk

2

teaspoons

vanilla extract

1

cup

vegetable oil

3 1/2

cups

flour

1

teaspoon

salt

3

teaspoons

baking soda

1

cup

old-fashioned oats

1

cup

corn flake cereal, lightly crushed

1/2

cup

semisweet chocolate chips

1/2

cup

milk chocolate chips

1/2

cup

espresso milk chocolate chips
Instructions
Sift together flour, salt and baking soda. Set aside.

In large mixing bowl, cream together butter, sugar, brown sugar and egg.

Beat in milk, vanilla extract and oil.

Stir in flour mixture just until combined.

Stir in oats, cornflakes, semi-sweet chocolate chips, milk chocolate chips and espresso chocolate chips.

Drop by rounded tablespoonfuls onto baking sheets lined with parchment paper or silicone mat.

Bake at 350° for 10 to 12 minutes or until golden brown.