Chex'icago Chex Mix
We may earn money or products from the companies mentioned in this post.
Chex'icago Chex Mix
The Perfect Mix of Sweet and Salty. Delicious and Addictive. If you want to bring something to a party that everyone will love, whip up a batch or two of chex'icago party mix. It's reminiscent of the Windy City's favorite flavor combo of sweet and salty. Trust me when I say this, you will not bring home any left-overs! In fact, you might want to consider making a double or even triple batch. Seriously!
Recipe Shoe Box
This recipe is one of four recipes that I saw on the back of a box of Chex cereal a few years back. I cut the recipes off the cereal box and threw them into my recipe "shoe" box. An old shoe box that is dedicated to housing "want to try someday" recipes. The recipe shoe box is full to the max with recipes and is held together basically by rubber bands, about six large rubber bands to be exact.
Saved Recipes
One day I decided to go through the recipe shoe box, again. This is something that I do periodically but I never throw any of the recipes out. I just look through the recipe box, dreaming of someday making all the recipes housed in the box. Well today was the day I told myself, I'm going to pick out three recipes and make them by God and that's that!
Pick Three
The three recipes I fished out of the recipe shoe box were this recipe for Chex'icago, Home Run Snack Party Mix and Chili Lime Chex Mix. The three recipes I cut from the box of Chex cereal. The shoes from the shoe box are long gone but the recipes will remain until the next time I decide to take a walk through my "recipe shoe box" and either make a few recipes, put in a file online or slide the recipe shoe box back under my bed.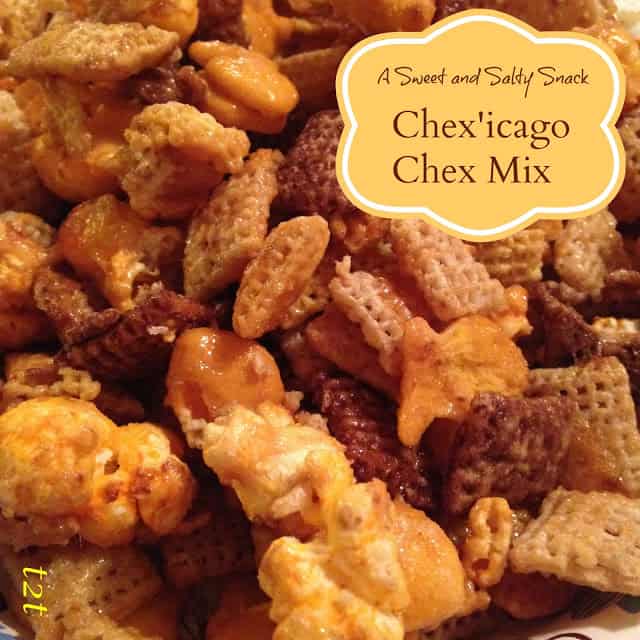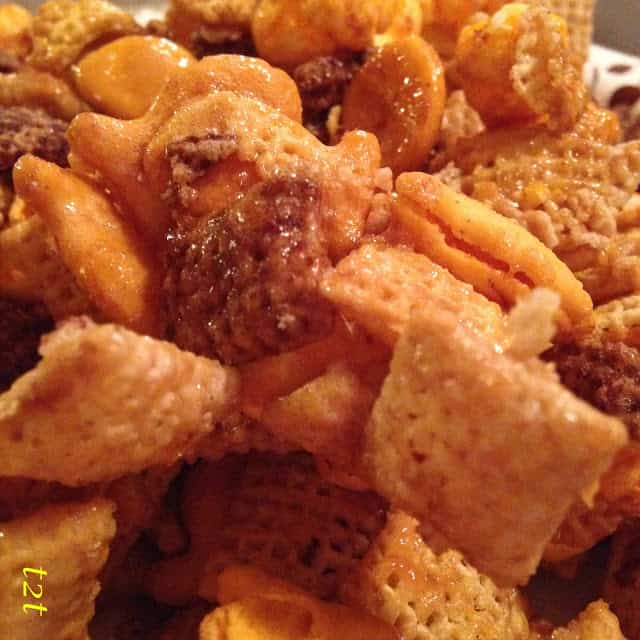 A Tasty Mix
A tasty mix of corn chex, rice chex and chocolate chex cereals plus pretzel rings, goldfish crackers, and cheese popcorn. The glue that holds this mixture together is butter, brown sugar, corn syrup salt and baking soda. An ooey, gooey, sweet, salty, cheesy, chocolaty mixture of crunchy yummy goodness. Makes me want to run to the store, pick up the ingredients and make up a double batch!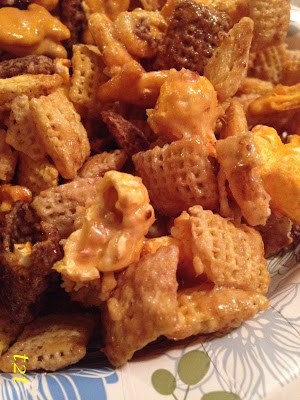 Ingredients
6 cups




corn chex cereal

6 cups




rice chex cereal

4 cups




chocolate chex cereal

4 cups




pretzel rings or thin sticks

4 cups




goldfish cheese crackers

6 cups




cheese popcorn

1 stick




butter

2/3 cup




light brown sugar

2/3 cup




light corn syrup

1 teaspoon




salt

1 teaspoon




baking soda
Cooking Directions
Preheat oven to 275º
In a large roasting pan, mix together cereals and pretzels; add 3 cups of cheese crackers and 4 cups of cheese popcorn
Mix together, Set aside.
Place the butter, brown sugar, corn syrup and salt in a medium saucepan. Stir until butter is melted and mixture is smooth. Stir in baking soda. Mixture will foam up, but keep mixing until baking soda is dissolved. Pour over the cereal mixture, stir gently until coated.
Bake at 275º degrees for 45 minutes, stirring every 10 minutes.
Spread on a waxed paper-lined counter top. Let cool for about 15 minutes.
Stir in remaining 1 cup cheese crackers and 2 cups cheese popcorn.
Store in an air-tight container.