Cherry Pie Filling
We may earn money or products from the companies mentioned in this post.
Cherry Pie Filling
Unbelievably Delicious! Cherry Pie Filling is really not difficult at all to make and the taste and texture of homemade cherry pie filling just doesn't even compare to canned, don't get me wrong I like canned cherry pie filling and use canned in certain recipes. Canned cherry pie filling is a fast and easy alternative to homemade but Homemade Cherry Pie Filling is the Crème de la Crème of cherry pie fillings. Once you make your own cherry pie filling and start using homemade in recipes, you'll never go back to canned.
Cherrylands Best
I recently bought a ten pound tub of Door County Cherries from Cherrylands Best, located off highway 41 in Little Chute Wisconsin. If your driving down highway 41, you can't miss it. It's the building with the huge Cherry out front! The cherries came already blanched and pitted, so half the work was already done for me. The cherries came frozen also so I let them thaw in my refrigerator for a few days and then let the cherries come to room temperature before I used them.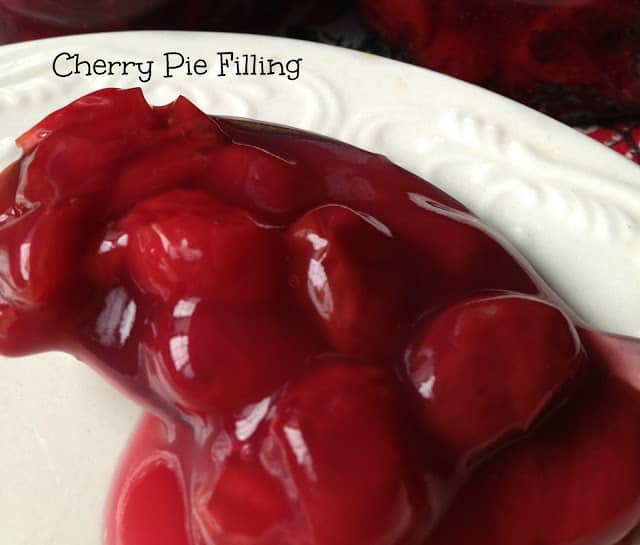 A Word About Cherries
There are two main groups of cherries, sweet and sour. The larger of the two are the firm, heart-shaped sweet cherries. There delicious for eating out of hand and can also be cooked. The most popular varieties range from the dark red to purplish black Bing, Lambert and Tartarian to the golden, red blushed Royal Ann, Maraschino Cherries are usually made from Royal Ann cherries. Sour Cherries are smaller, softer and more globular than the sweet varieties. Most are too tart to eat raw, but make excellent pies, preserves and the like.
Best Selling
The best selling sour cherry varieties are the bright red Early Richmond, the first cherry available in the late spring, and Montmorency and the dark mahogany red Morello. Most fresh cherries are available from May (June for sour cherries) through August. If you can get your hands on fresh cherries this summer, by all means a buy them. Then you too, can make homemade cherry pie filling. Then this winter and during the holidays you can share a small slice of summer with your family and friends.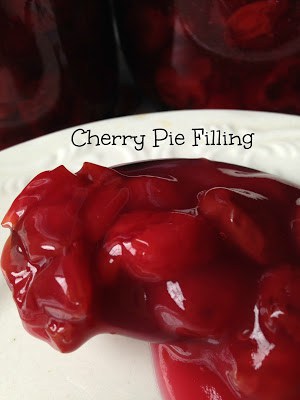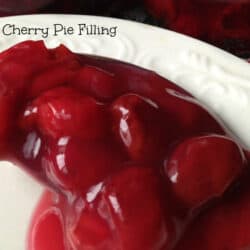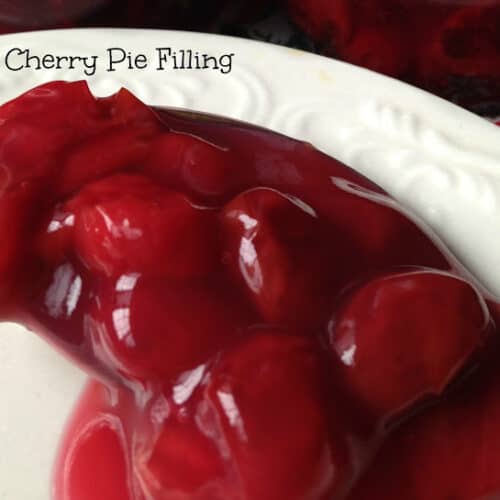 Cherry Pie Filling
Nothing better than homemade cherry pie filling!
Ingredients
6

quarts

cherries, thawed if frozen

7

cups

sugar

1 3/4

cups

clear jel

9 1/3

cups

cold water, cherry juice, cran-cherry or a combination pf all three

1/2

cup

lemon juice, bottle
Equipment
canner, jars, lids and rings
Instructions
Select cherries, fresh or frozen. Wash canning jars, bands and lids in soapy water. Rinse well.

Wash and sort cherries. Pit cherries with a cherry pitter. Blanch cherries, (up to 7 cups at a time) in a large pot with at least one gallon of boiling water. Boil each batch 1 minute after water returns to a boil. Drain, keep hot cooked fruit in a covered boil.

Make liquid for filling; mix together clear jel with sugar. Add water or juice. Stir together. Stir and cook over medium-high heat until mixture thickens and begins to bubble. Add lemon juice, boil one minute, stirring constantly. Fold the cherries into the hot liquid.

Fill the jars with cherry mixture, removing air bubbles. Fill to within one inch of top of jars. Wipe any spilled filling off the top, seat lid and tighten ring.

Process the filled jars in a canner, keeping them covered with at least one inch of boiling water. Process for 25 minutes. Lift jars out of the canner, let cool undisturbed for 24 hours.
After you have finished making homemade pie filling, you'll need a recipe to make with your pie filling. Try Lattice Cherry Pie It's super delicious!