Cherry Pie Kuchen or Kaffeekuchen
We may earn money or products from the companies mentioned in this post.
Cherry Pie Kuchen or Kaffeekuchen
Is it a bar, or a cake?  Maybe a coffee cake? Or maybe it's a kuchen? Make these Cherry Pie Kuchen or Kaffeekuchen and you decide! One thing is for certain, Cherry Pie Kuchen/Kaffeekuchen are fantastic. To me, this recipe for cherry pie kuchen is a cross between a coffee cake and a kuchen, bordering on kuchen. With that in mind, let's take a look at the different definitions of these various possibilities.
Bar or Cake
The definitions for bar and cake is as follows: "bar" is usually made with a graham cracker crust and layer with ingredients such as chocolate chips, coconut, oatmeal and/or a fruit spread. A "cake" is a sweet, baked confection usually containing flour, sugars, flavoring and eggs. Cakes are normally frosted or topped with fruit. All right, we can rule out "bar" and "cake."
Coffee Cake or Kuchen
A "coffee cake" is a rich, sweet cake-like bread that can be made with yeast or simply made with baking powder or baking soda. Coffee cakes often contain fruit, nuts and sometimes a cream cheese filling. A "kuchen" is a fruit or cheese-filled yeast-raised cake, usually served for breakfast but also served as a dessert. Originated in Germany and the word Kaffeekuchen is German for "coffee cake." I think we found the winner!
Changing the Name
After reading the definitions of bar, cake, coffee cake or kuchen I think we found the winner.  This recipe is more a kuchen or coffee cake, than anything else. So there you have it, Cherry kuchen or kaffeekuchen it is. If you aren't a fan of cherry pie filling, you can easily use blueberry pie filling or peach, even apple. I have never made this recipe using anything but cherry pie filling but if you do, please let me know in the comment section below. I'd love to hear how the recipe turned out:)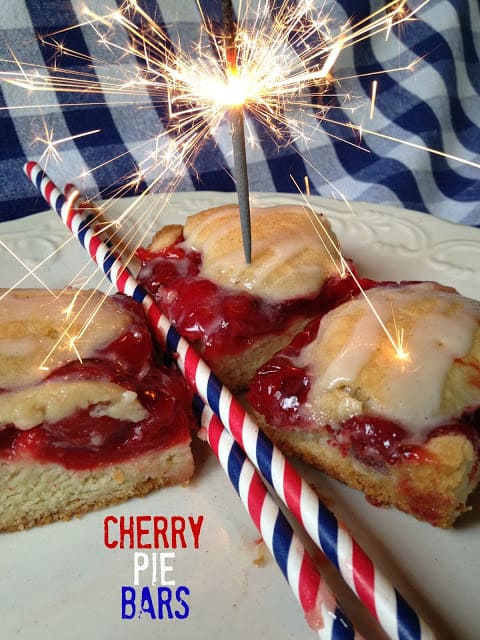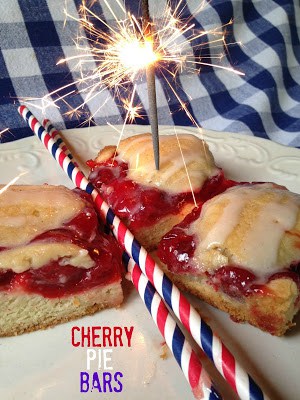 Cherry Pie Bars
Ingredients
Bars

3 cups




flour

1 1/2 teaspoons




baking powder

3/4 teaspoon




salt

1 3/4 cup




sugar

1 cup




unsalted butter, softened

3 larrge




eggs

1 teaspoon




vanilla extract

1/4 teaspoon




almond extract

2 (21 oz) cans




cherry pie filling

Glaze

1 cup




powdered sugar

1/2 teaspoon




vanilla extract

1/4 teaspoon




almond extract

2 to 3 tablespoons




cream or milk
Cooking Directions
For Bars: Preheat oven to 350. Butter a 13 x 9 inch baking dish.
In a small bowl, whisk together flour, baking powder and salt.
In a medium bowl, whip together butter and sugar with an electric hand mixer until pale and fluffy. Mix in eggs, one at a time. Blend in vanilla and almond extracts.
With mixer on low speed, slowly add dry ingredients, mix until combined. Set aside 1 1/2 cups of batter. Spread remaining batter evenly into prepared dish. Top with cherry pie filling. Dollop small spoonfuls of remaining batter on top of cherries.
Bake 40 to 45 minutes, remove from oven. Cool on wire rack.
For Glaze: Mix together powdered sugar, vanilla extract, almond extract and cream or milk. Spoon glaze into a small ziplock baggie. Snip off one corner of baggie. Drizzle glaze on bars.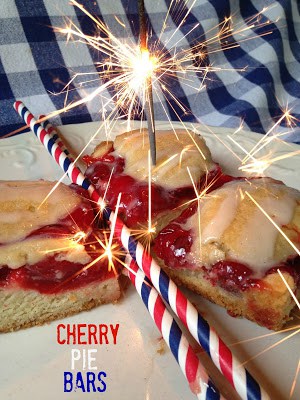 Hungry for more cherry recipes?? Here you go…Enjoy! German Sour Cherry Cake, Cherry Cheesecake Pretzel Dessert and Slow Cooker Cherry Dump Cake.
You can make your own cherry pie filling or use any of the delicious canned pie fillings on the market such as Wilderness Pie Filling, Lucky Leaf